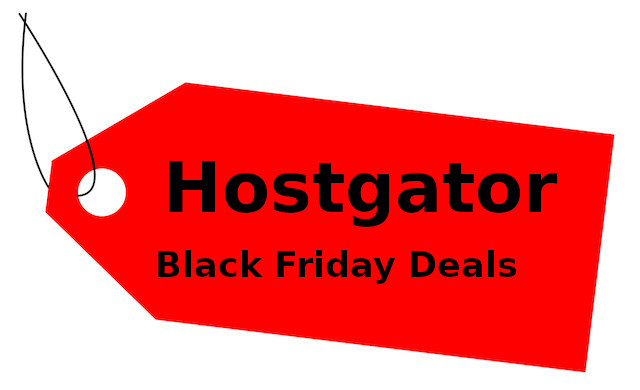 This Black Friday, you can save big on web hosting plans, SSL certificates, domains, etc on Hostgator dot com with the deals I've shared below.
HG offers a 60% discount to its users on regular days and a 65% discount on special occasions. On Black Friday and Cyber Monday, the company offers a jaw-dropping 70 to 80% discount on its hosting plans, domains, etc. If you don't grab the deal during the Black Friday sale, you'll spend more money on hosting, domain, etc than the users who grab the deals.
Hostgator Black Friday sale 2020
Hosting
Hostgator is one of the largest shared hosting companies. It has launched VPS, Cloud Hosting, Dedicated service as well. The shared plans of the company are cheaper compared to VPS, Dedicated plans. The cloud plans are affordable compared to VPS and dedicated. The plans have their own merits and demerits. During Black Friday, you can get up to 70% discount on the HG hosting plans. Here is the list of the most popular plans of the company:
Hatchling plan
This plan is ideal for new sites. It supports a single website and offers a domain for free.
Baby Plan
It is the most popular plan for Hostgator. The Hostgator Baby plan supports hosting for multiple websites. It also ships with a free domain.
Business plan
The Hostgator Business plan is similar to the company's Baby plan but it offers a Positive SSL certificate, dedicated IP address, a domain, and SEO tools.
Snappy 2000
With this plan, you'll get a VPS with 2 core processor, 120GB storage memory, and 2GB RAM.
Snappy 4000
If you want to buy a Hostgator VPS hosting plan that offers 4GB RAM, a dual-core processor, and a 100+ GB disc space, this is a great plan for you. You'll get a server with 165GB storage memory.
Snappy 8000
The most powerful VPSes of Hostgator fall in this category. The servers have 8GB RAM, a quad-core processor, and 240GB storage memory.
Cloud Hatchling
This plan is a good alternative to the Shared hatchling plan. This is because your application will be deployed on a cloud server with a dedicated 2GB RAM and 2 core processor. Cloud Hatchling plan supports a single domain only.
Cloud Baby
It offers cloud hosting for unlimited websites, 4GB RAM, 4 core processor, a domain.
Cloud Business
This plan is similar to the Shared Business plan but unlike the shared server that doesn't have fixed RAM/CPU, your applications will reside on a server with a 6 core processor, and 6GB RAM.
The storage memory for Hostgator cloud hosting plans is unlimited. The bandwidth offered to the shared, VPS, and cloud plans is unlimited/unmetered.
Domains
Hostgator sells domain names too. The domains are priced competitively and HG offers a very beautiful interface for managing them. The hosting service provider offers a free domain name to buyers of some of its hosting plans. You can register or transfer a domain to HG. The Hostgator Black Friday deal 2020 on domains lets you register a domain at a price much lower than the price HG charges on non Black Friday days.
Site builder and free templates
The Hostgator site builder is a great tool for users who want to launch a business or eCommerce website without using CMS software such as WordPress. It is a good alternative to the Weebly website builder. The Site Builder plans of Hostgator not only gives you access to a drag and drop builder and 100s of cool customizable templates, but it also offers free hosting, an SSL certificate, and an analytics tool.
Reasons to choose Hostgator
CPanel (Control Panel)
If you buy unmanaged hosting from a cloud VPS provider and you're not able to set up a website, install and configure the database/webserver correctly, you'll have to purchase a cPanel license. The Control Panel aka cPanel is a web-based software that makes the task of maintaining websites and servers a breeze. The cPanel license price starts at $15 per month. With Hostgator, you'll only have to pay the hosting fee which if you compare with the cost of a cPanel license and the unmanaged cloud hosting service, is much lower.
Script installer
Installing software manually and configuring it can be difficult for a newbie or non-technical users. Hostgator lets users install popular applications such as WordPress, Joomla, Magento, Drupal, phpBB, and 70 other applications with its one-click script installer tool.
Support
I've enjoyed great support from Hostgator. The company's staff can be reached on Twitter, Facebook, or via email. If the problem is a serious one, you can even contact them via phone or by using the live chat tool. The waiting time during a phone call and live chat are very low. If you use these two methods of support, your problem will be addressed quickly.
Background
Hostgator has a solid background. I've been using the internet since 2004. I've never heard of a major breach or incident at Hostgator. HG is a reputable company and has over 1.5 million paying customers. You can trust the company.
Free website migration
If don't want to take the pain of moving a website from an old host to a new host, you can request Hostgator staff to do this job for you. To enjoy this feature, you must ask the company's staff to move your site within 30 days of buying a plan during the Hostgator Black Friday sale 2020.
Free SSL certificate
With Hostgator, you can enable an SSL certificate for a website with a few clicks. You don't have to buy an SSL certificate. This is because HG supports Letsencrypt. Letsencrypt has issued over 10 million free SSL certificates to date.
Money back guarantee
If you purchase hosting from the Hostgator Black Friday deals page and for some reason, you're unhappy with the company's server or support, you can ask the company to cancel your account and refund your money within 45 days of grabbing the deal.
Final thoughts: Online businesses have been impacted by the Covid 19 pandemic. Take advantage of the Hostgator Black Friday deals and save money. Money saved = money earned. The Black Friday sale of Hostgator will kick off in the last two weeks of November.