Weebly, the website builder was launched in 2006 by three friends – Chris Fanini, David Rusenko, and Dan Veltri. As of today, Weebly powers over 40 million websites. In 2015, the company became a subsidiary of Square Inc. For those who are not aware, Square is one of the largest payment processing companies in the United States. Although Weebly is a popular site builder software, should you launch your first website with it? Should you migrate your website to it? Here's our unbiased review of Weebly.
Weebly Review
Getting Started
Weebly is a cloud-based app. To use it, you should create a new account by entering a password, full name, and an email address in the account registration form. Once the user enters these three details and clicks the submit/sign up button, Weebly will create the account. Then, it will ask the user to choose the type of website they want to build. If you want to launch a store, choose the "I need a website with an online store" option else select the "I just need a website option". Weebly will open your dashboard once you choose one of these two options.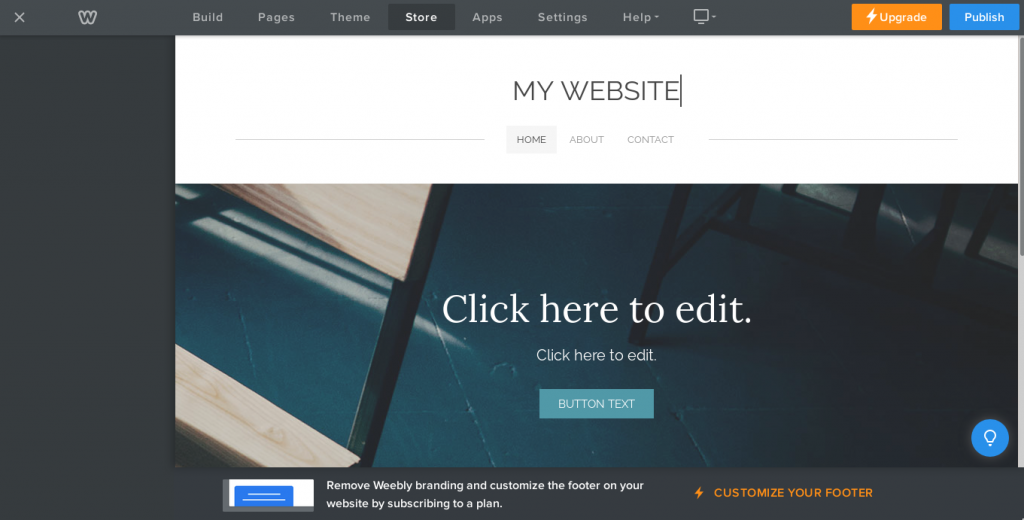 To build customize/build your website/store, click the "Edit Site" option. You'll now see the following options on the screen:
Build
To build your website, you should select a theme and customize it. Weebly themes are divided into the following categories:
Business, portfolio, event.
Blog, coming soon, other.
Click here to create your website with Weebly
Customization
Weebly provides a live drag-and-drop website builder tool with which you can change the text on the existing templates or make the selected template look different by adding a custom title, text, or by adding elements such as a slideshow, button, etc. Each element you add to the page is customizable. For example, you can change the alignment/style/text of the button and make the button point to a link.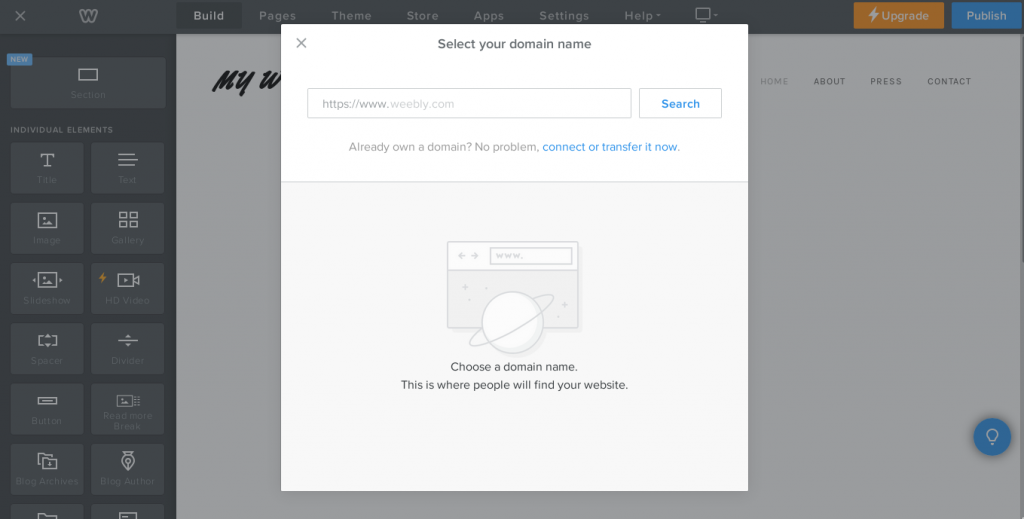 Pages
This interface displays a list of pages on the sidebar and canvas. The canvas is displayed on the right side of the sidebar. With this interface, you can manage the SEO of individual pages, control the visibility of the page, change the header style, and hide/show the navigation bar displayed on the pages, etc.
Click here to create your website with Weebly
Theme
Here, you'll find an option to export the template, change the color scheme/font of the theme, switch from boxed to full-width layout, and change the current theme. This interface also allows you to edit the theme's HTML, JS, CSS code. By default, the changes you make to the theme will be displayed in real-time. You can disable this feature by deselecting the "Auto Preview" feature.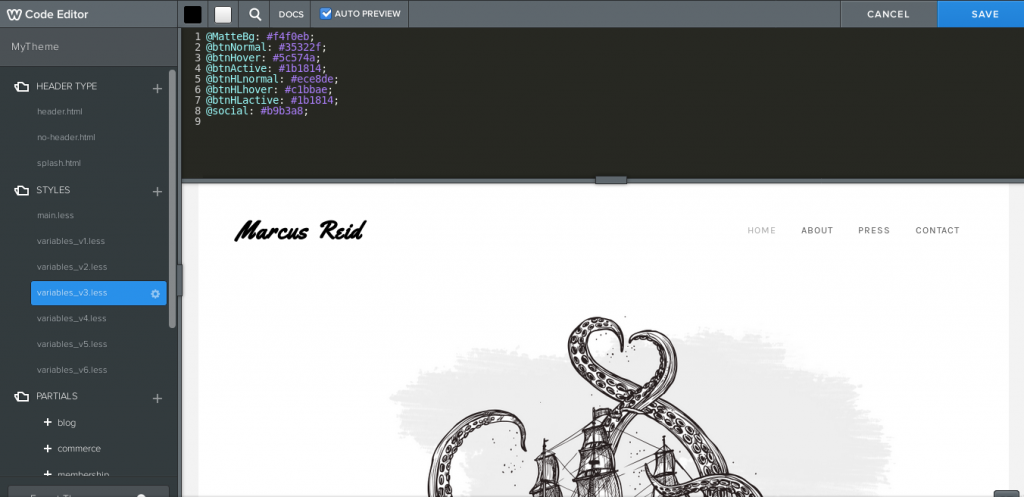 Store
Want to sell digital/physical products online? Weebly lets you launch a great looking eCommerce/online store within a few minutes. The website builder gives users access to many customizable eCommerce themes.
What features your Weebly store can have?
The app lets you add filters to your store. Users can use the filters to shortlist products. It lets you manage inventory/shipping, enable coupon codes, setup taxes on the products, import products from the store you've built with other software, etc.
Click here to create your website with Weebly
Apps
Weebly lets you add new elements/features/modules to your website by installing apps. The applications in Weebly are divided into two categories – free and premium. The website builder provides the following apps:
Accordion, Instagram feed, tabbed widget.
Calendar, vertical divider, counter, testimonial.
Promo bars, forms, price charts, etc.
Settings
With this interface, you can set the website title, enable/disable SSL, and change the favicon, format of the date that will be displayed on the pages, timezone, site language, etc. According to European law, you should show a cookie usage notification to the website visitors. Weebly provides an option to enable this notification for the visitors from Europe or to all the visitors of your website.
The settings UI of Weebly features an SEO settings panel where you'll find an option to enter the site description, meta keywords, add JavaScript code to the footer/header, add site-wide and prevent search engines from indexing the website. Weebly also enables you to set up redirects from its SEO settings interface.
Weebly settings interface lets you add and manage editors, blog pages, and members (if your site is open to account registration). If you've chosen a blog theme or you've added a blog section to your website, Weebly will add blog settings to its settings interface. You can disable/enable the sidebar, social sharing buttons, and configure the number of posts that should be displayed on the archive page through this interface.
Click here to create your website with Weebly
Managing multiple sites from the same dashboard
Once you create a Weebly account, you can create and manage as many websites as you want. To create a new site, you should tap the "Plus" sign icon.
Pricing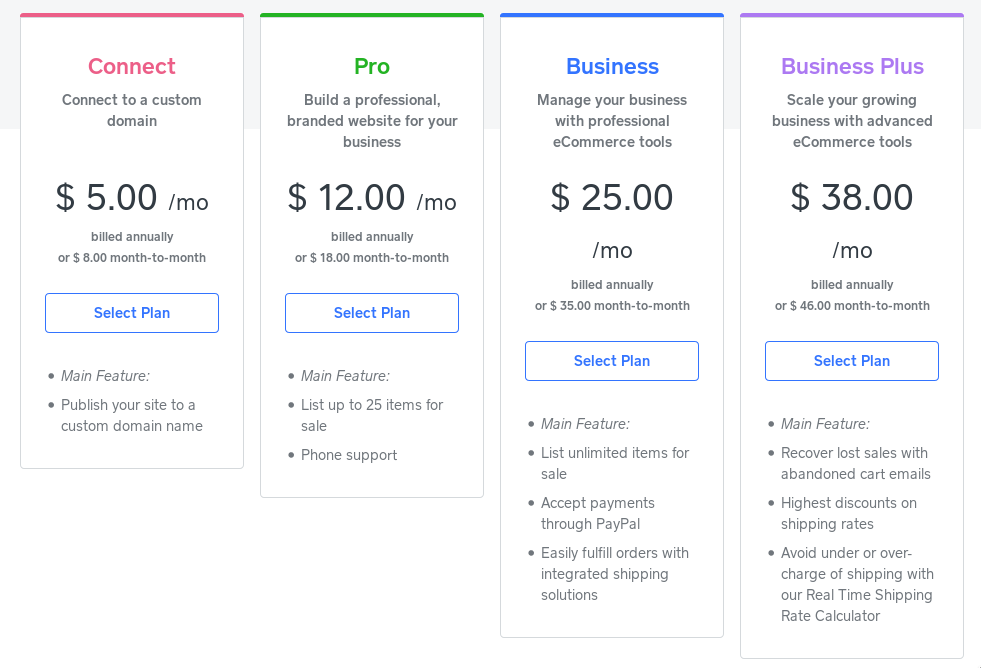 Weebly offers 4 premium plans – Connect, Pro Business, and Business Plus. If you choose the free plan or buy the Connect plan of Weebly, your account will be allocated 500 MB of storage memory. If you purchase the Pro, Business Plus, or Business plan, the storage limitations will be removed. Also, you'll get access to Weebly's storage builder software. The paid plans of Weebly will get you a free domain worth $20.
The Connect, Pro, and Business plans of Weebly are priced at $5, $12, $25 respectively (per month). Business Plus is a special eCommerce plan that costs $38/month. It offers some extra features that are not provided to the users of any other plans. The Business/Business Plus plans offers:
Item badges/options.
Digital goods.
Item reviews, inventory management.
Coupons, Tax calculators.
Shipping calculators/labels, Square gift cards.
Gsuite, eCommerce insights, pop-up notifications.
In addition to the above features, Weebly Business Plus/Business plan users enjoy priority support.
See the Weebly plans comparison table
Support and Help center
Weebly gives its users access to documentation that consists of 100s of articles and a community/forum where users can ask questions or read answers. In addition to this, you can get in touch with Weebly support staff through email or with the help of Weebly's live chat software.
Advantages of Weebly over other CMS/store builders
In the case of self-hosted content management systems or eCommerce software, the user must install the software by themselves if the hosting service provider doesn't offer a one-click installer tool. Also, it's the user's responsibility to keep their site secure. To secure the website, manage SEO, the user will have to install multiple extensions/plugins. The more extensions you add to your website, the slower your website will be.
Most of the users of the Content Management System choose shared hosting plans. If you don't choose a good hosting service provider, the performance of the website will be sluggish. When it comes to Weebly, for a monthly payment, you'll get access to a powerful dashboard that enables you to manage SEO, customize the website, save media files, etc without installing any add-on/plugin.
Final thoughts
Weebly is one of the best website builder apps. It provides select customizable templates. Its drag-and-drop site builder is intuitive and powerful.