VPS hosting enables you to install and use the software of your choice. It also gives you the freedom to host as many websites as you want. VPS hosting service is divided into two categories – managed and unmanaged. Unmanaged hosting is not suitable for users that have never used Linux commands or have never edited server configuration files. This type of service is offered by cloud hosting firms. Although cloud hosting firms such as Digital Ocean, Linode offer a tool to install content management systems, programming languages, frameworks, database management systems, etc without typing Linux commands, they'll provide support only if the issue is related to the hardware or network. Also, these firms don't offer live chat or phone support for technical issues.
If your site crashes because of a configuration error or unavailable resources (example: MySQL won't work if it uses 100% of memory allocated to it or if it is unable to offer a connection), you'll have to fix the issue manually by looking for a solution on the web. If you do so, your site may be down for several hours.
Managed VPS hosting is the best and only alternative to unmanaged hosting services. If you're using this service, you'll enjoy 24 x7 customer support. You'll be also given access to CPanel or WHM. Hostgator is one of the several companies that offer managed VPS hosting service. Its plans are among the cheapest in the industry. Is the Hostgator VPS hosting service reliable? What features and plans does it offer to the users? Here's our unbiased review of Hostgator VPS hosting:
Review
Interface
Hostgator has one of the most beautiful and easy to use websites. Once you log in to your account, you can easily access the billing/domain manager interface, Cpanel, etc.
Plans
Hostgator Snappy 2000: This plan gives users a server that has 2GB RAM, 2 core processor, 120GB storage memory. It costs 29.95 USD. The bandwidth limit for this plan is 1.5 TB.
Hostgator Snappy 4000: This is the most popular VPS hosting plan for the company. It provides a server powered by 4GB RAM and a dual-core processor. This server has 165GB of storage memory. It enables you to transfer up to 2TB of data. This plan is priced at $39.9.
Hostgator Snappy 8000: This plan offers a server with 8GB RAM, a massive 240GB storage memory, and a quad-core processor. These servers are allowed to transfer up to 3TB of data. Snappy 8000 is the firm's most expensive VPS plan. It costs $49.95.
See the latest plans here on Hostgator's website
Additional features: The company offers two IP addresses and a Cpanel tool to the buyers of one of the above three plans. It gives users full root access so that they can set up firewalls/cronjobs, see the log files, modify the web/application/database server's configuration files, etc. The company's VPS servers are equipped with Intel Xeon series processors.
Hostgator VPS plans comparison table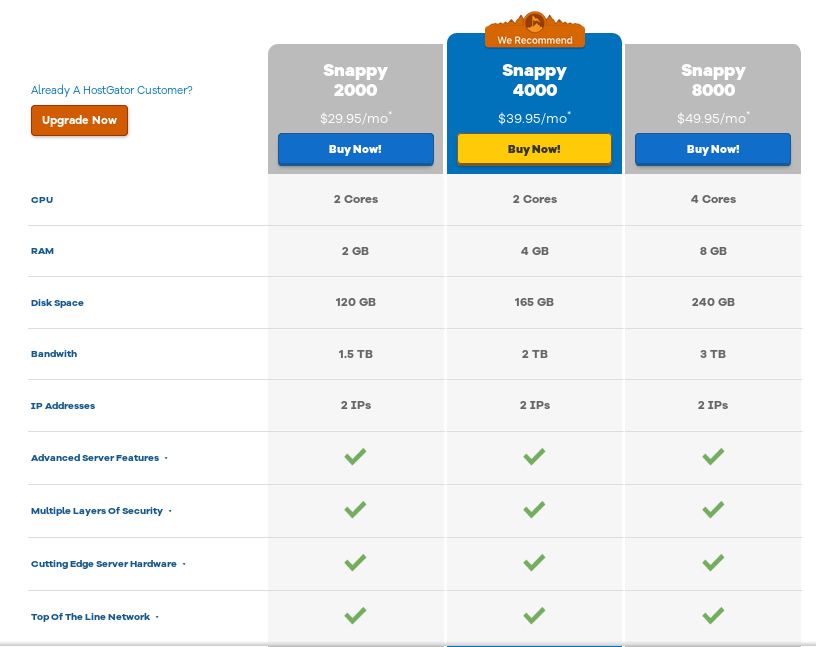 Click here to get a 75% discount on Hostgator VPS plans
Supported languages and DBMS
Apart from the widely used content management systems such as WordPress, Drupal, Magento, etc, Hostgator virtual private servers supports Python, Ruby on Rails, PHP, etc. It also lets you install and use popular database management systems such as MySQL, MariaDB, PostgreSQL (on request), etc. To see whether Hostgator supports the language you've used to build an application, get in touch with the company's support team.
Scaling
If you're planning to host more websites on your existing server or your server's current hardware is unable to handle your website's massive traffic, you'll have to upgrade your server's hardware. Hostgator enables users to scale the resources of their server without changing the IP address.
Backups
100s of sites are hacked every day. If the site is using a content management system or e-commerce software such as WordPress, Magento, Drupal, and if the owners didn't back up their site's data, they'll lose the site forever. Although backing up the site data manually with Linux command takes a few minutes, people who are uncomfortable with the command line mode of server management will refrain from doing so. If you're using the Hostgator VPS hosting, you don't have to worry about backups. The company will back up your server files automatically every week.
Support
Support is one of the most important things to consider before buying a hosting plan. Hostgator won't disappoint you as it offers live chat and phone support to the users. It also has a forum where you can discuss your issue with other Hostgator VPS service users. In addition to phone and chat support, Hostgator offers email-based customer support. The best thing about Hostgator VPS hosting service is that you can contact the support team anytime during the day or night.
Knowledgebase
Hostgator forum is a great source of knowledge. You'll find 100s of issues and their solutions in the forum. Hostgator's website also has a knowledge base section where you'll find several tips, written and video tutorials, etc.
Check out Hostgator's knowledge base here
Network and infrastructure
Hostgator's network bandwidth is provided by leading networking companies such as Comcast, AT&T, NTT, etc. To make sure that the servers are always connected to the internet even when there's a power failure, the company has installed several power generators. The company promises a minimum connection speed of 20 Mbit and a max of 1 Gbps.
Have I used Hostgator?
Yes, I have used Hostgator VPS hosting service in the past. I had no issues with the company.
Pros
Cpanel software for managing the server.
Great customer support.
Root access.
Weekly automated backups.
Plenty of storage.
Cons
Final thoughts
The Hostgator VPS hosting service is reliable. It lets users scale the server's resources when there's a requirement for an additional RAM module or processor. Its plans are affordable considering the fact that the plans fall in the managed hosting category. If you're looking for a managed VPS hosting service that provides good support, uptime, and infrastructure, you should try out Hostgator.
Discount and offers
This special link will get you a massive 75% discount on Hostgator VPS hosting plans.