The Business plan is the most powerful Hostgator shared hosting plan. It costs $5.95 per month. It enables you to launch and manage unlimited websites.
Is the HG business plan a good alternative to other shared hosting plans of Hostgator? What features customers of this plan enjoy? Let's find this out!
Review
This plan offers the following extra features that you won't find in the Hostgator Baby or the Hatching plan:
Positive SSL
Positive SSL provides an impressive minimum guarantee of $10000 on the security of the connection established between the client's device and the server. It also ensures that the TrustLogo seal will be displayed on the website. This logo is an indicator of trust and will encourage users to complete a transaction or fill the form on your website. Hostgator charges $20 for the Positive SSL certificates but with Business Plan, you'll get it for free.
SEO Tools
For those who don't know, Hostgator offers paid SEO service. The company has launched 2 search engine optimization packages – Start and Grow. Why am I telling this to you? Well, Hostgator gives the buyers of its Business hosting plan free access to the "Start" SEO package which is worth $50.
According to Hostgator, the Start package includes the search engine submission service. It lets users analyze two competitor websites and up to 50 pages of their website. This package gives users access to keyword ranking reports and a marketing report that suggests up to 5 tips that may boost your website's SEO. Hostgator Start SEO package also lets you schedule weekly scans.
Click here to get a 60% discount on the Business Plan
Dedicated IP address
Yet another advantage of the Hostgator Business plan is that your site/server will be assigned a dedicated IP address. In shared hosting, several websites run on the same server and are assigned the same IP address. The websites may be of different niches. If you're using this plan, your website's IP address will be unique. Hostgator has priced dedicated IPs at $4/month. By the end of the year, you'll save $48 if you need hosting with a dedicated IP address and you decide to go with the Hostgator Business plan.
Anonymous FTP
If you've used FTP for uploading or downloading files, you may know that the FTP software asks you to enter a password and email address of your FTP account. If you don't provide these two details, the server will reject your attempt to connect to the server. In an Anonymous FTP connection, the server will let you see or download the files without asking you to provide login credentials. This feature saves time as you don't have to create FTP accounts with the Cpanel tool/software.
Hostgator website builder
The Business plan gives you access to Gator Website Builder, Hostgator's indigenously built drag-and-drop website builder tool. This utility enables you to build websites without writing code. It is newbie-friendly and doesn't requires knowledge of HTML, CSS, JavaScript, PHP, etc. The Gator builder offers several mobile-friendly customizable templates suitable for eCommerce, Blog, Photography, Portfolio, Business niche websites.
One-click Installer
With Hostgator's one-click installer tool, you can install 75+ apps without writing a single line of code. Some of the apps supported by the Hostgator Business plan are as follows:
WordPress, Joomla, Drupal.
Magento, phpBB, etc
Click here to get a 60% discount on the Business Plan
Unlimited
Hostgator is one of the few companies that offer unlimited storage and unmetered bandwidth to the users. It also enables users to create unlimited email addresses, sub-domains, FTP accounts, etc.
Website Transfer service
If you want an expert to move your website from the old server to Hostgator's server, you can apply for the free website transfer within a month of buying the plan. Users of shared hosting can use this service only once.
Also read: Bluehost Review
IP blocker
Websites are always under brute force attacks. The best way to know whether your site is under this attack or not is to check the raw access log file. Once you find repeated attempts from an IP address to a page on your website, you can easily block the IP address with the IP blocker tool.
Hotlink protection
This plan enables you to activate hotlink protection for the image assets of your website for free from the control panel.
Redirector
If you have deleted a page or modified its URL, you can set up redirects with the GUI based redirector tool of Hostgator.
Comparison of plans and 60% discount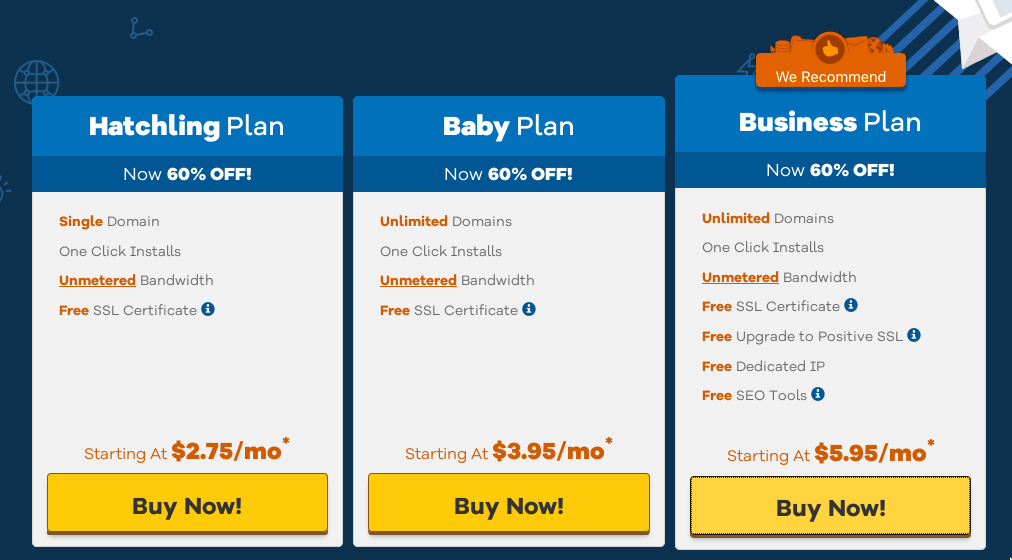 Support
Hostgator Business plan customers enjoy the following four modes of support:
Chat: This is the fastest way you can contact the support team of Hostgator. The advantage of this method is that the written communication between the customer and the staff takes place in real-time.
Email/ticket: You should use these two support methods if the problem you're facing is not severe.
Forum: This is the place where you'll find answers to 100s of questions. Before, contacting Hostgator, you should search the forum to find the solution to your problem.
Phone number: Hostgator's official website displays a toll-free phone number that you can dial to ask general questions or get a solution to an issue you're currently facing.
Click here to get a 60% discount on the Business Plan
Money-back guarantee
Hostgator Business plan users are eligible for a 45-days money guarantee. If for some reason, you want to quit Hostgator within 45 days of buying the plan, you can apply for a refund.
Other notable features
SSD drives.
99.9% uptime.
CPanel software.
$100 marketing Bing/Google Adwords offers.
Instant backups.
Final thoughts
The Hostgator Business Plan offers extra premium features worth 100s of dollars for just $24/year (the baby plan costs $3.95 and the Business plan costs $5.95, $2 x 12 = $24). If $5.95 per month pricing is within your budget, you shouldn't hesitate to buy this plan. The support offered by Hostgator is of top quality. Unless you install a buggy plugin or use a badly coded theme/scripts, the website performance will be great.
Also see: Hostgator baby plan review