Unmanaged cloud hosting is not everyone's cup of tea. Once you buy an unmanaged web hosting plan, you must configure the server, install apps/SSL certificates, manage cron jobs/logs, deploy a website, maintain the software on the server by yourself. As most Linux cloud servers don't provide a GUI, you should have the knowledge of Unix commands and the software you're planning to install. Hosting companies expect a person using an unmanaged hosting plan to have the knowledge of the UNIX operating system and the programming language they have used to build the site or the CMS they're using. The technical support staff may or may not help you if the issue is not related to the server's hardware or network performance.
Here's when managed cloud hosting providers come into the picture. The managed hosting plans are generally expensive but there are a few firms that are selling the plans for an unbelievably cheap rate. Hostgator is one of the few companies (or might be the only company) that is offering a top-notch cloud hosting service for below $10. Hostgator is a big name in the world of hosting. The company had launched the cloud hosting service for users that are uncomfortable in hosting a site by themselves. The best thing about Hostgator Cloud hosting is its pricing. Unlike many companies that charge over 15 USD, Hostgator web hosting plans start at just 4.95 USD.
Review
Hostgator cloud hosting plans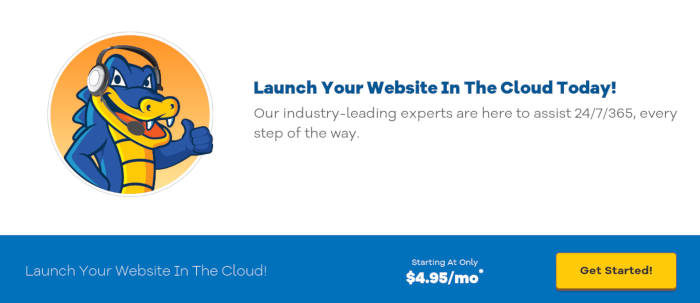 HG provides 3 cloud web hosting plans to the customer – Hatchling, Baby, and Business. It enables you to host 1 to unlimited websites on its cloud servers. These 3 plans let users enable SSL certificates for their sites with a single click of a button. There's no storage and bandwidth limitation. Also, you can create unlimited sub-domains when you're using one of these three plans.
The cheapest plan has a limitation of 1 website and it costs $4.95 per month. It allows users to host their website on a server with a dual-core processor and 2GB RAM. The Hostgator Baby cloud plan allows you to host unlimited websites. Its servers have 4GB RAM and a powerful quad-core processor. This plan lets users park unlimited domains. It costs $7.95 per month. The Hostgator Business cloud plan offers a server with a hexacore processor, dedicated IP address, and 6GB RAM. It is priced at $9.95/month. See the table of comparison of Hostgator Cloud Hosting plans here.
Hostgator Cloud hosting features (paid)
Cpanel
Hostgator allows users to manage their cloud servers with an intuitive CPanel. This app allows you to manage databases, create subdomains, see graphs/raw access logs, etc.
Caching
Hostgator cloud servers cache your website pages automatically and serves them when a page is requested. The caching solution Hostgator uses is developed by the company's engineers. It works like charm for websites of all types.
Security and Failover
Hostgator replicates your website data across multiple servers. When there's a hardware failure, HG will serve your website from the server where your website data has been saved.
Third-party services supported by Hostgator
Codeguard: This service enables you to back up and restore your website. CG is one of the best monitoring and backup services in the world.
SiteLock: This tool protects the website from malicious users and viruses. It scans the folders on your cloud server every day.
GSuite: GS gives you access to a wide range of online productivity applications Google has developed.
Domain Privacy: When this feature is enabled, Hostgator will hide your personal details that can be accessed with the whois tools.
Also read: WP Engine review
Supported payment methods
Credit/Debit cards.
PayPal.
Support and uptime
Hostgator offers live chat and email-based customer support. The waiting time for a live chat session is below 4 minutes. LC Is the best and the fastest way to get in touch with the Hostgator support team. The uptime of the sites hosted on Hostgator cloud servers is over 99% (from my personal experiences with HG).
Supported software
HG is popular because it supports several content management systems and software. HG staff updates the server software when a new update is rolled out for it. Here's the complete list of software Hostgator supports.
Is Hostgator trustworthy?
Yes, I've used the company's web hosting and domain registration service in the past. I never had a problem with the Hostgator servers, network, and technical support.
Final thoughts
Hostgator is one of the top hosting firms. Its cloud hosting plans are affordable and servers are reliable. The company's cloud servers are equipped with the latest hardware. HG Cloud offers support 24 x 7 and excellent uptime to its customers. If you're looking for a cheap hosting service for your site, you can sign up for Hostgator Cloud.