The Hostgator Baby Plan enables users to host as many websites as they want without paying extra money. It is one of the cheapest hosting plans available on the internet.
Is Hostgator a trustworthy company? Is its Baby plan ideal for you or worth buying? What features does it provide to the users? Here's my unbiased review of the Hostgator Baby plan:
Review
The Baby plan of Hostgator ships with several features. Here's a list of features it provides to the users:
Unlimited domains
Many hosting companies limit your account to just one domain i.e. you can't host more than 1 website on your server. Hostgator Baby plan has no such restriction. No matter what domain you're using or your site's niche is, you can launch as many websites as you want with this plan.
Free SSL certificate
SSL ensures that the communication taking place between the web server and the website visitor is encrypted. Although there's no harm or ill-effect in keeping your website HTTP only, Google had announced a few years back that HTTPS is now a small ranking signal.
Frankly speaking, SSL certificates are difficult to install and renew manually. If you've not configured redirects and the certificate correctly, your site's search engine visibility will be badly affected.
Hostgator Baby plan provides a GUI based tool for enabling HTTPS on a website and managing it. If you're switching from HTTP to HTTPS, Hostgator has shared a code snippet that you must copy and paste in the .htaccess file of your website's root folder. This code will redirect your site's HTTP traffic to HTTPS.
Once you activate an SSL certificate, you don't have to worry about renewing the certificate nor do you have to keep an eye on the certificate's expiry date. This is because Hostgator renews SSL certificates manually. The web hosting company won't charge you for this service.
Click here to get a 60% discount on the Baby plan
Unlimited bandwidth
A bandwidth is nothing but the amount of data your website transfers or receives. For example, if the size of your website's page is 786 Kb and when a visitor accesses it, if you've not enabled Gzip caching or have set the expiry time to HTTP headers of the static files, your website will transfer 786 Kb of data to the visitor's browser. If you're using the Hostgator Baby plan, you don't have to worry about the bandwidth or optimization. This is because the company lets your site transfer unlimited data. Hostgator also Gzips your site's content and adds expiry time to the website's static file headers to make your website pages load faster.
FTP accounts
An FTP account enables non-technical users to connect an FTP client software to a server. When the software establishes a connection successfully, you can manage files on the server just like the way you manage files on your Windows PC. Hostgator Baby plan lets users create unlimited FTP accounts.
Buy Baby Plan here with a massive discount
Control panel
Before understanding the Control Panel, let's first understand what happens when you use a one-click installer tool. When you use the one-click script installer tool, the tool runs commands to create a database table/database user, set up the web server configuration file, etc. If you don't use this tool, you'll have to install and configure the required web-server, database server by yourself.
The Hostgator Baby plan gives you access to GUI based software which you can use to install software of your choice without typing any commands. In addition to installing the software, the tool will configure the software for you. The CPanel also allows you to see the website's log files, enable hotlink protection, redirect URLs, block IP Addresses, etc.
Supported apps
The Hostgator Baby plan supports WordPress, Joomla, Drupal, PhpBB, and 71 other popular web applications.
Pricing, support, uptime, money back, and discount
Hostgator offers phone, email, and ticket-based support to the users. The company's support staff are available throughout the day and night.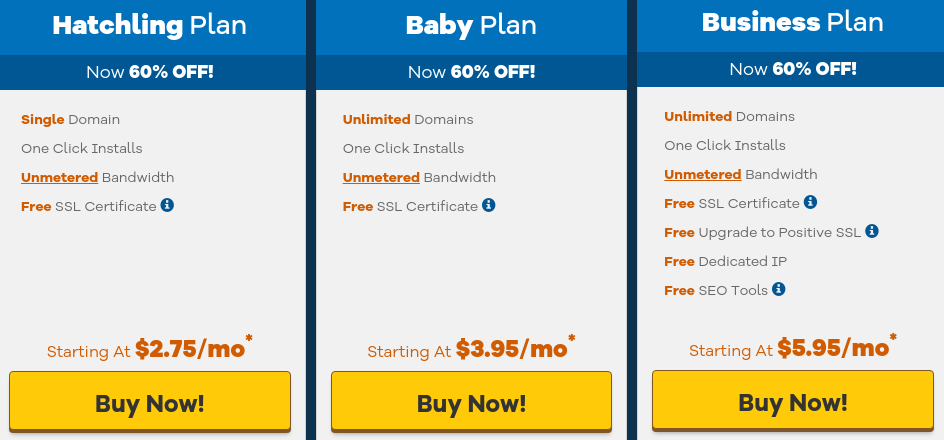 Hostgator's Baby plan costs $8.96 per month. With this special link, you can get the plan for just $3.96. Yes, that's right. You'll get a cool discount of 60% when you buy the Baby plan with this special link (the 60% off coupon code will be applied automatically).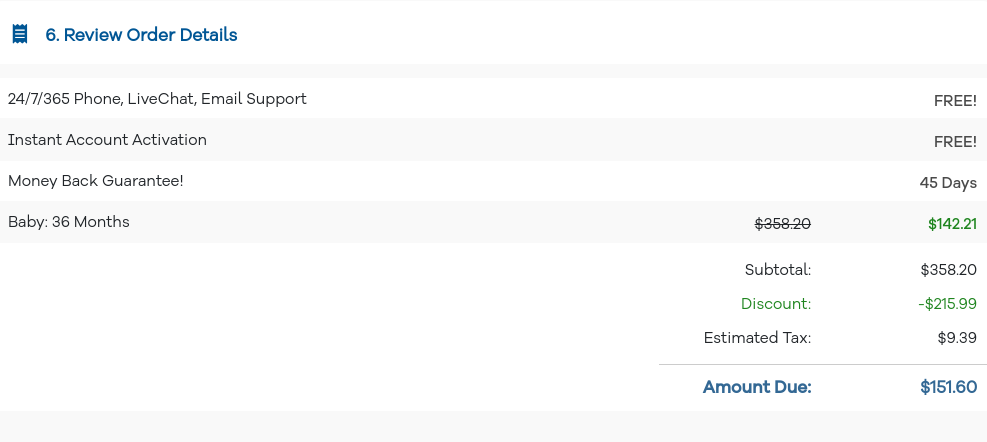 Hostgator will refund your money if you're not happy with their service and you apply for account cancellation/refund within 45 days of buying the Baby Plan. Hostgator is the only company I'm aware of that has 30+ days money-back guarantee
Hostgator website has an active forum where you can ask questions to fellow users. You can also explore the forum threads to find out a solution to an issue you're facing.
Add-ons (Optional)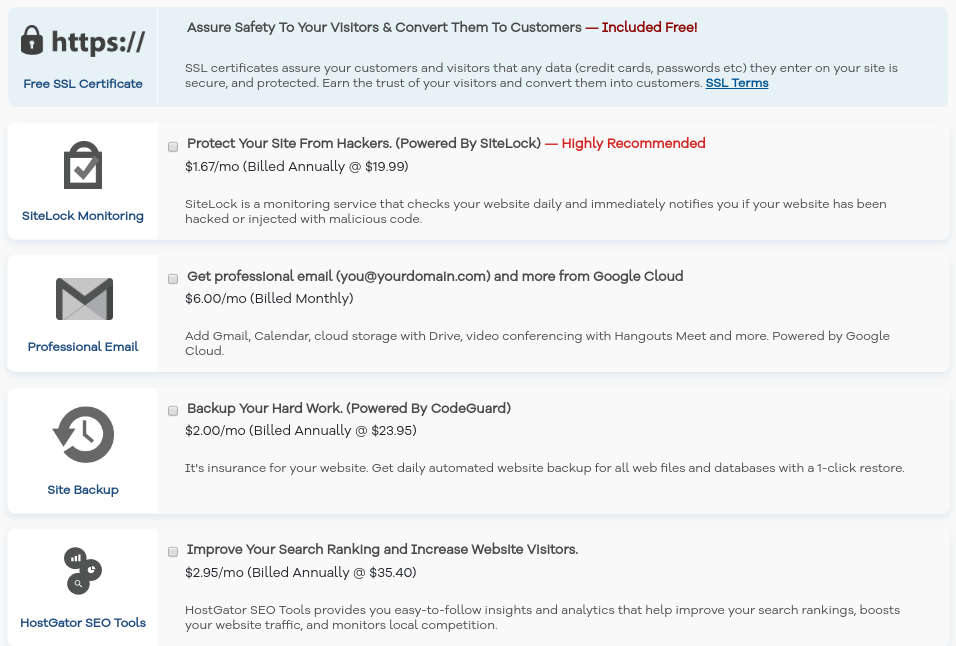 Hostgator offers the following four premium features:
Sitelock: When this service is active, Hostgator will periodically monitor your website to find malicious code. When Hostgator finds malware on your website, it will make you aware of it.
Professional Email: If you're running a business site, you can get a professional/branded email address by choosing this addon. This service is powered by Google email hosting.
Hostgator SEO tools: Hostgator has developed several SEO tools. To get access to these tools, you can select this addon while buying the Hostgator Baby plan.
Backup service: When this service is enabled, Hostgator will back up your website and database automatically.
Note: The above services are optional. You can deselect them before completing the transaction.
Click here to get a 60% discount on the Baby plan
Who should use the Hostgator Baby Plan?
The Baby plan is ideal for the following two categories of bloggers:
Newbies: If you're planning to start a blog, the Hostgator Baby plan is a great option for you as Hostgator provides a one-click WordPress installer tool and CPanel software for managing hosting/domains.
Advanced users: If you own multiple sites, you can save a lot of money by moving your sites to Hostgator. One more reason to buy the Hostgator Baby plan is that it is easy to manage multiple websites hosted on a single server rather than managing sites on different servers.
Is Hostgator a trustworthy company?
Yes, Hostgator is one of the top 10 web hosting companies in the world. The company has a great infrastructure and highly skilled support staff.
Final thoughts
Hostgator Baby Plan is the cheapest and best hosting plan available for users that have multiple websites and for users that want to launch multiple websites (blogs). It provides CPanel support, 24 x 7 customer support, and 45-days money-back guarantee to the users. The Baby Plan of Hostgator offers several features for a dirt-cheap price tag.