EasyWP is a managed web hosting service launched by Namecheap for WordPress users. It is powered by the cloud servers which Namecheap engineers have configured to deliver three times better website performance than a shared server. Namecheap cloud servers are powered by Linux container technology. They have an uptime of 99.9%.
EasyWP by Namecheap Pricing
Starter plan: Priced at just $22.88 per year, this is the cheapest managed hosting plan you can buy right now. The Starter plan lets you store up to 10 GB of data on an SSD. It is suitable for websites that get up to 50K page views per month.
Turbo plan: An ideal plan for sites with a good amount of traffic, the Turbo plan is priced at $44.88/year. It offers 50GB storage space and supports up to 200K monthly page views.
Turbo Supersonic plan:  This is the best Namecheap EasyWP managed WordPress hosting plan. It offers a server that has an astounding 100GB storage memory. Turbo Supersonic supports 0.5 million (500K) page views per month. It costs $49.8/year.
Features of the Starter, Turbo, and Turbo Supersonic plans
The above three plans enable users to create and restore their website/DB backup with the dashboard interface. It lets you upload and manage an SSL certificate (you can get one for your website for free from sslforfree.com). The three plans allow you to set up a single website. To host more sites, you'll have to buy an extra plan. The plans enable you to access the files stored on the server with an SFTP client application. They let users specify the duration for which the server should keep the SFTP connection alive.
Click here to see full features
Performance
Pages of the websites hosted on Namecheap EasyWP servers are cached automatically. The caching module of the EasyWP eliminates the need for enabling database level cache and PHP OpCode cache.
Support and knowledgebase
Having been a Namecheap customer for 4 years, I can say that Namecheap offers world-class technical support to its users. The company's staff has excellent knowledge of domains, WordPress, DNS, etc.
If you're facing some hosting or domain-related issue, you can get in touch with Namecheap support using the following two ways:
To open the Live Chat interface or to raise a ticket, head over to the "Support" page of the Namecheap website. Namecheap's knowledgebase has detailed information on its products and services. They have also answered several questions that a user may have in his/her mind before buying a hosting plan from them on the EasyWP knowledgebase page of their website.
How to launch your WordPress website is less than a minute with Namecheap?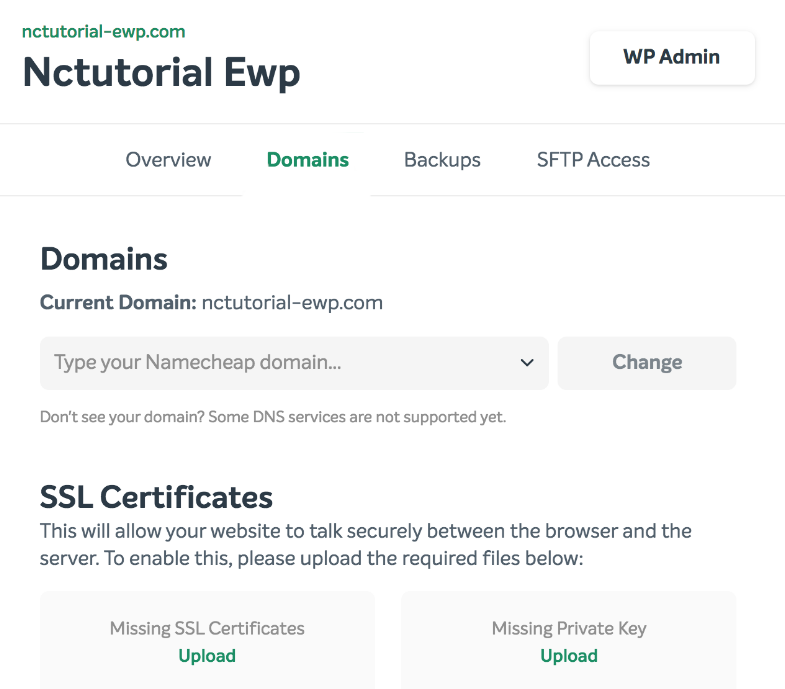 If you've registered a domain name with Namecheap, you can directly link your domain with your hosting plan. If your registrar is Uniregistry, Porkbun, Dynadot, Namesilo, or any other company that supports URL forwarding, you can use Namecheap's special URL generator tool. This tool will generate a URL of this type: example.easywp.com. This URL will open your WordPress website. You have to copy this URL and set up forwarding at your domain registrar (configure your registrar to forward requests to the special URL). If your registrar is Namecheap, you don't have to do this.
Once you link your domain or set up forwarding, Namecheap displays a button with the label "Continue". When you click this button, the WP setup tool will display an option to install WordPress on your server. Click this option. Now, select your domain from the list (This option will be displayed if you have bought a domain from Namecheap). The tool will now install the WordPress content management system on your server. Once WP has been installed, you will see a notification, a green-colored dot below your domain name, your plan details, and the version of the WordPress CMS.
To open the control panel, click your domain name. The control panel displays the used storage memory, option to create/restore backups, turn off the site, manage domains, open WordPress Admin interface, etc. It is a custom-built software for the EasyWP hosting users.
To open the dashboard of your site, click the "Wp-admin" option. When you do so, Namecheap will log you in to your WP account automatically. Now, you can delete the example post, install plugins, and theme of your choice.
Pros
Simplified dashboard for managing a WordPress website.
Option to restore and create DB backups.
SFTP support.
Cons
No one-click SSL certificate enabler
Closing words: Namecheap EasyWP managed hosting service provides three affordable plans. The plans are great for the users who are getting started with the WordPress CMS and for the users that are looking for an uncomplicated managed WordPress hosting service. EasyWP also offers 24 x 7 support and a custom-built easy to use dashboard interface.
Click here to buy a domain, SSL certificate or EassyWP hosting plan from Namecheap with a discount