Want to register a new domain name for cheap? Looking for an affordable web hosting service provider? Dynadot might be your answer.
Dynadot is an internet company that was founded in 2002. It is an ICANN approved registrar that provides the following three services:
Domain registration.
SSL certificates.
Email Hosting.
Web hosting.
Dynadot review
Getting started
Registering a new domain name is easy with Dynadot. The user must enter the domain name of his/her choice in the text box they see on the Dynadot website. Then, they must click the search button.
If a DN is available for purchase, you'll see a "The domain is available" message on the screen and the pricing. If it is not available for registration, Dynadot will display alternate domain names you can register. DN is one of the cheapest domain registrars. Like Namesilo, it charges only $6.99 for new .com domain registration & $7.99 to $90 for renewing domain names. Here's the pricing of popular TLDs on Dynadot:
| | |
| --- | --- |
| Extension | Price in USD |
| .com | 6.99 |
| .org | 8.99 |
| .net | 5.99 |
| .co | 10.99 |
| .xyz | 0.99 |
| .me | 5.88 |
Once you buy a DN and log in to your account, you can manage renewals, nameservers, etc. Dynadot lets users enable privacy for their domain. When you enable this feature by clicking the toggle option, DN will hide your address, phone number, etc from appearing in whois search results.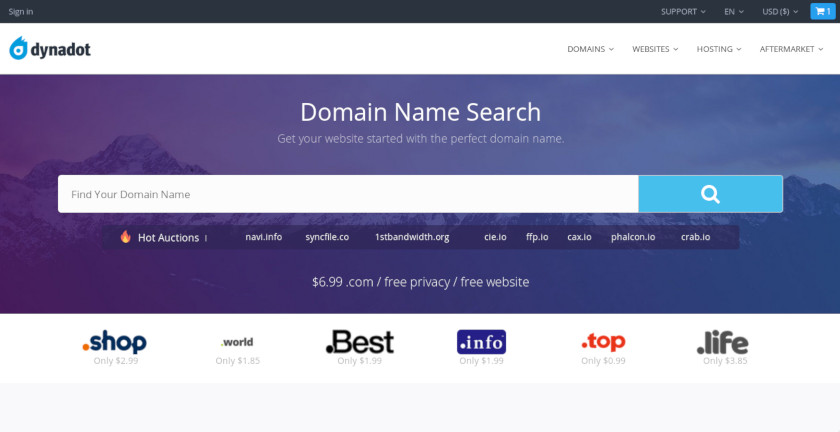 Why should you opt for domain privacy?
If your whois details are public, marketing professionals will call you to sell a service, product, etc. They'll use a website scraping tool to get your email address from the Whois database. If the Whois information is hidden, no one excluding the domain owner and the registrar will know the website owner's contact details.
Supported extensions
Apart from .com, you can register over 50 types of domains with Dynadot. If you look for a domain on Dynadot, DN will show a list of the same domain ending with all supported extensions.
SSL Certificates
Apart from registering a domain name, Dynadot enables users to purchase SSL certificates. The domain registrar is selling a normal SSL certificate for $17 and wild card certificates for $80. The certificates employ a 256-bit encryption algorithm. They are detected by 99% of browsers. The domain name registrar has partnered with GlobalSign for issuing SSL certificates.
Dynadot VPS hosting
Dynadot is one of the cheapest VPS hosting service providers in the world. The company's VPS plan is priced at $10. The cheapest plan offers a server with 1GB RAM, 10GB storage memory, and a single-core processor. The promised bandwidth and uptime for this plan are 1TB and 99.9%. Users are given full root access to the servers. They are allowed to choose one of the following operating systems and software:
Centos, Ubuntu.
Sentora, ZPanel.
Dynadot provides a cool 20% discount to users who buy the annual VPS plan. Its VPS servers are powered by the Intel Xeon processor. Once the customer buys a plan, Dynadot will automatically assign an IPV6 address to the server. They can also install the WordPress content management system with a single click of a button.
Email Hosting
Dynadot offers a single email hosting plan that is priced at $15.99. Users enjoy 99.9% uptime and up to 30MB of storage memory. They can also log in to their server with an FTP user provided by Dynadot.
Free website builder
Dynadot offers 4 website builder plans – Free, Basic, Pro, Business. The free plan lets users publish 1 mobile-friendly page. It offers 1 email address and lets users connect their domain to their website. Priced at $10 per year, the Basic plan of Dynadot enables users to publish up to 5 pages. It provides 5 email addresses and supports blog feature. The Pro and Business plans of Dynadot cost $30 and $100 per year. They support unlimited pages and ship with several features such option to add custom CSS/JS, video background, access to SEO tools, unlimited email addresses, etc. The Business plan allows users to launch their online store with as many products as they want. It supports custom favicons, SMTP, etc. Sites using the Free and Basic plans will have Dynadot ads. Websites using the Pro and Business plans won't have advertisements.
Marketplace
Dynadot gives users access to a marketplace where users can buy or sell expired/live domain names. To buy the domain listed in the marketplace, you must have a Dynadot account. You should also participate in the auction by placing a bid.
Also see: Flippa review: Is it the best place to sell websites online?
Support
Dynadot provides email and chat-based support to customers. As in other website hosting companies, you can contact the support staff during the day or night. DN also gives you access to a forum where you can post questions.
Supported payment methods
DN accepts payments with credit cards, debit cards, Paypal, Skrill, Wire Transfer, etc.
Final thoughts
Dynadot offers cheap domain registration, VPS, and email hosting service. It also sells SSL certificates for a decent price. If you find the pricing of other registrars exorbitant, you can register your domain with Dynadot. The company is not as popular as NameSilo, NameCheap, or Godaddy but it's worth trying out because of the cheap plans.