Porkbun is one of the latest payers in the world of domain registrars. It is approved by ICANN and was founded by Raymond King, a well-known businessman. I discovered Porkbun while I was searching for registrars that offered a discount to new users. After going through the plans of Porkbun, I bought my first .com domain from the registrar for just $5. Here's my honest review of Porkbun:
Review of PorkBun
Porkbun enables you to register several types of domains. It also ships with a domain name generator tool that accepts a word as input and displays a list of domains containing the word you've entered.
The company accepts payments with a credit card, cryptocurrencies such as Bitcoin, Etherium, etc, and PayPal. Registration of a domain takes about 2 minutes. While registering, Porkbun prompts users to enter the full name, address, phone number, etc.
Interface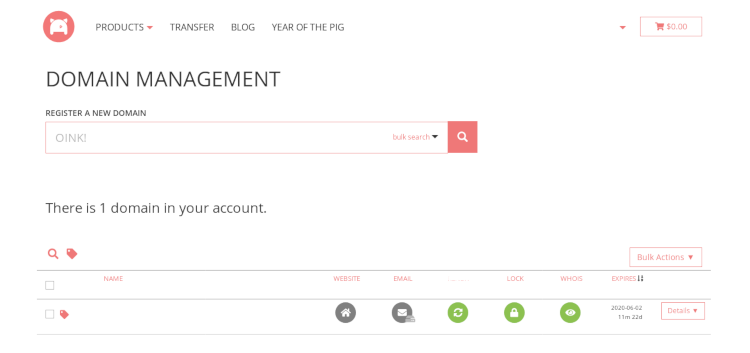 Porkbun has a simple dashboard interface. When you log in to your account, you'll see an option to search for domains and a list of domain names you have registered. Besides the domain names, you'll find options to launch the site builder tool, set up email hosting, renew or lock/unlock domain, disable/enable domain privacy (whois).
The dashboard also shows the time left for your domain to expire and a button with the label "details". When you click this button, the registrar will display options to disable/enable email forwarding, edit the nameservers, get the authorization code for transfer, see or edit the registrant's details, etc. PB supports bulk operations. In case you want to manage, renew, label several domains at a time, you can use this feature.
The domain registrar doesn't force users to keep the details of the credit card. It provides an option to delete the credit card when you're done buying the domain.
Security
Porkbun lets users use the 2-factor authentication technology for securing their accounts. 2FA adds an extra layer of security to your dashboard.
How does this feature work?
Once users enter their account's username/email address and password in the login form and hit the submit button, Porkbun will check whether the email address and password match with their records. Once the login credentials are verified, it will ask users to enter a six-digit code. The code which will unlock your account is generated by a mobile application such as Google Authenticator, Authy, etc.
While activating 2FA, the registrar will display backup codes. Make sure you save these codes to your PC. If you lose your phone or accidentally uninstall the authenticator app, these codes will come in handy. Another cool security feature of Porkbun is that when you or someone logs in to your account, the registrar will send an email to the inbox of the account holder. This email has details of the user's IP address, browser, operating system, and internet service provider.
Porkbun features:
Simple yet powerful domain management interface
Porkbun displays a list of your domains when you log in to your account. It shows a panel when you click the "details" button displayed at the extreme right of the domain. This panel lets has options to add DNS records, set up forwarding, enable renewal, change nameservers, change the address of the registrant, etc. The changes are applied in real-time.
Renewal and email hosting
The registrar can automatically renew the expiring domains. It lets you set up email hosting and create a business email with just a few clicks of the mouse. The company charges $2 per month for this service. If you already have an email address, and you want the emails sent to your business email address to an email address of your choice, you can use the email forwarding feature of Porkbun. If you register a domain with Porkbun, you can use the company's email hosting service for free for 3 months.
Who Is
Don't want internet marketers to know that the website they're currently browsing is owned by you? Well, Porkbun allows users to choose the free WhoIS protection service while registering the domain name. Other registrars may charge 2 to 10 dollars for this service. Porkbun offers it free of cost to all its users.
Knowledgebase and support
PB's knowledgebase features 90+ articles. The registrar provides email and phone-based customer support. If you're facing some issues, write an email to the support staff or call them between 9 Am to 5 PM. If you have sent a mail, you'll hear from them with 2 hours. Dialing the support number is the fastest way to get in touch with the support team of the company.
Year of the pig sale and offer for new users
Besides offering a good discount on .com, .net, .org and several other TLDs to new users, Porkbun has organized the "Year of the Pig" sale that will save you money on registering the following domains:
.design, .wiki, .live.
.world, .online, .fun.
.website, .pw, website, .host.
.asia, .press, .nyc.
Other services offered by Porkbun
Shared hosting: Right now, Porkbun has a single WordPress shared hosting plan which costs $5 per month and $60 yearly. This plan enables users to save and transfer unlimited data. It lets users enable HTTPS with few clicks of a button and install applications through an easy-to-use graphical user interface. Users of this plan are given access to a Cpanel tool through which they can back up their data, manage their hosting, create and manage subdomains, etc. PorkBun also offers the "static website hosting" service that is priced at $2.5/month. It has a Cpanel powered $10 web hosting plan that supports custom-built PHP sites.
Site builder: Porkbun lets users build and launch a website quickly with the help of Weebly website builder. It offers 5 premium site builder plans – basic, starter, pro, business, and performance. The cheapest plan costs $3 per month. It provides a drag and drop builder tool. You can create and manage unlimited pages if you're using this plan.
Here's a comparison table that explains the differences between the five site builder plans of Porkbun: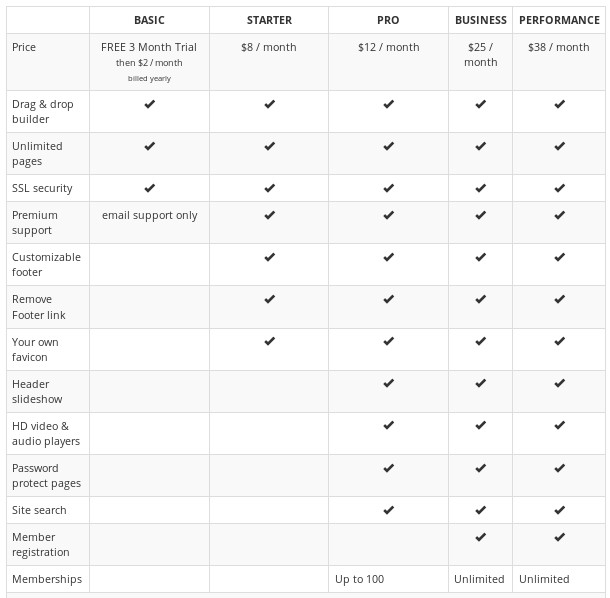 Pros
Simple UI.
Transparent pricing.
Good discount to new customers.
Free Who IS protection.
Cons
Final thoughts: I have registered three domain names with Porkbun. The experience so far with my new registrar has been great. If you're looking forward to registering a new domain, try out Porkbun. The registrar offers a great experience while registering and managing a domain name. Visit its website and grab your .com, .net, or .org, or any other domain for a great price.