NameSilo is an ICANN accredited domain registrar that came into existence in 2010. It is one of the top 10 registrars in the world. Although it's not as old as other registrars, NS has already made its mark in the world of web by providing great service and TLDs for a great price. The registrar enables you to register .com, .net, .us, .co, .in, .co and many other types of domains (40+) for a cheap price. In 2016, I had bought a .com domain name from NameSilo for less than 7$ for my new project. At that time, other registrars used to charge around 10$ + ICANN fees for a top-level domain name. The pricing and features of NameSilo haven't changed much since 2016.
In addition to the domain name, NameSilo also provides free WHOIS protection for a lifetime. This is a great deal because marketing professionals use bots to scrape WHOIS data for sending promotional emails. They might also call you. If you don't want to be bothered by these people, you can select the WhoIs privacy checkbox while registering your domain name. Whois privacy/protection for a year costs around $3 with other registrars. In total, I saved $8 ($5 on the domain, $3 on WhoIs protection).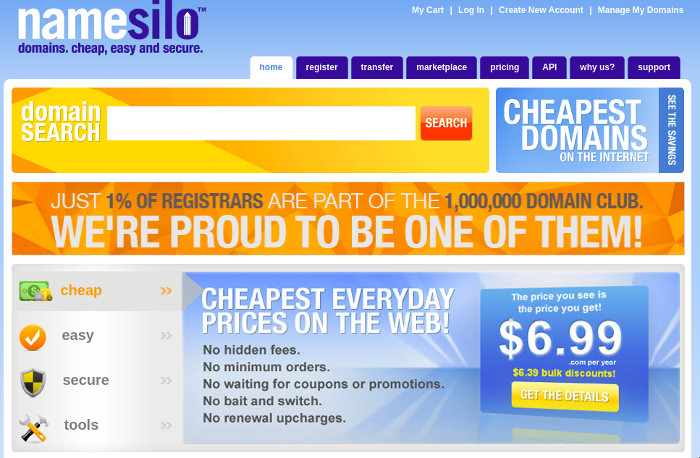 While checking the availability of a domain, you can see the list of premium domains matching the one that you're planning to register. Although premium domains are expensive, they give users an idea of keywords users should use in their new domain.
Registration and transfer
Registering an account is quick and easy with NameSilo. The registrar will ask you to enter the address, phone number, city, country, state, etc to register an account. Once you enter the requested details and click on the submit button, you'll be asked to complete the payment. NameSilo is one of the few registrars that accept payment with Bitcoin. It also supports payment with Skrill, PayPal, Dwolla, Credit Cards, and Alipay. I used a credit card to buy the domain. The transaction was quick. The process of transferring a domain from/to NameSilo is quick as the registrar processes transfer requests within half an hour. I had transferred two domains from NameSilo to NameCheap within 2 hours. The reason for the transfer was a promo code that saved me $5.
Dashboard
Once you buy a domain and log in to your account, you'll see an alert message box that requests you to verify your email address. Make sure you verify the address to keep your account in good standing. If you have registered an account with various websites, you might find it difficult in remembering the usernames of each account. NS allows you to log in to your account by entering your domain name instead of an email address or username and password. This is yet another cool feature NameSilo offers to its customers.
Coming back to the dashboard, NS's panel for managing domains is intuitive and easy to use. Though it is not attractive, all the options are right in front of you. The NameSilo dashboard enables you to change nameservers, transfer/lock/unlock domain, change account information, manage the portfolio, view order history, etc. If you've registered several domains, you can filter the domains by name with the dashboard.
NameSilo gives you access to DNS templates through which you integrate your website with your favorite online service quickly. This feature saves time. NS maintains a list of IP addresses and the time of the logged in users. It allows you to download a CSV file of the same.
Check all NameSilo features here
Support
NameSilo provides chat-based and email-based support to customers. Hence, if the problem is serious, you can get in touch with the technical support team immediately. The registrar also offers a Web Site troubleshooter tool through which you find out the reason why your website isn't working. Like other registrars, the NameSilo website gives you access to tons of help topics that you can refer to and enhance your knowledge or fix a problem.
NameSilo offers a Domain Defender tool through which you can set up 2-factor authentication for your account. It allows you to go through the list of changes you've made to your domain name.
Pros:
Simple dashboard.
Low registration fees compared to other registrars.
Free Who Is guard.
Two-factor authentication.
History of domain changes.
Cons
Final thoughts: NameSilo is one of the top domain name registrars. It sells TLDs for just 7 to 8 USD. The company offers several features and excellent support to its customers. It is a great alternative to companies that charge 10 to 15 USD for registering a domain. It provides several features and good support to customers. If you're not happy with your existing registrar or you're looking for a cheap domain registrar, try NameSilo.
Use the coupon code reviewslion to get an instant discount of $1 on your order.