Uniregistry is an ICANN-approved domain registrar that started selling TLDs in the year 2012. It was founded by an internet entrepreneur called Frank Schilling. As of today, the company manages over 2 million domains.
Uniregistry review & features
Search box

One of the coolest features of Uniregistry is its ajax powered domain name searching tool. The company will display premium as well as unregistered domain names when you enter a keyword in the textbox. I find this tool fascinating as it checks whether the domain name is available or not before generating a list. If the domain is unavailable, you won't find it in the list.
Supported TLDs
Uniregistry enables you to register .com, .net, . org, .tv, .link, .xyz, .co, .inc, .cloud, and 413 other TLDs, ccTLDs, etc for a price starting at $0.99.
Domain perks
Uniregistry offers 3 special Domain Perk plans for people who own several domains. These plans will save money for the users on domain renewals, registrations, and transfers. The Pro plan offers a 20% discount on gTLDs and a 25% discount on ccTLDs. The Elite and Elite Plus plan will provide a 50% discount on gTLDs and ccTLDs. The three plans offer a 5 to 10% discount on premium domain transactions.
How to register a new domain with Uniregistry?
Once you find that the domain is available for registration, select it and click the "Add to cart" button. A popup box will now appear on the screen. The box asks you to enter the first name, last name, email address, and password. Enter the requested details and click the submit button. If you want to change the registration duration, click the drop-down list. Now, click the "Continue" button and choose your preferred payment method. Complete the transaction by making a payment.
Domain manager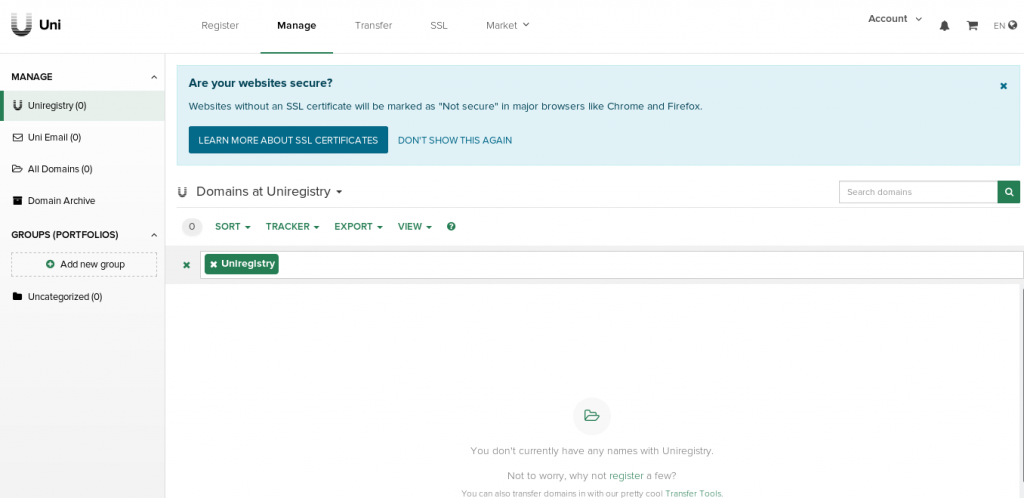 Uniregistry makes the difficult task of managing domains a breeze with its intuitive domain manager tool. This tool lets you set up nameservers, unlock/lock domains, edit the WhoIs data, enable whois privacy protection, etc,
Marketplace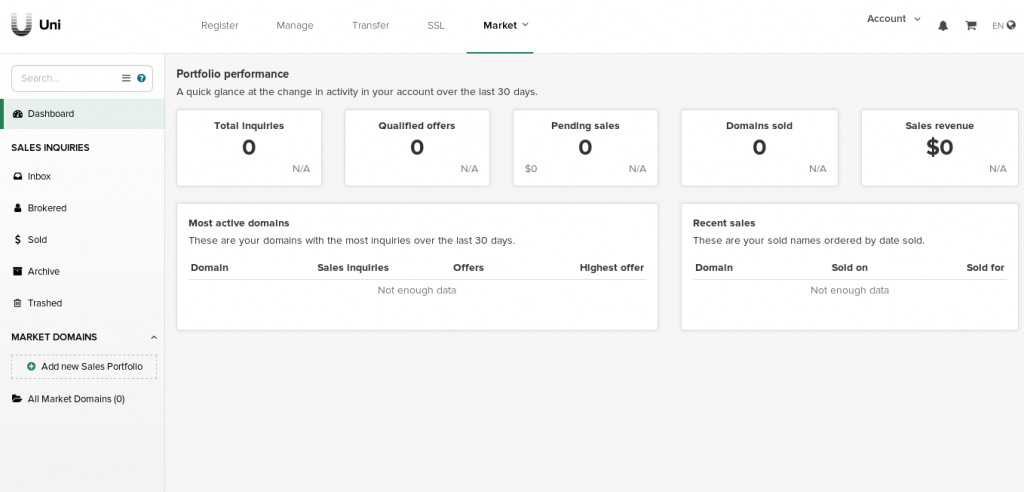 If you own a bunch of domains or a high-value domain and want to sell it on a trustworthy marketplace, you should check out Uniregistry's market section. Uniregistry provides an intuitive dashboard for managing the domains listed in its marketplace. The company enables you to submit several domains at a time.
How does this thing work?
Once you enter the names, you'll be asked to enter the price and nameservers. If you're confused about the price, click the "Appraise domains with Estibot" button. When you do so, Uniregistry will query Estibot to find your domain's value. Once Estibot responds with a value, Uniregistry will automatically set the price of your domain names. You can review the price before submitting the domains to the marketplace.
Once you submit the domains, your domains will be in front of 1000s of Uniregistry users. When you receive an offer, you'll be notified through email. The registrar lets users choose a landing page for their parked domains. It also makes you aware of the number of visitors your parked domain has received.
SSL Certificates
Uniregistry sells three types of SSL certificates – single domain, multi-domain, and WildCard. Its cheapest SSL certificate is named UniSSL. This certificate costs $19/year and it is compatible with a single website. The multi-domain certificate costs $95 and it supports 5 domains. The wildcard certificate supports unlimited subdomains of a single domain and is priced at $129.
The registrar has shared a step-by-step tutorial on configuring its SSL certificate with Apache, IIS, and Nginx web servers on its website. Make sure you follow the tutorial if you want to switch from HTTP to HTTPS without any issues. When you enable the certificate, set up redirects, and open your site in the browser, the browser will show a green padlock symbol. Uniregistry's SSL certificates support 99% of the web browsers.
Transfers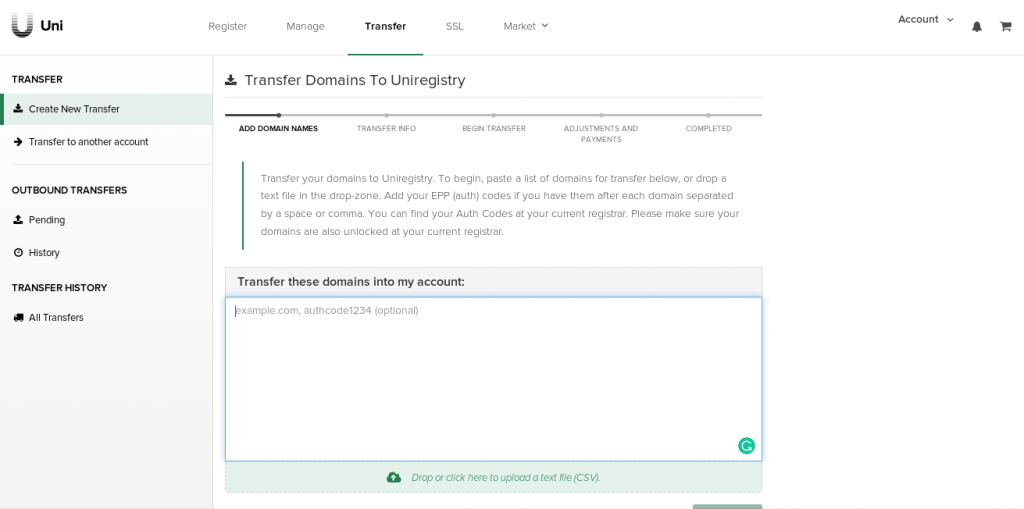 Fed up with the poor customer support, interface, or features of your existing registrar? Uniregistry is one of the best alternatives to other registrars. The company supports bulk transfers. It charges the same fees for transferring and registering a domain. It also maintains a history of transferred domains.
Transferring a domain to Uniregistry is easy. All you have to do is add the domains you want to transfer in the large textbox that you'll find in the "Transfer Domains" page of Uniregistry and click the "Continue" button. Uniregistry will now ask you to unlock your domain by logging into the dashboard of your current registrar. Then, you'll be asked to pay the "Transfer Fees". Once you make the payment, Uniregistry will ask your current registrar to transfer the domain to them.
Two-factor authentication
2FA is an optional service which users can enable to protect their account and domains. While enabling this feature, Uniregistry will prompt you to enter a backup number. It will also display a QR code that you must scan with a 2FA authenticator app.
Support
Uniregistry offers chat, phone, and ticket-based support to the users. The live chat team will respond to your questions within 5 minutes. The support staff will reply to your ticket within a few hours.
Have I used Uniregistry?
Yes, I had registered my 1st domain with them in the year 2016. I used their service till 2017 (I let the domain expire). I had a great experience with the company. Currently, I am using NameCheap which is one of the top 3 registrars on the internet.
Pros
Powerful dashboard.
3 modes of support.
Cons
Final thoughts
Uniregistry is one of the best registrars I've used to date. Its interface is intuitive and easy to use.