StudioPress, the WordPress theme development firm has introduced 50+ premium themes for various niches. For tech, magazine, and news websites, the company had introduced the News Pro theme in 2016.
News Pro is a minimal design based lightweight and responsive theme. It is being used on over 1000 websites. What features does the StudioPress magazine theme provide to its user? Is it suitable for your website? Below, I've shared my honest review of this StudioPress theme:
News Pro theme review
NewsPro is powered by HTML5 markup, Genesis Framework, and the code that adjusts layouts automatically when the user opens the website on a phone, tablet, or PC browser. It is lightweight and has an array of options. The StudioPress News Pro theme supports a multi-level menu bar. It provides an option to upload and set a logo. If you don't want to use a logo, you can configure it to use the textual logo (your website name).
Most of the WordPress themes support 2 to 3 column footers. The StudioPress theme, in contrast, supports 6 columns footer. A news website may have several categories. With NP, you have the option of showing the categories and tags of the website in the footer area without using a third-party plugin.
The StudioPress WordPress theme enables you to set featured images for the post. The featured image makes a post look interesting and engaging. The theme provides an option to show a breadcrumb above the post title and below the navigation bar. Breadcrumbs make navigation easy. They also allow users to find new articles without using the search utility. The breadcrumbs in this WordPress template are powered by the schema markup.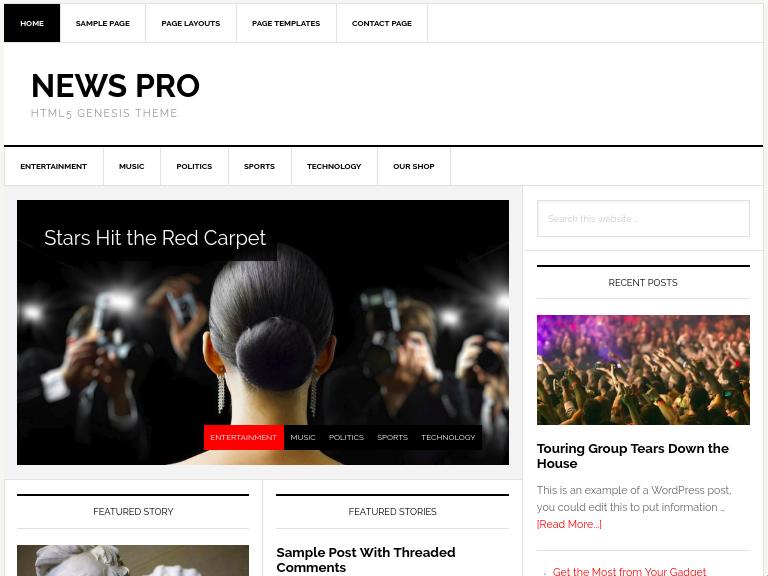 News Pro allows users to customize the home page by placing widgets. It enables you to place a featured tab widget on the homepage. This widget is customizable. You can configure it to display up to 8 categories as a tab. The theme will display the title and featured image of the latest post of the category in the tab.
Apart from the featured tabs, you can place featured/latest posts, recent comments, etc on the home page. NP provides a widget area below the post. You can place the newsletter subscription form, related posts, ads in this area.
News Pro offers six-page and post layouts. It supports the left and right side sidebar. It also allows you to enable the full-width layout on your website. NP is one of the few WordPress responsive themes that lets you place two sidebars next to each other.
SEO and eCommerce
StudioPress themes are known for their search engine friendliness and News Pro is no exception. Genesis Framework adds an SEO settings page to the WordPress dashboard. You can configure these settings or use an SEO plugin available in the WordPress repository to improve your site's SEO score. News Pro is a WooCommerce ready template which means you can set up your online store for selling gadgets, e-books, or anything you want.
Ad Spots
News Pro lets users place a 4 x 4 ad widget on the sidebar. It also enables you to put a 728 x 90 ad unit in the header region of the site. The ad in the header section will be displayed on the right side of the logo. This ad will appear on the post, search, and on archive pages.
Adsense now provides auto ad units. Once you create an auto ad and paste its code in the header section of the site, Adsense will automatically insert ads in the header, footer, sidebar, and post sections. As a single ad unit will do the job, you don't have to create different ad units. Adsense will detect advertisement spots on your News Pro theme powered site and will place ads automatically.
Documentation
News Pro documentation covers everything you want to know about the theme. It is easy to understand.
Support
StudioPress themes are bug-free. In case you're facing some issues or you want to report an error, you can raise a ticket. The support staff will get in touch with you within 24 hours. After a year, you'll have to post questions in the StudioPress forum to get help on the theme or the Genesis Framework.
Pros:
Search engine friendly.
Fast.
Great design.
Cons:
Pricing
News Pro costs $99.95. Some companies ask you to pay a subscription fee annually. If you don't pay the money at the end of the year, the company will make you ineligible for updates. Things are different for StudioPress users. Once a user buys a theme from StudioPress.com, they won't have to pay the subscription fee each year. Also, the users will enjoy theme updates until they're using the theme.
Final thoughts
News Pro is a beautiful magazine/news theme for the WordPress platform. It is easy to customize and is rich in features. News Pro is the first choice of 1000s of bloggers. It has a clean design and is fast and SEO friendly. As the theme is based on minimal design, it doesn't look bloated on desktops or mobile devices. The theme doesn't have confusing options and it is beginner-friendly.
Update: News Pro WP theme has been archived by its developer StudioPress.
News Pro alternatives (cheaper)
Extra: Extra WordPress theme by ElegantThemes has a magazine layout and a built-in review system. It ships with the Divi builder.
NewsPaper: Newspaper WordPress theme by tagDiv is the top-selling magazine template on ThemeForest. It has an ad + review system built-in. Newspaper supports various header/footer/blog post layouts and it gives you access to many demos. Hence, you can import/customize the demo and quickly launch a news/magazine site/blog.