tagDiv Newspaper is the top-selling news theme on the ThemeForest marketplace. It has 104000+ users and an excellent rating of 4.81 out of 5. Newspaper is a premium theme with tons of features. I've used this template on one of my sites. It's one of the few WP themes that I have used for over a year. Initially, the template's design suited only magazine/news sites. Now, it can be used on all types of sites.
The heart of the theme is its settings page. The settings option appears when you download, install, and activate the Newspaper theme. Here are the various tabs you'll find in the settings page of the template:
Header
The latest version of the Newspaper theme supports 15 header styles. By default, the theme displays the search option on the main navigation bar. If you've enabled the top bar, you can configure Newspaper to show the search option on the top bar.
Newspaper enables users to upload a logo, favicons for mobile devices and desktops. It supports text logos. It also has the option to set a background image for the header section. Newspaper supports sticky menus. It lets you enable mega menus. It supports the preloading of items in the mega menu.
Newspaper provides 45+ footer designs. It can display your Instagram feed in the footer if you provide your Instagram ID. Like the header section, users can set a background image for the footer. The footer area of Newspaper can display your website logo. It includes an option to upload a logo for the footer area.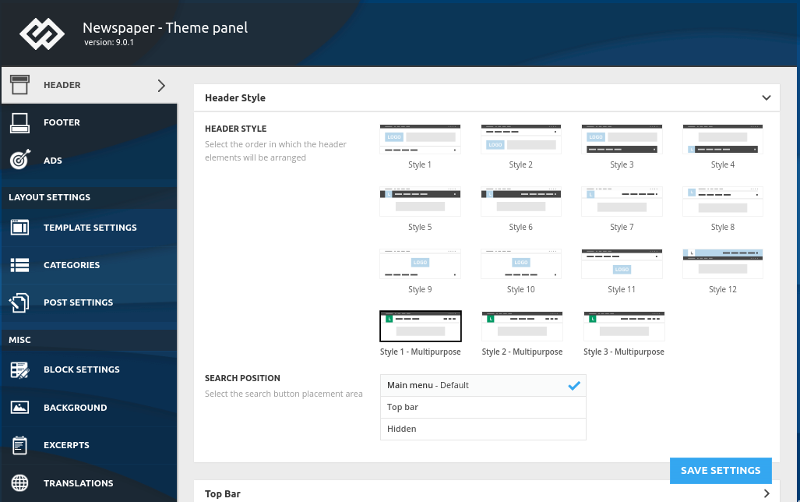 In this section, you can configure Newspaper to display a copyright message, menu, and copyright symbol below the footer section. You must fill the text boxes and select the feature you want to enable in the Theme's sub-footer settings tab. tagDiv Newspaper supports two sub-footer designs.
Ads
Newspaper provides a special settings tab for advertisements. The theme enables users to specify the ad unit sizes for desktops, tablets, and mobile phones. For example, users can configure Newspaper to show a 336 x 280 ad unit on desktops, 200 x 200 unit on phones, and hide ads on tablets. To use this feature, you must enter the responsive Adsense code in the theme's ad settings page. The theme can automatically place ads after N paragraphs.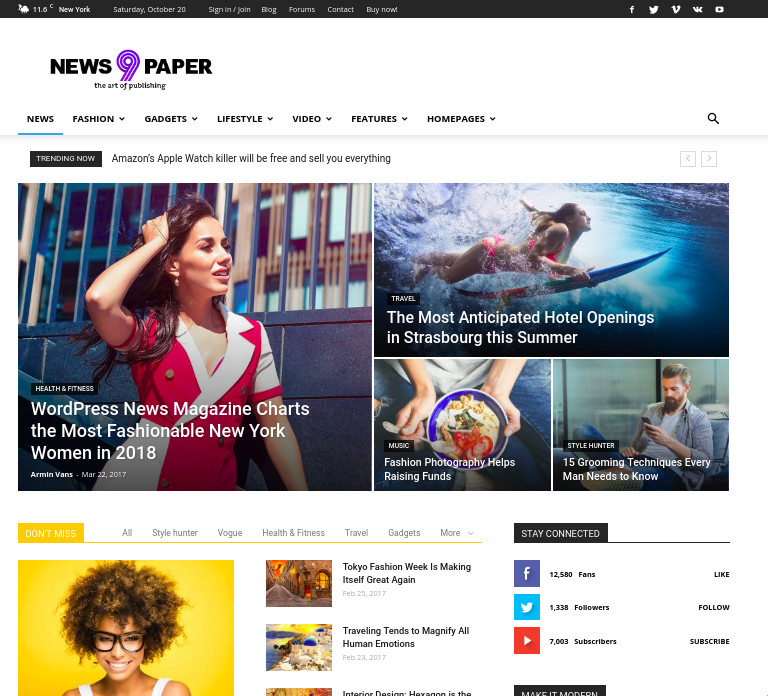 Template settings
Here, you'll find options to enable lazy loading effect, smartlists, breadcrumbs, and enable full-width footer/header design. The theme lets users set a different template for 404, archive, author, category, tag, Bbpress, woo-commerce, attachment pages. It provides 18 template designs and has the option to show the sidebar on the left or right sidebar of the page. Newspaper allows you to disable sidebars on the pages. You can create unlimited sidebars in this theme i.e. if you are using this theme, you can set a different sidebar for 404, archive, author, blog post, etc pages.
Post settings
Newspaper provides 50+ different post templates. It offers a toggle option to show/hide featured images, author name, date, tags, author box, post views, comment count, category, tags, etc. The theme can display social network buttons without asking you to install a third-party social sharing plugin. It supports Facebook like and Tweet button.
Newspaper has a built-in related posts module. The related posts are displayed with a thumbnail. The theme can display up to 12 related posts at a time. It shows related posts below the post content. You can enable the infinite loading of posts in this theme.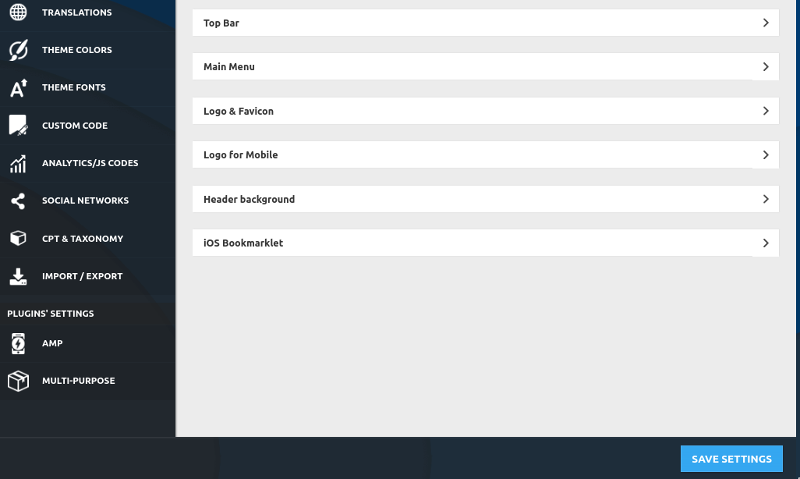 Theme colors and fonts
Users can change the Newspaper theme's accent, header, footer, menu, page/post title, h1, h2, h3, h4, h5, h6 elements color, and font from the theme colors/theme fonts tag of the settings page. Newspaper lets you disable Google fonts if you're planning to use a custom font for your website.
Custom Code
If you want to add your own style class, javascript, HTML code to the theme without editing any file, open this tab.
Blocks
Blocks are displayed on the sidebar and on the pages. Newspaper allows users to disable thumbnails on blocks. The theme supports 17 block header styles. You can configure the blocks to show trending/popular posts and posts belonging to a specific category, tags, etc.
Export and import
Although Newspaper won't make drastic changes to the database, it lets you export theme settings so that you don't lose customizations in case if anything wrong happens. The theme also lets you import the settings.
Review system
The Newspaper template from tagDiv has a review system built-in. Hence, you don't have to use a third-party WordPress review plugin if you're using this template.
Minified resources
The template minifies its JS/CSS files automatically and replaces the links pointing to unminified CSS/JS code files.
AMP
Newspaper is one of the few themes that allow you to make your site eligible for Google's proxy-based CDN program called Accelerated Mobile Pages. Users can enable AMP for WordPress posts and pages. They can also add advertisements and Google Analytics code to the AMP enabled posts/pages from the theme's settings page. Users can also change the header, menu, icon, and footer colors of AMP pages.
See full features of the theme here
Plugins
Composer: Newspaper ships with the tagDiv composer plugin through which you can design pages. The theme gives you access to 30+ templates designed with this plugin. You can modify the templates and use them on your website.
Newsletter: The theme enables you to build MailChimp powered opt-in forms.
Social counter: Newspaper lets users display social network profile icons on the sidebar or the footer area of the site.
Support
The tagDiv forum is the place where you can get help on the Newspaper theme. Once you create a forum post, one of the support staff will reply to your query with a solution within 3 to 4 hours on weekdays. The support is top-notch. I had created 3 to 4 threads in the forum. My problem was solved by the support staff within a few hours.
Demos
Newspaper enables you to import predesigned homepage templates. It provides a plugin for the same. You can edit the demo content as per your requirements.
Pricing
The Newspaper WordPress theme is priced at $59 on Themeforest. During Black Friday or Cyber Monday sales, you can get it for less than $50.
Pros and Cons
Pros:
Many customization options.
SEO friendly.
Fast.
Frequent updates.
You don't have to use related posts, trending posts, popular post plugins if you're using Newspaper.
Cons:
Final thoughts: Newspaper is a beautiful, top-rated, and feature-rich WordPress theme for the magazine, lifestyle, business, food, auto, news, and many other niche websites. It provides many features and has easy to use settings panel through which you can customize the site. It is fast, cheap, SEO-friendly, and powerful.