SEMrush is one of the finest search engine optimization tools launched to date. It offers over 32 tools and has a database of over 15 trillion URLs. The app's database contains information on 500+ million domains owned by users of over 140 countries.
Instead of relying on third-party data, Semrush developers have built their own bot that crawls website pages and collects its data. To know whether the bot is crawling your site or not, all you have to do is check the raw access log file of the website on the server.
SemRush is a great tool. However, it is not free. Why this tool is not free? Well, if used correctly, the SEO tool will help your site to get more traffic from search engines. More traffic means more money if you've monetized your website with ads, affiliate programs, etc.
As mentioned earlier SemRush is not a free tool. The app offers four plans – Pro, Guru, Enterprise, and Business. Its base plan is priced at $99. Yes, that's right! Before signing up with any of the plans and no matter how good the reviews on the web are, you must explore the app's features to learn whether it is right for your individual or business needs or not. For these users, SemRush offers a free trial or a free account.
SEMrush free trial is a great plan for users who want to explore the features before they upgrade your plan.
Free account vs trial
Let's first understand the difference between a free and a trial account. While creating a free account, the app won't ask you to enter billing details (credit card). If you go for the free trial, you'll enjoy unlimited access till the account is valid. Also, you'll be prompted to enter the credit card information.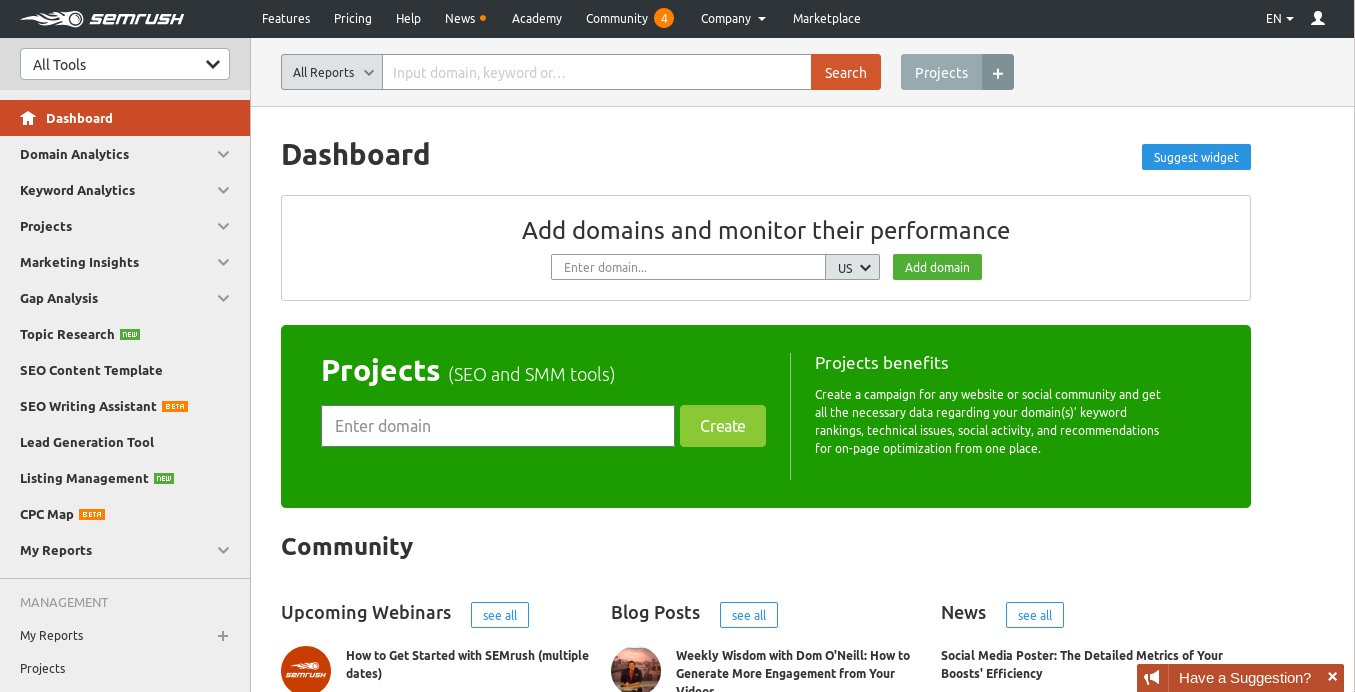 What details does the app ask during account registration?
The SaaS app asks users to enter the email address and a password. It doesn't ask you to verify the email address when you're signing up for a free account. However, if you opt for the free trial, you'll have to enter the valid credit card details.
Once you submit the form and SEMrush registers your a/c, you can log in to the app to explore its cool features.
Sign up SEMrush Guru trial account here
Sign up for a SemRush Pro trial account here
When does the trial period expire?
SEMrush free account offer doesn't expire. However, it provides limited access to its features. For example, you can see only the 1st page of the backlink report tool. Can you use the filters? Yes, the application lets you sort or filter the data.
Things you can do with your free/trial account:
Check if website traffic has increased or decreased
Google unleashes new algorithm updates often. To know whether your website has been impacted by this update or not, you can see the SEMrush app's traffic report.
See backlinks of your site or your competitor's website
SEMrush won't give you a detailed insight or information on your website's backlinks but it will make you aware of basic things which include:
The number of nofollow links pointing to your website.
The date on which the SEMrush bot found the backlink.
The number of dofollow links pointing to your site.
and more
Other features
Plagiarism checker.
Keyword research.
Social media monitoring.
SEO ideas.
Project management, etc.
For more details, go through our SEMrush review.
Limits for free/trial account
SEMrush restricts the number of requests you can make to its database no matter what account you use. When the limit is reached, you'll see a popup box that asks you to upgrade your account by entering the credit card details. The restrictions will be removed at the time you made the first request on the next day.
You can make up to 10 requests to the SEMrush database every day with the free account. Restrictions for the users who have signed up for a free trial depends on the plan they've chosen. For example, Pro or Guru account owners have a limitation of 10000, 30000 results per day.
SEMrush Pro trial account lets you track up to 500 keywords and create up to 5 projects. SEMrush Guru trial account enables you to track up to 1500 keywords and create and manage up to 50 projects.
Sign up for the SEMrush Guru trial account here
Sign up for the SEMrush Pro trial account here
Final thoughts
SEMrush free trial offer is a great deal for users that want to try out the features of the world's most popular search engine optimization tool before buying a plan.