SEMRush is one of the simplest and most powerful SEO tools in the world right now. It is used by world-renowned organizations and SEO agencies. It generates 16+ reports which you can refer to improve your website's ranking in Google, Bing, Yahoo search engines. The reports also help users in restoring the traffic lost after an algorithm update. Does SEMRush help in optimizing a website and making it more competitive in search engines? What features does this tool offer to the users? I have answered these two are many more questions in the below paragraphs.
Note: Unlike other sites that have shared 3000+ word review on SEMRush, I've kept this review short by covering only the features of the tool. I have not shared imaginary stories and things that will waste your time and confuse you.
SEORush Review
What is SEMRUSH?
SEMRush is an SEO tool that you can use to find the keywords the competitor sites are ranking for. It also makes you aware of the competitors/your site's backlinks, keyword position, etc.
How to use it?
To get started with SEMRush, you must enter the domain of the website you want to analyze in the text box that appears in this interface. Then, you must select a country and click the search button.
SEMRush gets results from its massive database of 100+ million entries and displays the same on the screen. To the left side of the table, you'll see a list of tools SEMRush provides to its users.
Note: SEMRush lets users create and manage projects. Hence, it is easy to audit several sites with SEMRush.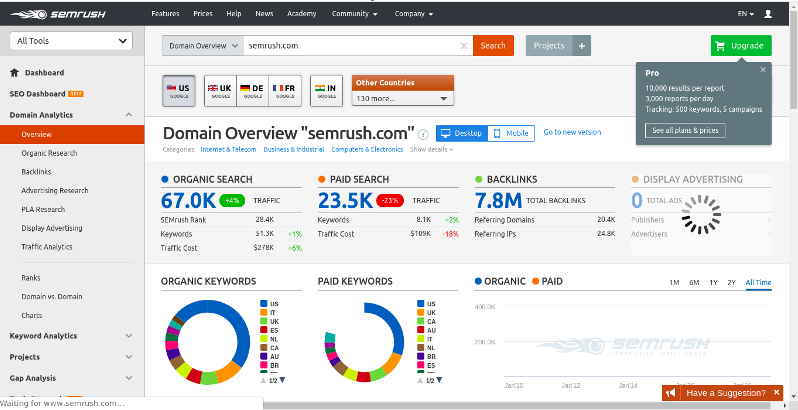 What does SEMRUSH display in its table?
Keyword: Unlike the keyword research tools that ask you to manually find a keyword, SEMRush displays a list of the long-tail keywords and short keywords the site is ranking for.
Position: This field shows the ranking of a keyword in the search engine result pages.
Volume: This metric is important as it makes users aware of the keyword's popularity.
CPC: This field indicates the average cost per click of the keyword i.e. the average amount the website owner stands to earn when the visitor clicks advertisements appearing on the page ranked by the keyword.
URL: The link of the page that is ranking for the keyword appears in this column.
Traffic: This field displays the amount of traffic the site gets from the search engine for a given keyword.
See full features of SEMRush here
Auditing
Analyzing several 100 pages manually is not an easy task. SEMRush gives you access to a website auditor tool that displays issues that are present on your site. The SEMRUSH bot crawls your site and compiles a list of issues it has found on your site. You must fix the issue to make your site search engine friendly or to fix the Google algorithm update penalty.
Backlink analysis
SEMRush 's most powerful feature is the backlinks analyzer tool. Its bot crawls millions of sites every day. As SEMRUSH has a vast data of websites, its backlink report data is accurate.
The backlinks report has five columns – root domain, number of backlinks, country/IP, first seen, and last seen. Users can use this report to find spammy or site-wide links. SEMRush marks a backlink as a toxic one only after checking it thoroughly. To do so, it considers 30 factors. Users can export the backlink data to a CSV file.
SEMRush can help you get rid of the Google Penguin algorithm penalty as it makes you aware of toxic links pointing to your site. Once you find bad backlinks, create a disavow file, and submit the same to Google/Bing. Will the disavow file be effective? Users can test the effectiveness of a disavow file with SEMRush.
Traffic Analysis
SEMRush maintains historical data of the traffic to a website. It enables you to compare the traffic of your site with the competitor's website traffic. You can compare the traffic of up to 5 sites at a given time. The tool allows you to see the website's major sources of traffic.
Keyword Analytics
SEMRush enables users to find keywords with its Keyword Magic Tool. This tool accepts single or multiple keywords. When you hit the search button, it will display a list of most searched long-tail keywords containing the word/words you've entered. You can filter or sort the list by the word count, volume, CPC, density, etc. You can also export the keywords to a file.
Position Tracker
SEMRush enables users to keep an eye on the performance of their site in the search engine by allowing them to see the position of the keywords.
To set up position tracking, you'll be asked to enter the domain name, device, country, and keywords you want to track. You can compare your site's ranking for a particular keyword with that of your competitor.
Brand Monitoring
If you want to know where your site or work was mentioned, you can use the brand monitoring feature of SEMRush. To monitor your brand, you must enter the keyword you want to be mentioned for. The tool allows you to filter the mentions by sentiments, date, source, etc.
On-Page issues
SEMRush is one of the best tools to find on-page SEO problems. Users can set a time/day when the SEMRush bot should visit and crawl your site's pages. They can also specify the bot's user agent. Once the bot finishes crawling your site, it will display a list of ideas that you can implement on your website to make it SEO friendly/fix on-page SEO issues.
Pricing
SEMRush provides three plans – Pro, Guru, and Business. The Pro plan costs $99 per month and it supports 1 user and 5 projects. The Guru plan is priced at $199. It enables you to create and manage up to 50 projects. Two people can use this plan. SEMRush Business plan costs $399. It supports up to 200 projects and a maximum of 9 users.
Pros
Plenty of features.
Detailed reports.
Easy to use interface.
Cons
Pricing is suitable only for users who are making a lot of money online (base plan costs $99 per month)
Final thoughts
SEMRush is a feature-rich search engine optimization and competitor analysis tool. It gives users access to over 16 detailed reports and many useful tools. It is a great tool for people who once used to make tons of money from their website but are now struggling because of algorithm update as the tool helps in finding poor quality backlinks and on-page SEO issues. People who want to optimize their site and find new keywords can also use SEMRush.