Selling websites and applications is a proven way to make money online and buying a website or an application is a great way to invest your money. Flippa is a great site for buyers as it has 1000s of listings. It is also an excellent choice for sellers as the marketplace lets you relist your project several times if it doesn't get sold. Although Flippa is a perfect choice for buyers or sellers, it has several drawbacks. The biggest drawback is that the site has many annoying buyers that will either ask you stupid questions or waste your time. Sometimes, the buyers will bid on a project without knowing the website niche. One more disadvantage of listing a website on Flippa is the number of projects. As several sites are available for sale on Flippa at a given time, a website may be lost in the crowd.
If all your attempts to sell your blog, domain, SaaS, side project, or mobile app, etc on Flippa have failed or you are not able to find a good project or you're annoyed with the marketplace, you can use the following Flippa alternatives:
Best Flippa alternative marketplaces
Empire Flippers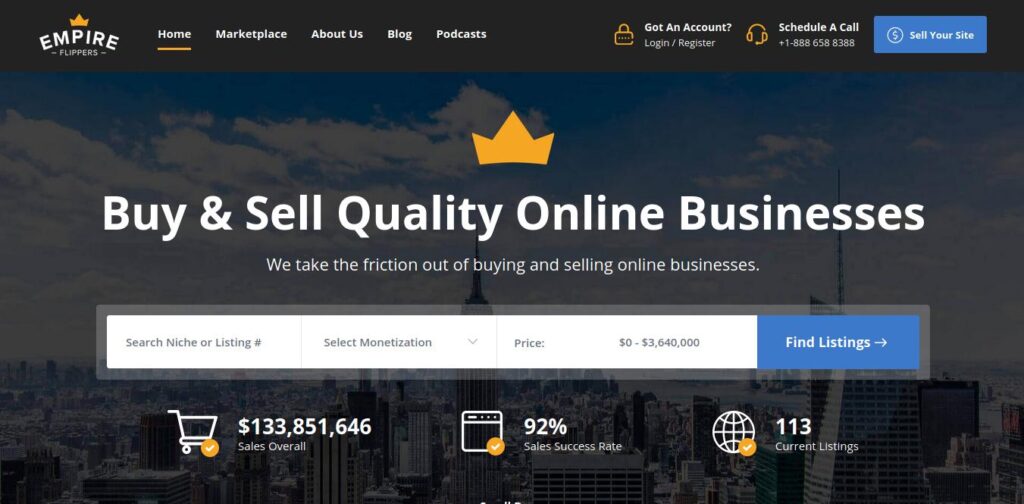 The Empire Flippers marketplace is at #726 on the INC 5000 list. It was founded in 2012. Unlike 1KProjects, this marketplace accepts listing only if your site is generating revenue. If your site is making money, you can list it on Empire Flippers by paying a listing fee of $297. Once your project is sold, you'll have to pay a 2% to 15% commission to Empire Flippers.
The Empire Flippers marketplace has a well-designed listing creator wizard tool. It displays vital details of the site such as revenue sources, 6/12 months or all-time revenue/traffic, etc on the listing page. The selling price of sites making $1000+ every month on Empire Flippers is high compared to other marketplaces.
Process of selling or buying websites on Empire Flippers
The ownership, traffic, revenue of the website is verified by the Empire Flippers vetting team.
Buyers have to prove that they are interested in buying the website by depositing a 5% fee. This feature ensures that only serious buyers will bid on your project.
The technical team of Empire Flippers will handle the task of moving the site from the seller's server to the buyer's server.
Pros
The chances of selling at a high price are great.
Excellent user interface.
Cons
Doesn't accept starter sites.
IndieMaker/1kProjects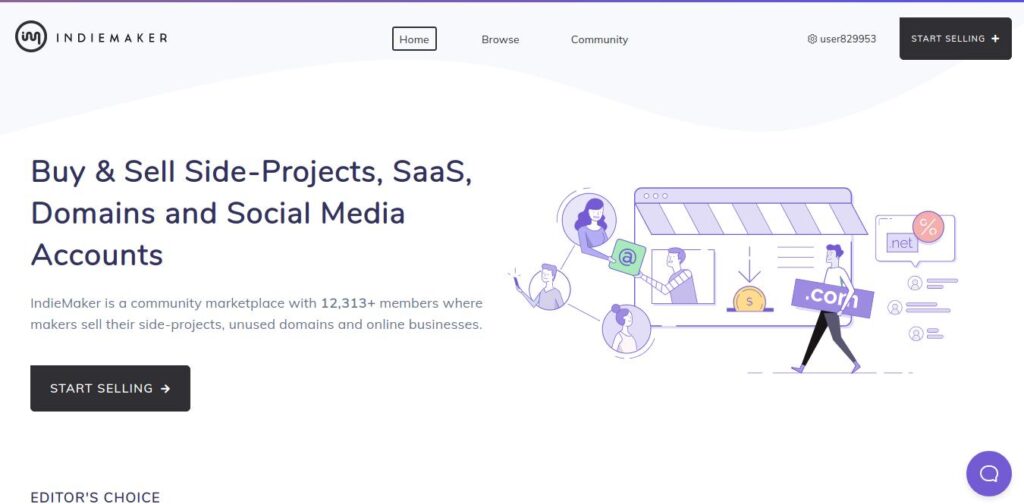 IndieMaker has emerged as a good alternative to Flippa in recent times. It was earlier known as 1Kprojects. IndieMaker is one of the best websites to buy or sell side projects online.
How IndieMaker works?
You must create a new account on the IndieMaker website and submit your project. Once you do so, the IndieMaker team will review your project. The team will either accept or reject your listing. Once your listing is accepted, you'll receive an email from IndieMaker.
Unlike Flippa that asks you to pay the listing fees before it makes your domain/website/app available for sale, you don't have to pay money to list your project on Indie Maker.
When the buyer makes an offer, you'll get an email from Indie Maker. To negotiate the price with the buyer, you must unlock the project by paying money.
Pros
You pay only when you receive a good offer.
UI is excellent.
Cons
Traffic and revenue aren't verified.
No Escrow/payment method.
Higher fees compared to Flippa.
Exchange Marketplace by Shopify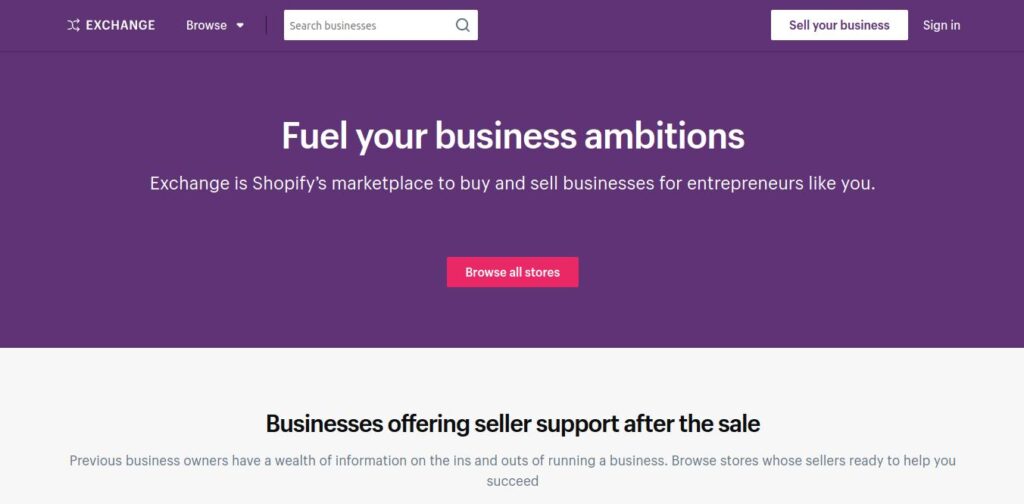 Exchange Marketplace is one of the best websites to sell Shopify stores. Once you submit your online business, the Shopify staff will check if your business is worth listing on their platform or not. Once they review your site, you can list it on the marketplace.
Exchange Marketplace displays the store's revenue, traffic on the listing page. The store traffic/revenue details displayed by Shopify Exchange is genuine as it is fetched from Shopify servers. The marketplace lets sellers and buyers communicate with each other. Once a site is sold, the seller must create an Escrow transaction from their dashboard. The payment is issued via the Escrow service once the buyer has confirmed that he/she has received the assets of the Shopify store.
Exchange Marketplace lets buyers filter the projects by their price, revenue, business type, industry. It also enables you to sort the store listings by their revenue or listing date.
Pros
Built by Shopify for Shopify users.
A large marketplace.
Accepts stores having low revenue.
Cons
Supports only Shopify stores.
Hidden fees.
Trustiu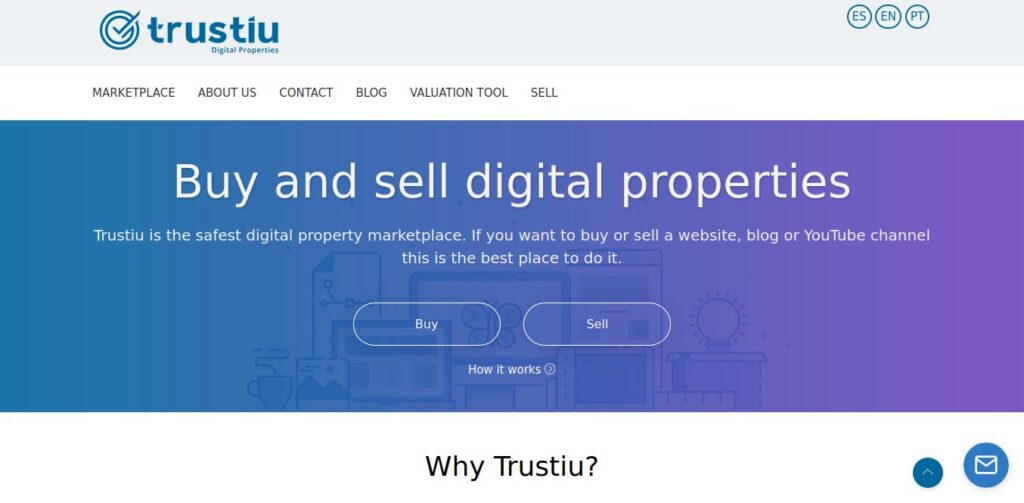 Trustiu is a new online marketplace for selling digital assets. It charges 8% to 10% commission or 150 Euros. You can either sell a YouTube channel or a website on Trustiu. Currently, the marketplace has a listing of 28 projects. It has helped the sellers earn more than half a million USD to date.
TransferSlot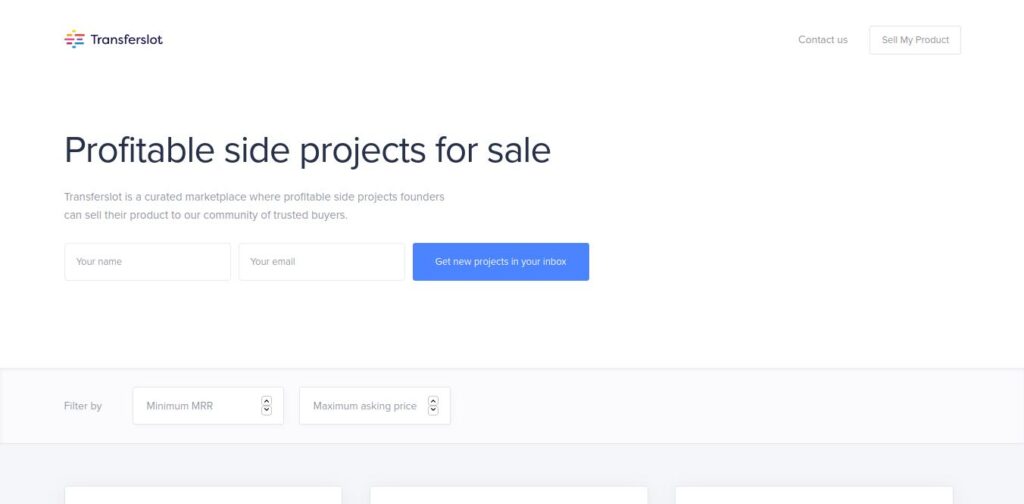 If 1KProjects wasn't re-branded, you wouldn't be able to distinguish between TransferSlot and 1k projects. This is because the UI of both the sites was the same. TranserSlot is similar to IndieMaker but it is less popular. Transactions worth $75k have taken place via TransferSlot.
Landocs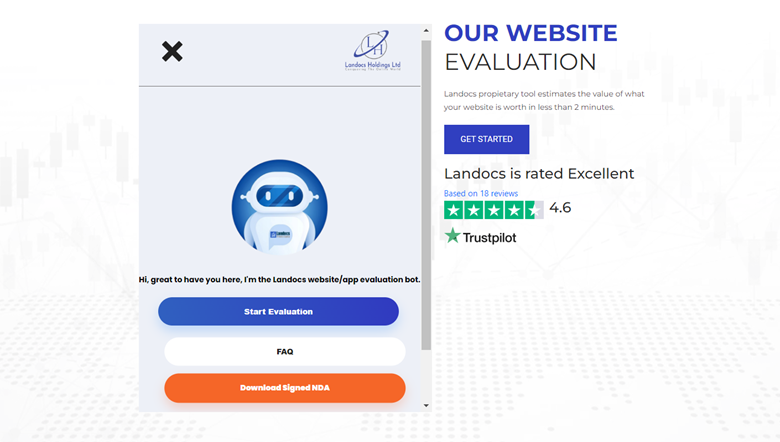 Want to sell your website? Trust Sellyourwebsite.guru from Landocs Holdings Ltd. We buy websites with ease and have always paid above MARKET PRICE. No hidden costs and the entire amount is available at a moment's notice. You'll get a straightforward, secure service from our friendly experts. We guide you, answer questions, and ensure you sell for the right price, and even if you don't sell, we provide an authorized customized VALUATION PDF for free.

Try our advanced tool for a free, 3-minute website valuation. We've successfully completed hundreds of deals and are rated 4.6 on TrustPilot. Start discovering your website's true value today with Sellyourwebsite.guru!
Other websites on which you can sell your websites, apps, YouTube channels, etc
Facebook: There are 100s of groups on Facebook related to blogging, website development, WordPress, etc. You'll also find groups where people are allowed to list their sites/blogs for sale. If you list your website for sale in one of these groups, people might reply to your post or may buy the site.
Reddit: As on Facebook, you'll find several website related subreddits on Reddit. If the moderator of the subreddit allows you to create a thread for selling digital properties, you can try selling your site in the subreddit.
The 1st three Flippa alternatives on our list are widely used. The remaining two are growing in popularity each day.