Looking for a headache-free WordPress hosting plan that offers 99.9% uptime and supports unlimited sites? GrowBig plan of Siteground is what you're probably looking for. GrowBig is the most popular Siteground plan and one of the best shared hosting plans available right now. It costs $24.95 per month and offers many features.
Siteground GrowBig review
Siteground servers run the latest and most advanced software available to date. The firm has also built tools that save the time of the users. Here are some of the solutions/software Siteground uses in its GrowBig servers:
PHP 7

PHP 7 is on par with Facebook's HHVM. Op cache is a module that works with PHP opcode to improve the performance of the application. Siteground engineers have activated the OpCache extension on each of their GrowBig servers. The company supports PHP 5.6, 7.0, 7.1, 7.2, and 7.3. You can upgrade and downgrade the PHP versions with just a few clicks of the mouse.
Nginx
Nginx is one of the most powerful web servers available right now. It is lightweight, fast, and a great alternative to Apache. Nginx supports dynamic as well as static sites. Siteground GrowBig servers are powered by the Nginx server.
Server
The GrowBig plans servers support 15 simultaneous connections per IP and have 300k inodes. 20 processes can run simultaneously on the server. Each process is allocated up to 768 megabytes. The servers are shared and let a task/script use up to 20% max CPU for up to 10 seconds. This is one of the best specifications you can get for $7.95/month.
Server Monitoring
Developers at Siteground have developed special software that tracks their servers in real-time. This software not only checks the server's status but also finds and fixes the problems that can cause the servers to shut down. 1000s of sites are under brute force attacks every day. Siteground uses AI technology to find bots that are flooding the server with malicious requests. Once the AI detects the bots, it blocks them automatically.
Data centers
Siteground has 5 data centers. Two are in the US and Europe and 1 in Asia. The company's data centers are located strategically. For example, the Asian data center which is in Singapore is great for sites receiving most of the traffic from countries such as India, Australia, etc.
Features of Siteground GrowBig plan
Unlimited Sites
Siteground GrowBig plan enables you to launch and manage as many sites as you want with the resources you've been allocated.
20GB space
The max storage memory you'll get on a Siteground GrowBig server is 20GB. Unless someone uses a stupid plugin that saves irrelevant data to the database, the size of small sites or blogs is below 1GB. If the site is large i.e. the website has 700 to 1000 pages, the size of the image folder can be up to 5GB. Siteground is offering 20GB storage so that your new sites have enough room for storing data. The company's GrowBig servers are powered by SSDs instead of HDDs.
25000 monthly visitors
25000 monthly visitors are equivalent to around 830 visitors per day. Business websites are highly converting sites. Their traffic may be less than 500. If you're planning to launch a business site or want to move your site from another host to Siteground, the GroBig plan is a great choice for you. Also, if you own a site that uses one of the apps supported by Siteground, GroBig is a great plan for you. This is because speed is one of the search engine ranking factors. Siteground's servers are equipped with high-performance hardware and software that ensures a good experience for the users of the websites deployed on it.
Some hosting companies send warning emails when their traffic is around 500 to 600. Siteground is guaranteeing you up to 25000 monthly visitors. Thus, you won't hear from them. What happens when you reach this limit? Well, once your traffic exceeds 833 visitors/month, you can upgrade your plan to GoGeek. The users of the Siteground hosting plans enjoy 99.9% uptime.
Supported apps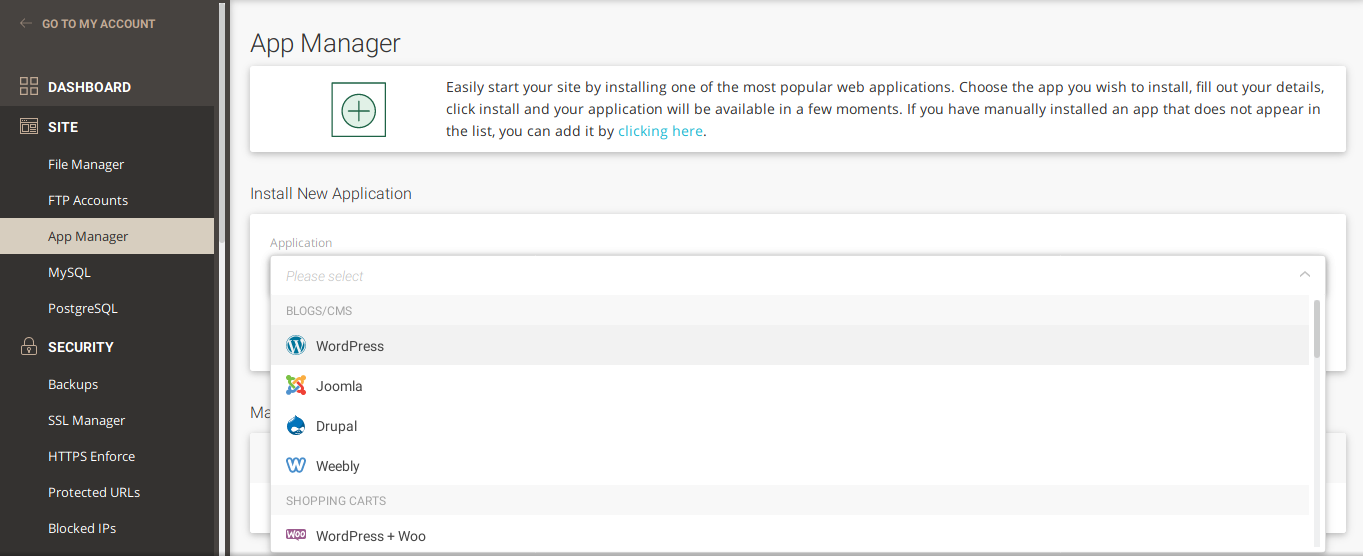 Siteground hosting supports the following applications:
WordPress, Drupal, Joomla.
Weebly, WooCommerce, Magento, Zencart.
OpenCart, phpBB, SMF.
MediaWiki, Moodle, osTicket.
vTiger, LimeSurvey, phpList, piwiGo.
Custom-built Control Panel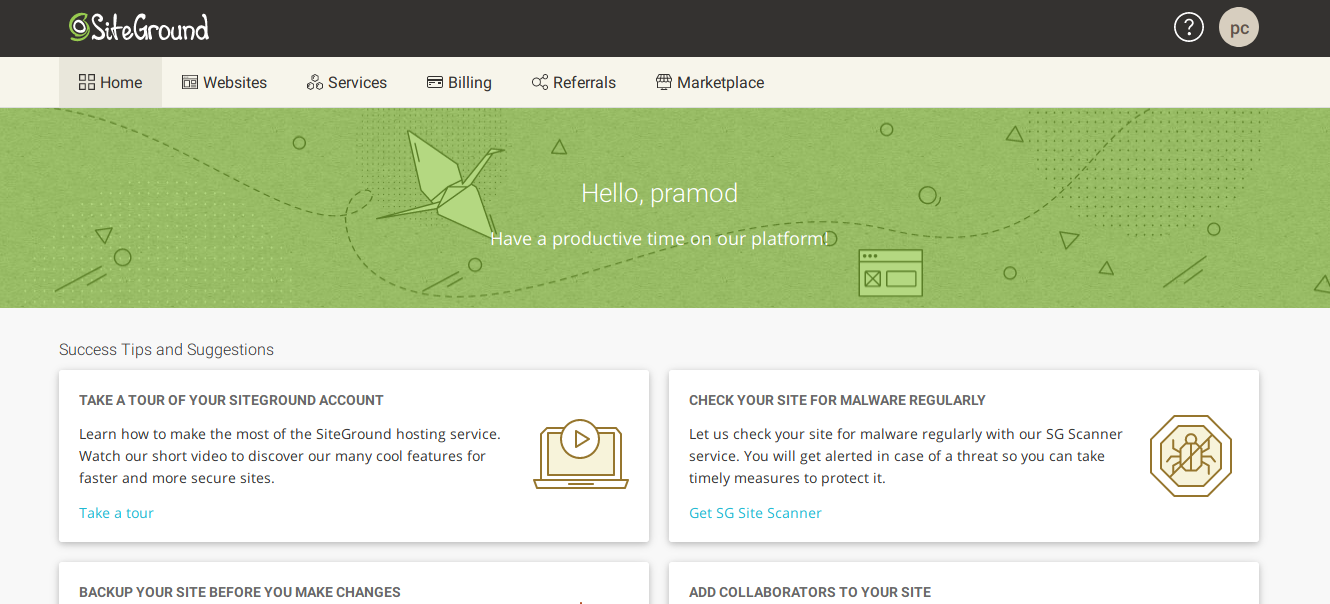 Siteground users can manage their website with an indigenous tool called Site Tools. Site Tools has a modern design and is easy to use. It lets you pin tools you use often to the dashboard. The tool displays the number of visitors your set has received and the total number of pageviews it has got. You can filter the traffic data by date, traffic sources, keywords, etc.
Site Tools enables you to see the raw access log files and the error logs from the web browser. It allows you to manage billing, collaborators, buy/manage domains, etc.
SuperCacher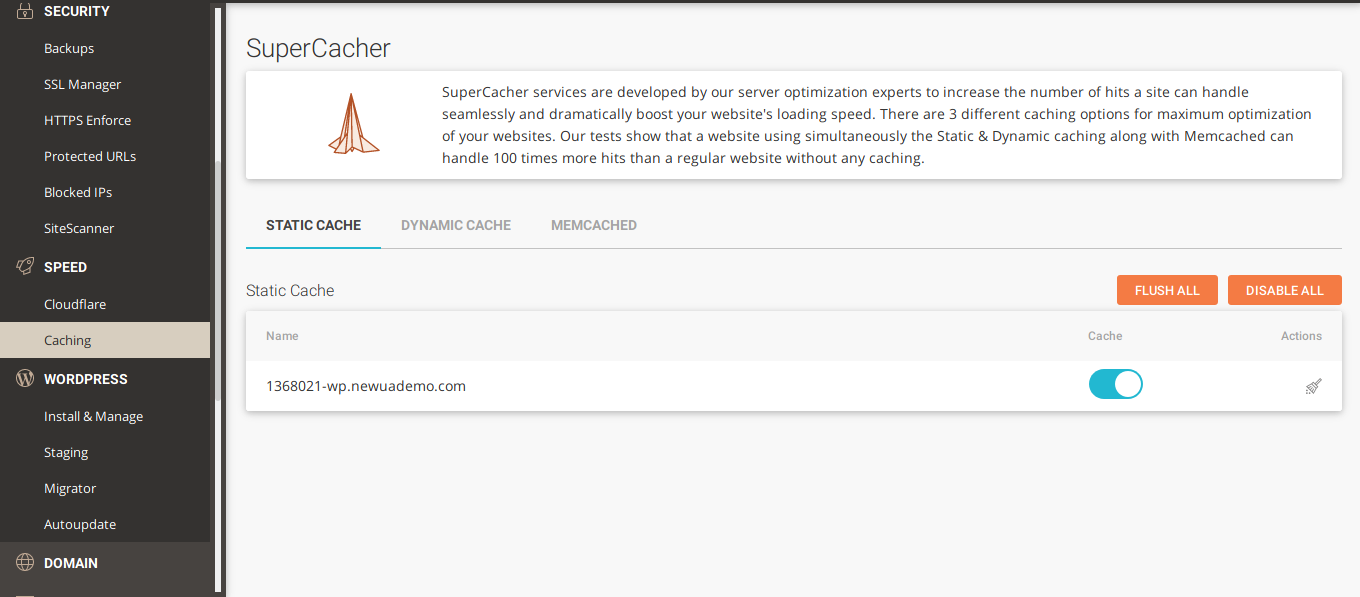 Siteground's SuperCacher improves your website speed by caching its pages. Normally, with other hosts, you'll have to install a WordPress caching plugin and spend some time configuring them to achieve similar results. If you're using the Siteground GrowBig plan, you just have to use the SuperCacher module. SuperCacher supports WordPress, Drupal, Joomla, Magento, MemCached, etc. It is powered by Nginx and lets you purge the cache. You can configure SuperCacher to purge the cache automatically and exclude certain URLs from being cached.
WordPress staging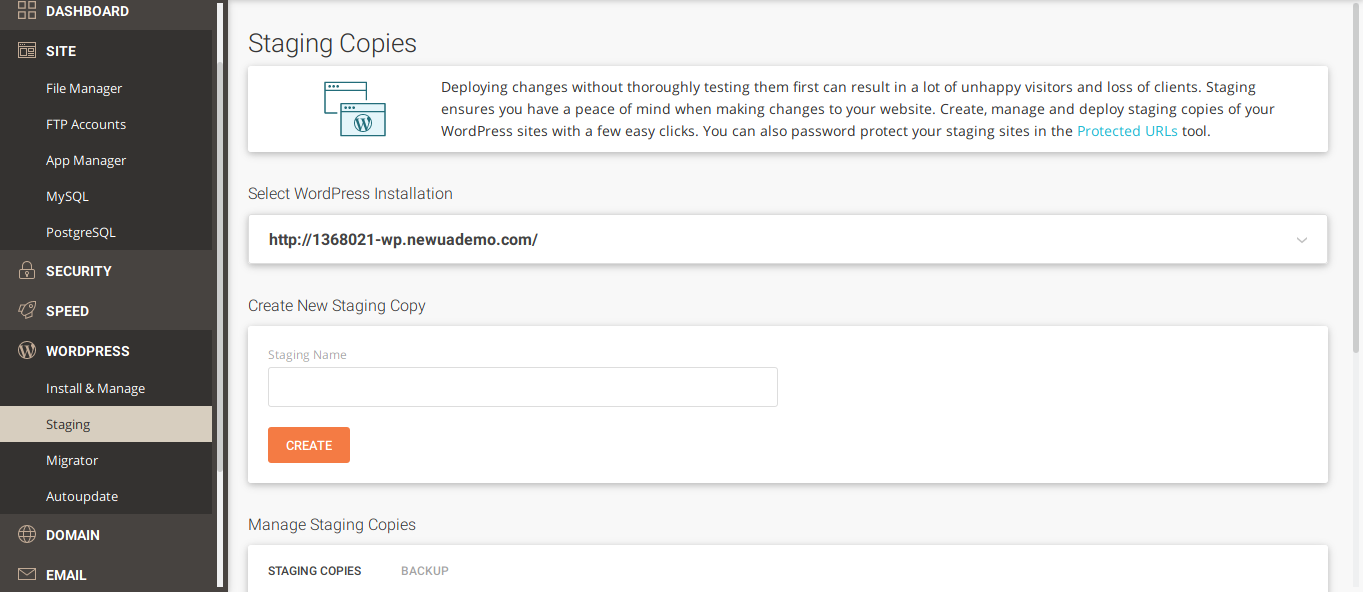 Staging enables you to test a plugin, theme, or script. You can consider staging as a testing environment or a sandbox tool. If the theme or plugin is not working as per your expectations, you can get rid of it before using it on a live site. This feature is available only to the users of the Siteground GrowBig or GoGeek plan.
Collaborators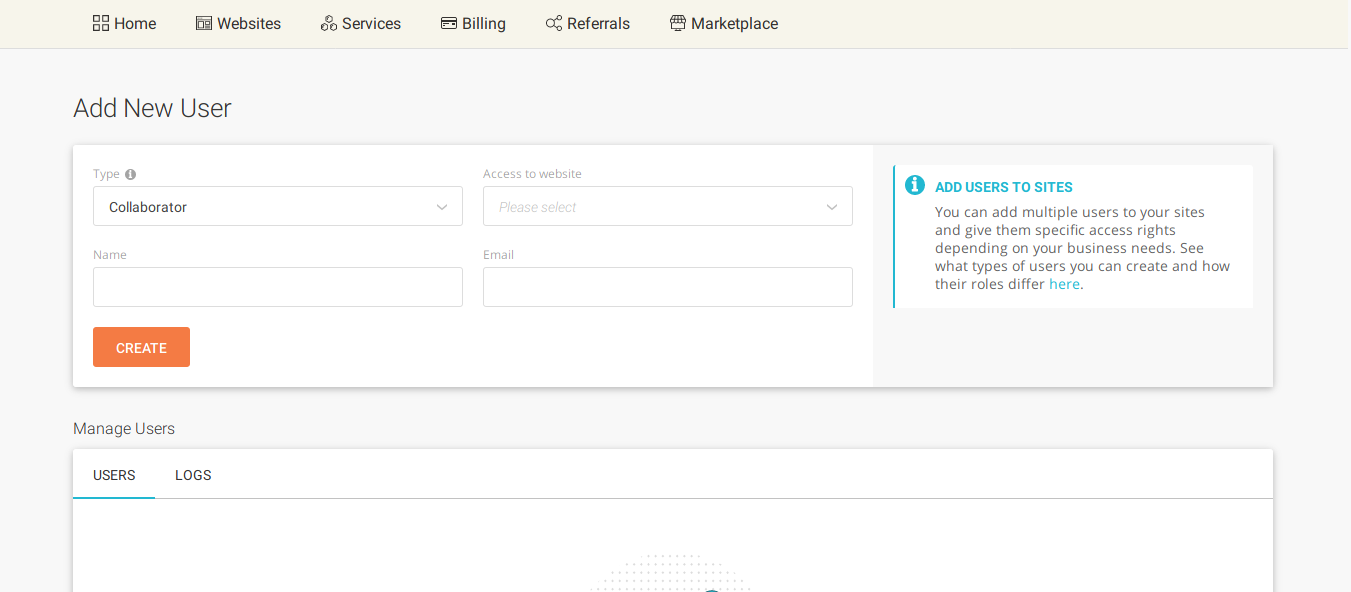 Siteground makes the lives of online service providers/bloggers/eCommerce site owners easy by providing an option to add collaborators. If your client that is using Siteground hosting wants some help, he can add you as a collaborator or if you've employees, you can give them access to the tools you're using with the Collaborators tool of Siteground.
Advanced on-demand backup
Backing up the website is important. If you don't back up the site and your site has been taken over by a hacker, you may lose its data forever. Siteground GrowBig plan enables users to back up their website any time they like. The backup tool of Siteground lets you restore backups. It allows you to delete them too.
Other features
Unlimited data transfer, free SSL certificate.
Free HTTP to HTTPS switching, SSH access.
FTP access, Weebly website builder.
Spam experts, HTTP/2 protocol.
Cloudflare CDN, unlimited FTP accounts/MySQL databases.
PostgreSQL support, daily backups.
Money-back guarantee
Siteground has 30 days money-back policy wherein customers who want their services to be canceled within 30 days of activation can apply for a refund.
Support
Siteground GrowBig plan users are eligible for the free site transfer service. They can contact the support team via phone, email, the live chat module, or by raising a ticket.
Pricing
The GrowBig plan costs $24.95/month normally but SiteGround is selling it for 7.99 USD.
Pros
Reliable.
Powerful server specifications.
Excellent uptime and support.
Cons
Expensive.
25000 visitors limit.
Siteground GrowBig plan alternatives with unlimited visitors
Final thoughts: Siteground GrowBig package is one of the best shared hosting plans available to date. It offers several features and a web-based software called "Site Tools" for managing websites.
Also read: Siteground review