As 100 million domains are registered to date, finding a new domain is difficult. Frankly speaking, you won't get an exact matching domain or a 3/4 letter TLD unless it is available for sale or you're lucky. Even if the TLD is available for purchase, it can be priced at anything between 100 to 30 million dollars. $30 Mn? Yes, that's right! According to NameBio, voice dot com was sold for a whopping 30 million USD.
Almost all single word dictionary domains are registered but 1000s of TLDs, ccTLDs containing two or more word combinations are still available for purchase. These ccTLDs or TLDs can be valuable, great for your business/blog/service, or memorable. Finding these domains manually is not an easy task. Do you have to find the TLDs manually? Well, you don't have to look up in the dictionary to find new words. To find domains, you can use one of the following tools:
Namecheap domain name generator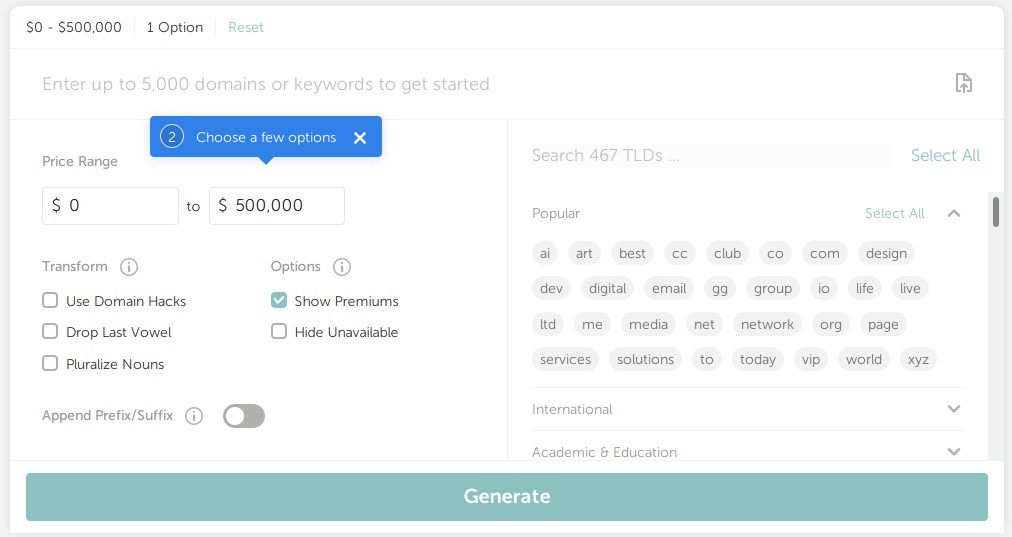 NameCheap, one of the largest domain registrars has recently launched a free domain name generator tool. When you open this tool in your browser, you'll find a large text box where you must enter the words that you want in your domain. This text box supports up to 5000 keywords. You don't have to enter a comma after the word. Namecheap will automatically add the word to its list when you click the space button of the keyboard after entering the word. If you've saved the words to a CSV file, you can import them to the list by clicking the file upload icon that appears at the bottom right corner of the textbox. Here are some of the filters and options you'll find in the tool:
Domain hacks checkbox
When you select this checkbox, Namecheap will generate domain names containing the word/words you've entered but the words will be split. For example, if you are looking for domain name ideas containing the word example, enter "example" in the textbox, and choose other options displayed on the form. Once you click the generate button. Namecheap will display domains such as examp.le, etc.
Sort and export
With the Sport option, you can sort the domains by their extension or price. When you click the export option, Namecheap will add the TLDs to a CSV file and will allow you to download the same.
Pros
Quick: 1000s of domains are registered every day. If you find a good TLD and you don't register it immediately, someone else may register it. As Namecheap lets you buy domains, you can quickly add the DN to the cart and buy it.
Cons
Scrollbar: You won't enjoy choosing the TLDs because you'll have to scroll down the list of supported extensions. NC supports 400 extensions. It would be great if Namecheap adds an ajax filter that will display only the extensions containing the characters of your choice.
Lean Domain Search

This tool has been introduced by Automattic Inc, the company behind the WordPress CMS.  LDS lets you filter TLDs by the characters they end or begin with. It allows you to sort the TLDs by their length and name. To use LDS, you must enter a word/several words in the text box and click the search icon. The tool will display a list of .com domains that are available for registration. It also shows an option to copy the results to the clipboard.
Pros
Simple: Lean Domain Search doesn't have several filters. It is thus easy to use.
Great .coms: Some of the domains LDS suggests are great. I found two cool domains with LDS and registered them in 2017.
Cons
.coms only: Unlike Namecheap that supports over 400 TLDs, LDS supports .com extension only.
Other tools you can use:
Domain Wheel

DW is similar to Lean Domain Search and it supports 15 TLDs. The company behind this tool claims that DW is powered by AI. The tool can suggest TLDs that sound like or rhymes with the words you've entered in its textbox. It doesn't have filters. Domain Wheel suggests good TLDs. Thus, it's worth using.
Instant Domain Search

IDS is yet another great tool to find new domain names. When you enter a word in the textbox displayed on the homepage of the website, IDS displays a list of TLDs. The Instant Domain Search tool supports several extensions. It displays premium as well as unregistered domains. In addition to finding new TLDs, IDS enables you to discover expired domains. Before displaying the domains, IDS lookups the Verisign domain database to make sure the TLD, ccTLD, etc it has shortlisted is unregistered.
Use the above utilities if you're looking for the best domain name generator tools. These tools don't require account registration and are free.