If your website hosted on a shared server gets a good amount of traffic, you should consider switching from shared to VPS hosting. This is because VPS hosting offers more resources than shared hosting. Namecheap is one of the few top-rated companies that offer virtual private hosting services to users.
About NC: Namecheap is one of the oldest and best ICANN-approved domain registrars in the world. It was founded in 2000 by Richard Kirkendall. In addition to domain registration, NC sells SSL certificates and offers private email, premium DNS, VPN, shared hosting service. It has over 10 million customers.
Review
Namecheap provides 2 VPS plans to the users – Pulsar and Quasar. Pulsar is the most popular VPS plan of Namecheap. It offers a server equipped with 40GB RAID 10 SSD, 2 GB RAM, and a 2 core processor. Websites hosted on this server can transfer up to 1TB of data. This plan costs $11.88. It used to cost around $14 a year back.
The Quasar plan provides a better configuration than the Namecheap Pulsar plan. It costs $19.88. This plan was earlier priced at $24. The Quasar servers have 6GB RAM, a quad-core processor, 120GB SSD (RAID 10). They enable your websites to transfer up to 3TB of data.
Click here to get a 20% discount on the Namecheap Pulsar and Quasar plans
Namecheap VPS features
Virtualization and hardware: Namecheap VPS servers are powered by KVM virtualization technology, Intel processors, and high-performance SSDs.
Root access: Namecheap lets you log in to your server as a root user. When you have root access, you can install software of your choice, modify the important configuration files, set up firewall rules, etc.
Free .website domain: If you buy a Namecheap VPS plan, you'll get a free .website domain. You can use this domain to test your websites before making them live.
Operating systems: Namecheap VPS hosting supports Centos 7, Debian 8/9, and Ubuntu 14.04/16.04/18.04 operating systems.
US location: The company's VPS servers are located in Phoenix, Arizona (USA). You can't change the location.
99.9% uptime: Namecheap is a large company with good infrastructure. Thus, you can expect an uptime of 99.9% for your server if there's no hardware or network failure.
LAMP stack or blank: While buying a Namecheap VPS plan, you can either choose OS or OS + LAMP (Linux + Apache + MySQL + PHP) from the Operating System drop-down list. If you choose LAMP + OS, Namecheap will install the Linux distro you've chosen, PHP, MySQL database server, and Apache web-server on your VPS.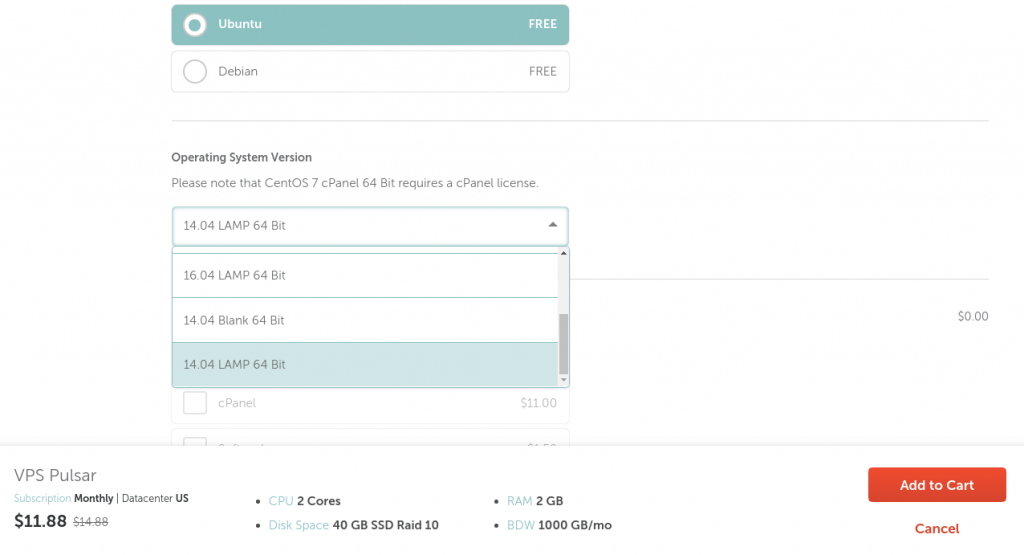 Cpanel and WHMCS
CPanel is an add-on feature that you must purchase by paying a monthly subscription fee of $8.88. If you have used the shared hosting service in the past, you might know that you can install several apps with a few clicks of a button with a tool called Softaculous. If you want to install software on your VPS with this tool, you'll have to pay $1.50/month on top of $8.88. In addition to Cpanel, Namecheap also offers the Interworx web panel that ships with two tools NodeWorx and SiteWorx. NodeWorx enables users to manage a server. SiteWorx lets you manage the database, email accounts, and website. Interworx is a good alternative to CPanel. It is priced at $12/month.
Must see: Interserver hosting review
Upgrades
If 2GB or 6GB RAM is insufficient for your applications, you can buy 128MB extra RAM for $8. If your server's disk is running out of storage space, you can buy 10GB of space for $10. Similarly, you can buy bandwidth, dedicated IP addresses, etc. While buying a VPS plan from Namecheap, NC will display an option to choose the amount of RAM, storage memory you want your server to have.
Support, payment methods, money-back guarantee, and discount
NC supports monthly, quarterly, and yearly payments made with a credit card, debit card, or PayPal. Namecheap support staff are available throughout the day for the entire year. The above two VPS plans are unmanaged. Namecheap expects its users to have a sound technical knowledge of Linux and software/application or web-servers they are planning to use.
Also read: Hostgator VPS hosting review
If your server has crashed or your websites are unreachable because of network failure, you can get in touch with NC's support team via live chat, email, or by creating a new ticket. If you need help with software or a configuration, you may have to buy Namecheap's server management add-on. Namecheap has introduced three server management plans:
User-responsible: If you choose this plan, NC support answers your basic queries i.e. creating a backing, resetting a password, etc. You'll have to pay up to $15 if you want Namecheap's staff to upgrade the software, restore or fix the server after a manual configuration error, etc.
Basic: This plan costs $10 and it includes basic support + server restore option.
Complete: If you choose this plan, you'll enjoy the features of the other two management plans. The Complete plan is priced at $25.
Learn more about the server management plans of Namecheap
If you're not satisfied with the support or the VPS hosting service, you can ask Namecheap to refund your money.
Note: Namecheap provides refunds to new customers only who apply for a refund within 30 days of buying a plan.
Pros
Transparent pricing.
Great support.
Reasonably priced add-ons and premium support.
Cons
No option to install the LEMP stack while buying a plan.
Click here to get 20% off on the Namecheap Pulsar and Quasar plans