InterServer is one of the oldest web hosting service providers in the world. It was founded in the year 1999 by two friends John Quaglieri and Michael Lavrik. The company has two data centers, one in New Jersey and another in California. They provide a wide range of web hosting services and promise 99.9+ percent uptime.
Is Interserver a reliable hosting company? Are its plans affordable? What type of support does Interserver offer to users? Let's find it out!
Review
Infrastructure
Interserver's network features equipment manufactured by leading network device manufacturing companies such as Cisco, RiverStone, etc. Their servers are connected to a 10 GB/s network connection. The firm has installed CCTVs, 150 KVA UPSes, and HVAC units at various locations of their data centers. To make sure that no one excluding authorized personnel gets an entry into the datacenters, Interserver uses biometric authentication instead of manual verification.
Learn more about Interserver's infrastructure
Interserver shared web hosting plans start at $5. The shared servers are powered by the LiteSpeed webserver. They cache your website pages and static files on a high-performance SSD and serves them at the request of the website visitor. The company has named this feature "Inter-proxy caching solution".
Interserver gives its shared hosting service users access to a control panel interface through which users can manage their FTP accounts, backup their website data, see raw access logs, manage files, create MySQL users, database, see the bandwidth usage, activate SSL certificates, turn on/off hotlink protection, etc. The Cpanel also lets users enable/disable Cloudflare CDN service on their sites with a few clicks of the button.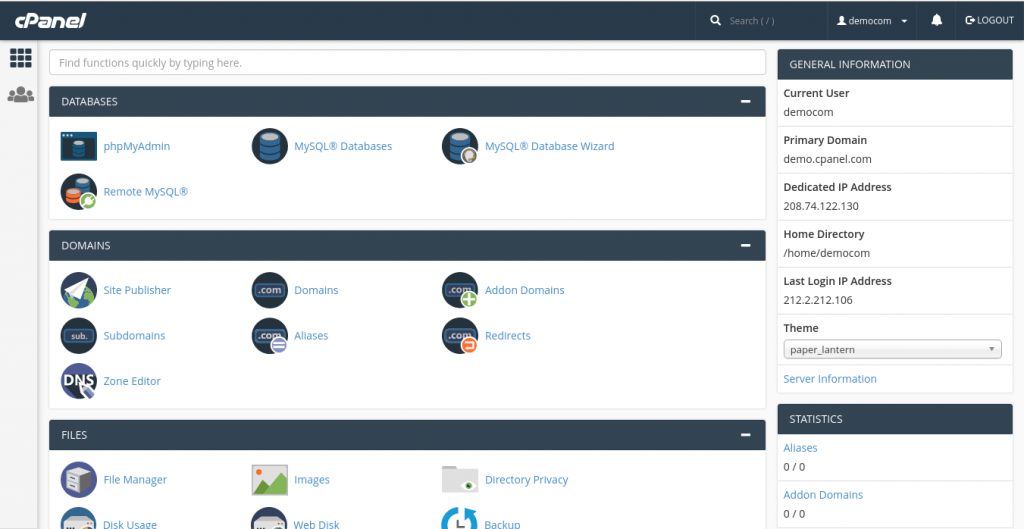 Interserver automatically backs up your website database and files every week. Its shared web hosting service supports 100s of content management systems, eCommerce frameworks, forum/ERP/gallery/email/file/poll management software, libraries, etc. Some of the supported apps are as follows:
WordPress, Drupal, Joomla, Magento.
Prestashop, WHMCS, OpenCart, osCommerce, TomatoCart.
phpBB, SMF, bbPress, MyBB, etc.
See the complete list of features and supported apps here.
Cloud hosting (unmanaged)
Interserver cloud hosting plans are incredibly cheap. The cheapest plan costs $6. If you purchase this plan, you'll get access to a server that has 2048 MB RAM (2GB) and a single-core processor. This server has a 30GB SSD. There's a data transfer limitation of 1TB on this plan. The next cheapest plan is priced at $12. It provides a powerful server that has a dual-core processor and 4096 MB (4GB) RAM. It offers 60GB SSD for storing files and an impressive 2TB bandwidth. Similarly, Interserver has cloud servers powered by 3, 4, 5, 6, 7, 8, 9, 10, 11, 12, 13, 14, 15, 16 core CPUs, 6, 8, 10, 12, 14, 16, 18, 20, 22, 24, 26, 28, 30, 32GB RAM and up to 480GB SSD. The most expensive cloud plan is priced at 96 USD per month.
Interserver converts your support to "managed" if you purchase four slices. It will also give users access to a tool called "webuzo" with which they can install 99+ popular web applications with just a few clicks of a button.
Click here to buy a cloud hosting plan from interserver.net
WordPress hosting
Interserver provides sixteen WordPress hosting plans to the users. The hardware configuration and the bandwidth offered with these plans is the same as that of cloud hosting plans of the company i.e. for $6, you can host as many sites as you want on a server that has 2GB RAM, 30GB SSD, and a single-core processor.
The servers that provide the WordPress hosting service run on the lightweight and powerful Nginx web server instead of Apache. They also employ the PHP XCache accelerator to boost the performance of your WordPress site. As in shared web hosting service, Interserver lets WordPress hosting users manage their site with Cpanel.
Click here to buy a WordPress hosting plan from Interserver
ASP.NET Hosting
If you've built an ASP.NET application and you're looking for a cheap ASP.NET hosting service provider to deploy your application, Interserver is one of the best available options for you. The company provides four ASP.NET web hosting plans that have the same features but have different expiry dates.
The cheapest ASP.NET plan will cost you $4.75 every month for 6 months (total of $28.5). The company offers 12, 24, 36 months plans as well that are priced at 54, 102, and 144 USD respectively. Interserver ASP.NET hosting service enables you to host unlimited websites and create unlimited SSL certificates. They provide unlimited storage memory and bandwidth. In addition to this, the company offers the following services/features to the users of their ASP hosting:
Free website migration, 10 GB network, 24 x 7 support.
RAID Level 10 storage, weekly backups, option to create as many FTP accounts as you want.
Cloudflare integration, and more.
Buy ASP.NET hosting plan from Interserver
Private email hosting
These days, it is very important for online business owners/service providers to have their business email address. Frankly speaking, a business email ID is a sign of trust. Interserver enables you to set up and use a business email id for just $5 per month. The private email hosting plan of Interserver provides a 25GB mailbox. It lets users create unlimited aliases, set up forwarding, group lists, etc. Interserver protects your mailboxes with their spam filtering tools. It provides 100% uptime and guarantees that your emails will be delivered to the recipient. According to Interserver, your mailbox is completely private, secure and their software is open-source.
Domain registration and a $1.99 offer
Interserver supports 500+ TLDs. It sells .com domain for $10, .org for $14, .net for $17. Frankly speaking, the pricing of the domains are on the higher side compared to Namecheap, NameSilo, but there's a catch. When you purchase one of the hosting plans of Interserver, you can register or transfer your domain to Interserver for just $1.99.
Click here to buy web hosting and a domain from Interserver.net at a great discount
Support
Interserver customers enjoy 3 modes of support – phone, live chat, and email-based. The web hosting firm has shared five phone numbers on their official website's contact us page. This page also has a form that users can fill and submit to contact the company's support team.
Interserver.net website displays a tiny green color box with the label "Live Chat" on the left side. If you want help on an urgent basis, click this button to get in touch with Interserver support staff and talk with them in real-time.
Pros
99.9% uptime.
They use Litespeed and Nginx webservers instead of Apache.
They use Cloudflare DNS service to avert DDOS attacks.
Budget-friendly plans.
Cons
Final thoughts
Interserver is one of the best shared, cloud, and WordPress hosting service provider. Its plans are affordable and worth the money. The company provides 3 types of support and several features to their shared, ASP.NET, WordPress, and cloud VPS hosting plan users. 
Also check: