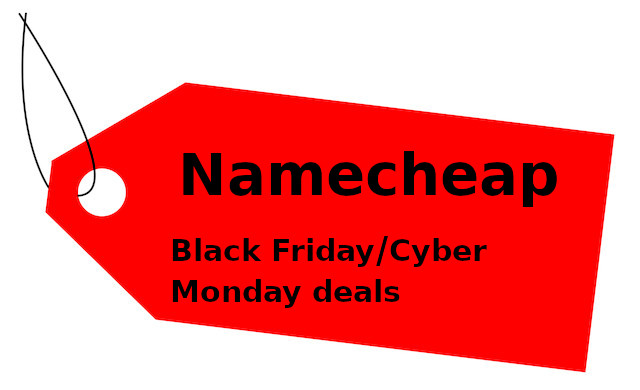 Want to buy a TLD for below 4 USD or at 1 USD? Want to purchase web hosting, SSL certificate, Premium DNS service, CDN/VPN plan at a great discount? Participate in Namecheap Black Friday/Cyber Monday sale. The Namecheap Black Friday deals will be live from the 27th of November 2020. During the sale, Namecheap will sell its best selling products i.e. SSL certificates, hosting, and of course domains for a great price. In 2019/2020, Namecheap introduced some new products such as VPN, CDN, etc. The new products, along with the domains, hosting, SSL certificates are expected to be on sale too.
What type of sale does Namecheap organize? Well, the company organizes a flash sale. Each sale lasts until the products are sold out or when the timer stops. The flash sale kicks off at a time the company decides. You should keep an eye on the deals page on the Namecheap website. The time at which the sale will start will be different for each category of the product i.e. if you want to buy the product, you'll have to note down its sale time.
To participate in the Namecheap Black Friday Sale or to grab one of the Namecheap Cyber Monday deals, you'll have to log in to the Namecheap website before the sale starts. Once you grab the deal, the product will be in your cart for some hours. You'll have to checkout/complete the transaction within the time specified by Namecheap. If you don't do so, the product will be automatically removed from the cart.
Here's the list of products Namecheap Cyber Monday & Black Friday sale will cover:
Namecheap Black Friday Deals and Sale 2020
Domains
Namecheap is one of the largest registrars. During the Black Friday and Cyber Monday sale, it sells domains for a very low price i.e. .com, .org, .net domains are sold at an unbelievable price. As I've mentioned earlier, you'll have to be quick in grabbing the deal. Only limited quantities of the domains will be available for registration.
Virtual Private Server
Namecheap VPS hosting comprises of two plans – Pulsar and Quasar. During the Black Friday deals/Cyber Monday sale day, these two hosting plans will be sold at a good discount. If you're looking for a cheap VPS server, make sure that you keep an eye on the VPS deal.
SSL certificate
Namecheap sells wildcard as well as standard SSL certificates at a great price during the Black Friday sale. If you want to use a paid SSL certificate for your website, you can save money by purchasing an SSL certificate from Namecheap on November 27/28/29/30, 2020.
Premium DNS
Namecheap's Premium DNS service offers faster lookup times than standard DNS. It also offers a 100% uptime guarantee and better security.
VPN service
The Namecheap Virtual Private Network service allows you to browse the web anonymously by hiding your IP address on the internet. Although you'll find several VPN service providers on the web, you can choose Namecheap because the company has over 1k servers scattered in 50+ locations across the world. Also, NC has introduced a VPN application for various operating systems and it offers 24/7 support to its VPN service users.
Private Email hosting
Private Mailboxes is yet another product that will be available during the Namecheap Black Friday sale. NC offers 3 email hosting plans – Starter, Ultimate, and Pro. The "Starter" plan is the cheapest plan. The Ultimate plan is the most expensive plan. The Mailboxes that you'll get access to after buying a plan have 5GB to 75GB storage capacity.
Content Delivery Network
The Content Delivery Network of Namecheap is powered by its solid network and server infrastructure. It is just a few months old. It offers DDOS protection, prevents malicious web attacks, and claims to increase the website speed by over 65%. Like Cloudflare Free CDN, you can enable an SSL certificate for your site with a few clicks of a button. NC also allows you to see the traffic details for your website in real-time.
Managed WordPress hosting
Namecheap offers managed WordPress hosting service at a cheap rate. This service is called EasyWP. Namecheap EasyWP is a very simple and sophisticated WP hosting service. It gives users access to a custom-built tool for managing the website. The sites are deployed on the company's cloud servers. According to NC, the site powered by the Managed WP hosting service will be 3 times faster than sites deployed on shared servers.
Features of Namecheap
Security: Users can activate phone or app based 2 Factor authentication to protect their account.
Support: The customers of Namecheap enjoy 3/4 modes of support – live chat, phone, email/ticket. I'm a customer of NC since 2013. I had contacted the support staff via Live Chat and email several times. I have no complaints about the company's staff.
Money-back guarantee/refund: NC offers 30 days money-back guarantee on VPS/Shared hosting plans. It also provides a 15 and 5 days money-back guarantee on SSL certificates and Premium DNS service.
App: Namecheap is one of the few hosting/domain registrars that has launched an Android/IOS application.
Is there a Namecheap Black Friday Promo Code?
No, the links you'll find in this article will take you to the deals page. As mentioned earlier, you should be logged in to the Namecheap website to participate in the sale.
Final thoughts: Click one of the links I've shared above to open the Namecheap Black Friday deals page. You can save up to 90% on various products of the company.