Although WordPress is a great CMS, you can't simply install it on your server and use it. You should install several plugins to convert your standalone WP installation into a powerful website. For example, to enable the social sharing feature on your site, you must install a social media plugin. To make your website SEO-friendly, you must install an SEO plugin. Likewise, to prevent spam on your website, you should install an Anti-spam plugin. The settings provided by these extensions may or may not be easy to understand. For example, the related post extension may display several options. You must understand these options before enabling them. Also, if you install 10 plugins, you'll have to configure options in 10 different settings pages.
If you're looking for an All In One plugin that has easy to understand options or allows you to manage the settings of the features from the same interface, you should install Jetpack and use it.
Jetpack has been launched by Automattic Inc, the company behind the world's most popular CMS i.e.WordPress. It is a popular plugin with 1+ million users and an excellent rating. Jetpack adds several features to your website. The plugin is free and it provides the following four premium subscription plans:
Free.
Backup daily.
Security Daily.
Complete
The free plan offers the most important features. The other three plans provide extra features for an affordable price.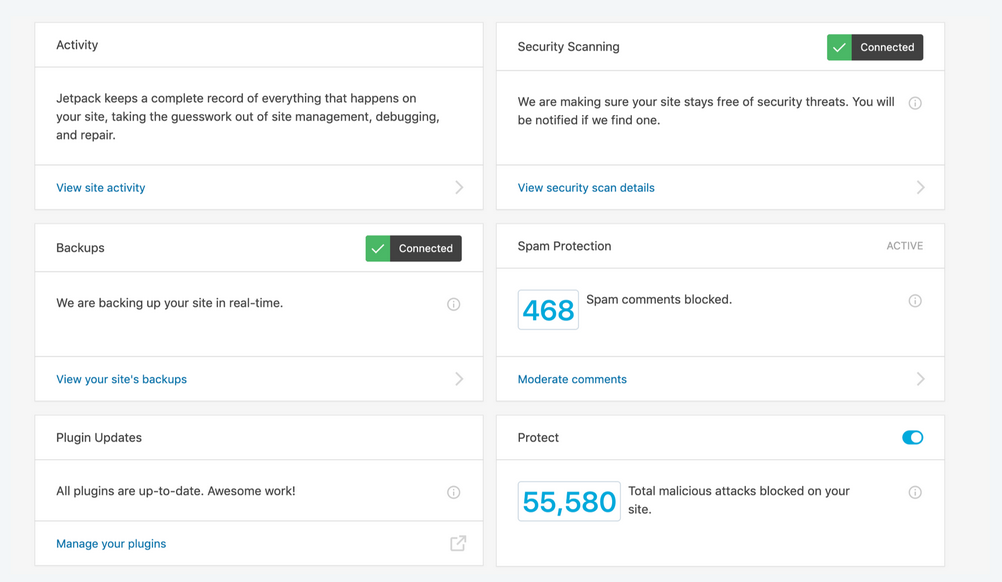 Here are the features that the Jetpack plugin offers to the users and my review of the same:
Jetpack review
Jetpack Related Posts
Related posts help in improving the website's internal linking structure. Jetpack lets you disable/enable the thumbnails in related posts. It lets you add related posts to any page or post of your website with the help of shortcodes. When you enable the related posts feature of Jetpack, Jetpack servers will index the pages/posts of your site and will use its resources to create related posts.
Lazy loading
When this module is active, the images on the pages of your website will appear only when they are in front of the user. When it is inactive, all images will be sent to your website's visitors. Lazy loading ensures that the image is transferred only when it is required. It makes your website open faster in browsers.
Jetpack CDN
When you enable the free CDN service of Jetpack, your website's images and other static files will be served by Jetpack's powerful server instead of your server. You can use this service if you're using a shared hosting service or your website has 1000s of images and it uses a huge amount of bandwidth.
Also read: Bluehost review
Jetpack analytics
If you're looking for an alternative to Google Analytics to track the traffic to your website, activate this feature. Jetpack Analytics makes you aware of the most popular posts on the pages of your website and the different sources of traffic.
If your theme doesn't have built-in social sharing buttons, you can activate this module of Jetpack. The plugin enables you to select the social networks whose buttons should appear on the posts.
Bruteforce attack protection
A brute force attack is an attack in which the hacker tries to get access to your WordPress website's dashboard by repeatedly entering a username and password from a dictionary containing the most commonly used usernames and passwords in the login form of the site. The attack will continue until the code that is inserting the user name and password gets access to your WP dashboard. To make sure that your WordPress website is not affected by this attack, use the "Bruteforce attack protection" feature.
Jetpack ads
The plugin enables you to join the monetization program of Automattic inc. This feature is a part of the Jetpack Premium Plan. JA lets you control where the ads should appear on your WordPress website and where it should not. As of today, the plugin supports the following ad formats:
300 x 250
728 x 90
300 x 250
160 x 600
Like other ad networks, WordPress ads enable you to see the ad performance reports.
Must see: Siteground hosting review
Downtime monitoring
If you think your web hosting service provider is shutting down your server when you're not online or to find the downtime of your site, you can use the Jetpack's downtime monitoring feature.
Auto Post sharing
A great feature for all types of websites, you can use the post sharing feature to publish posts on social media sites at a time specified by you. Use this feature if you've received a warning message from social media sites that you're sharing several posts in a short period or if you want to boost the social traffic on your website.
SEO Tools
Jetpack lets you configure the post title, meta description, and open graph settings. To enjoy better features, you should use The SEO Framework or the Yoast SEO plugin.
Sitemap
Like many search engine optimization plugins, Jetpack provides an option to enable XML sitemaps for your website. The sitemap has a valid XML schema code. It helps search engines in finding posts and pages on your website.
Backups (paid feature)
Whether your website is popular or not, you should back up your website every day. The Backups module of Jetpack creates your website's backup daily. This feature is available only to the Jetpack premium plugin users. If you're using the free edition of Jetpack, you can purchase this module for around 26$ (per month).
Publish by email
This utility of Jetpack lets you publish a post on your WordPress website without logging in. If you're using a password manager application to save your site's password and you have not memorized your WordPress site's password yet and you're not in front of a computer, this feature will come in handy.
Jetpack Search (paid feature)
The "Search" module of Jetpack is an alternative to the search utility of a WP site and the Google Custom Search tool. It generates relevant search results for user's search queries and displays the same instantly. Jetpack Search takes some factors into account for creating the search results. One of the factors is your site's statistics. In addition to displaying search results, Jetpack also highlights the search terms. Jetpack Search is a very expensive module.
Daily Scanning (paid feature)
This is a security feature of Jetpack that scans the WordPress content management system files daily for issues. Jetpack will send alert emails if it detects security issues on your site and will fix the same (if the problem is fixable by Jetpack). This feature costs $4 per month.
Have I used the Jetpack plugin?
Yes, I have used Jetpack on one of my websites. The plugin's related post, social sharing, and brute force attack prevention feature works like a charm. I haven't used the CDN and other features but have seen them being used on several high-traffic websites.
Download Jetpack or see the comparison table of the four Jetpack plans
Pros
Several features.
Easy to use.
Cons
Addons/modules are expensive.
Final thoughts: Jetpack is a great plugin. It not only makes your website powerful but also makes managing complex features a piece of cake. There are several advantages or reasons to use Jetpack. For example, if you're using a free theme or a theme that doesn't have a social sharing feature or if you're using a hosting service that doesn't offer brute force protection or is slow, or you're using an SEO plugin that doesn't generate a sitemap, you should use Jetpack.