All In One SEO was the most popular WordPress search engine optimization plugins until Yoast was launched. Within a few months of its launch, Yoast reached a milestone figure of 100k users. Right now, Yoast is the most popular SEO plugin. According to its official WordPress.org listing page, the plugin has over 5 million users and it has a great rating of 4.9 out of 5.
Is Yoast SEO a newbie-friendly plugin? What features does it provide to the users? Here's our unbiased review of the plugin:
Installation and configuration
Installing the Yoast SEO plugin is a piece of cake, thanks to the WordPress CMS. To install this plugin, open the WordPress Plugins interface. Enter Yoast in the textbox you see on the screen and press the enter key of the keyboard. Once you see the plugin in the search results, click the install button. That's it!
Features of the Yoast SEO plugin
Verification codes
Although it is easy to add website verification codes in the header section manually, if you don't want to edit PHP files, you can put the codes in Yoast's webmaster tools section which you'll find in its General settings page of the plugin. Yoast supports Baidu, Google, Bing, and Yandex verification codes.
Text Analysis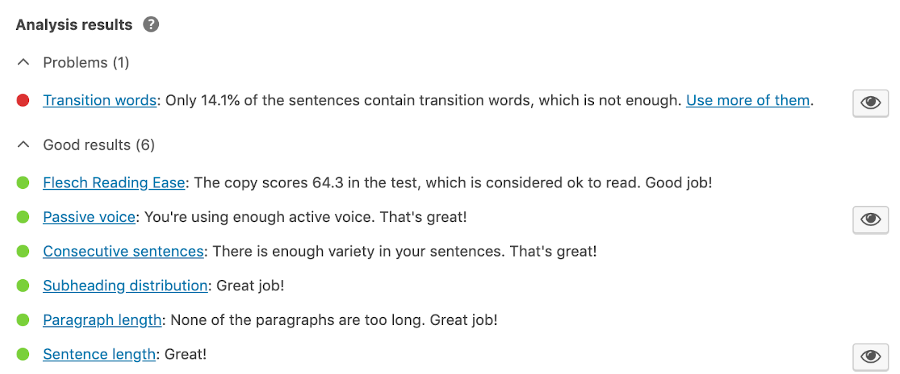 The Yoast SEO plugin has a built-in content checker module that calculates the Passive Voice usage percentage in the content. The plugin makes you aware of three consecutive sentences beginning with the same word. It also checks the readability level of your post/page content.
Fortunately, Yoast provides an option to disable the "Text Analysis" feature. Thus, if you think that the plugin is slowing down the WP post editor, you can disable this feature and use Grammarly, which is currently the best free grammar checker tool. For an in-depth analysis of your content, you should install and use Grammarly instead of Yoast.
Canonical links
<link rel="canonical" is one of the most important tags on a page. It prevents duplicate content issues. Yoast automatically generates a valid canonical tag and adds it to your website pages. Thereby, reducing the chances of your website suffering from a Google algorithm penalty caused by duplicate content.
Sitemap
Yoast generates a sitemap file for your website when you enable this option. You can configure Yoast to exclude media files or pages from the sitemap.
Link counter
Yoast finds the number of links your posts have and displays the same in the WordPress dashboard. The plugin adds a new column to the dashboard. You can use this feature to find out pages that have the least and most number of internal links.
Breadcrumbs
Yoast is one of the few SEO plugins that can add breadcrumbs to your website. The plugin displays a code which you must copy and paste it in your WordPress website's single.php file.
Bulk Editor
This tool of Yoast lets you add a custom description and a title tag for WordPress posts without opening the page/post editor tool of the WordPress CMS. Bulk Editor has a limitation that it doesn't let you find post/page by name. If you have a large website with 1000s of posts, finding the post won't be an easy task.
Open Graph tags
If these tags are missing on the pages of your website, Social media portals will display an option to upload a picture when you try to share a page. If one of the visitors to your website sees this option while sharing your website's page on Facebook, Twitter, etc, he may not share the page. Yoast SEO automatically adds valid Open Grah tags to your website. Thus, when a user tries to share a page, he'll see the post image, title, and description instead of title, option to upload pictures, and description.
Cornerstone content
While editing a post or a page, the Yoast post SEO settings panel displays a checkbox with the label "Cornerstone" content. According to the developers, Cornerstone Content is the most popular post on your site. You can mark as many posts as CS. This feature functions as a category that contains only those posts that get the maximum traffic. It lets you focus on important posts on your website.
Support
The developers of the Yoast plugin have clearly mentioned on their WordPress.org listing page that they reply to emails sent by the users of Yoast Premium plugin only. If you're using the free version of Yoast SEO plugin, you can either ask a question to the community in the plugin's official WordPress support forum or look for a solution to your problem on Google, Bing or any other search engine of your choice.
Platforms
In addition to WordPress, Yoast is available for the following platforms:
Premium features
The premium version of Yoast costs $89 and it offers the following features in addition to the features you'll find in the plugin's free version:
Internal linking suggestions
The plugin analyzes your post's title tags, meta description, and content and recommends links on your website which you can insert into the post to improve your website's internal linking structure.
Redirect manager
This feature lets you redirect broken links on your website to another URL. The plugin lets you choose the HTTP status the search bot should see when it tries to crawl the broken link. Yoast SEO lets you create unlimited redirects. It also enables you to export your redirects to CSV file and import them when required.
Orphaned content filter
With this feature of the Yoast Premium plugin, you can find posts and pages on your website that are not linked with any of the pages. The OCF function works with the internal links recommender tool to improve your website's internal linking structure.
Social previews and word suggestion
Yoast allows you to see the open graph tags live in action with its social previews tool. The word suggestion function finds words in your posts that can be replaced with a better or correct word.
Premium support
As mentioned earlier, users who buy the premium version of the SEO plugin are eligible for email-based support.
Pros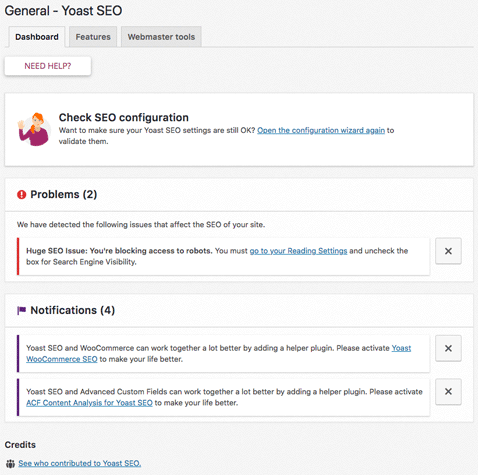 Easy to use: Yoast provides a wizard tool that asks you to enable/disable the settings you want to use. This tool is newbie-friendly.
Several features: Yoast provides several features to the users free of cost. People complaining about ads should think about the hard work the developers have put in building Yoast.
Cons
Updates: Developers release a new update for Yoast every month. Almost every update has a fix to a bug which was found in the earlier release of the plugin.
Bloated: If you're a newbie, Yoast plugin will be a great asset for you but if you're an advanced user, you might think of getting rid of Yoast.
Download the Yoast plugin here
Summary
Yoast is a great plugin for users that are looking for a WordPress SEO plugin with several features. It provides several features and is easy to configure.