So you've shortlisted the Hostgator Hatchling plan for your website and you want to know whether this plan will be good for the long run or you're wondering whether this plan is right for your website or not. Below, I've shared a detailed review of the Hostgator Hatchling plan:
Hostgator Hatchling plan review
Hatchling hosting plan is one of the cheapest and most affordable cPanel based shared hosting plans on the internet. What is cPanel? cPanel is a beginner-friendly web-based software that allows you to do technical things such as creating redirects, email accounts, changing PHP version, creating DB backups, etc with a graphical user interface. Hostgator offers the following features/services to the users of this plan:
Single website and pricing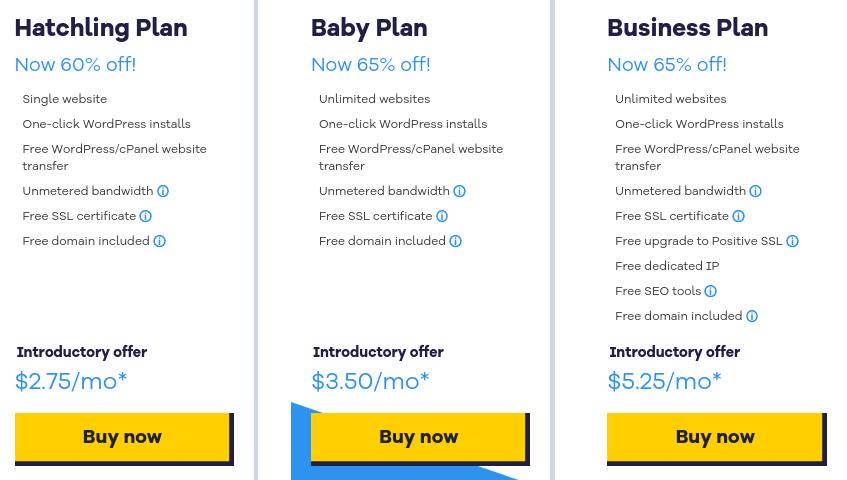 The Hostgator Hatchling plan lets users launch and manage a single site. This hosting plan is great for users that have never launched a website before or have a single site/blog and have no plans to build or introduce more sites in near future. The other two shared hosting plans of the Hostgator i.e. Baby and Business plans let you host unlimited sites. The Hostgator Baby plan costs $0.75 more than the Hatching plan. The Hostgator Business plan is the costliest shared hosting plan of Hostgator. It is $1.75 costlier than the Baby plan. Compared to the Business/Baby plan users, users of the Hatchling plan save $9 to $30 every year.
Get 60% off on the Hatchling plan
Free SSL
SSL/HTTPS is a sign of trust. It indicates that the website owner cares about the online security of the website visitors. Hostgator Hatchling plan users can enable HTTPS or install an SSL certificate for their website with a few clicks of a button.
One-click WordPress installation
In case you're not aware, WordPress is the world's best content management system. WordPress is a great CMS. However, installing it manually can be tricky for new users or people who haven't used the Linux OS or have never installed and configured a webserver/database server before. The Hostgator Hatchling plan is a beginner-friendly shared hosting plan that lets users install WP CMS and many other frameworks with few clicks of a button.
Free website transfer
Transferring a website from one server to another is a risky business. If the transfer isn't perfect, your site may break or may lose traffic (if redirects are not set up correctly). To make sure that your business/blog runs smoothly on its platform, Hostgator offers a free website transfer service to the users of the Hostgator Hatching plan. Who will take care of the site transfer? Hostgator experts will move your site.
Get 60% off on the Hatchling plan
Free domain
Domains cost between 0.99 to $250. If you purchase the Hatchling hosting plan for 1, 2, or 3 years, you'll be eligible for the free domain offer. I have bought a domain now what? If you have bought a domain, you can buy the Baby hosting plan instead of the Hatchling plan. If you do so, you can launch 2 WP sites. TLDs such as .com, org, .net cost within 8 to 18 dollars. The baby plan costs $9 more than the Hatching plan (per year). If you already have a domain and you register a new domain with Hostgator, you can use only one domain as the Hatchling plan supports a single site only. Thus, it won't be a bad idea to purchase the Baby plan and give the Hatchling plan a miss.
Unmetered bandwidth and disk space
Many hosting plans that support only 1 website restrict bandwidth usage/data transfer to few gigabytes only and offer limited storage space. If you purchase hosting for multiple years from such a company and your site grows, you may have to purchase additional bandwidth or pay money for additional bandwidth you've used. The Hostgator Hatchling plan offers unmetered bandwidth and disk space.
Support
Phone and Live Chat support is the fastest way to get a problem fixed no matter what hosting company you're using. Hostgator lets its customers get help from its technical support team over the phone. The company also allows users to chat with the support staff in real-time. If the issue/problem isn't a major one, you can write an email to the customer support team of Hostgator.
Get 60% off on the Hatchling plan
Money-back guarantee
Unless you use a product, you won't know how it is. Some companies offer a money-back guarantee but the number of days within which you should apply for a refund is a week. Hostgator has a 45-days money-back guarantee on its Hatchling plan. If you're not happy with Hostgator, you can apply for a refund. Hostgator won't bother you by asking questions regarding why you want to move to another host.
Performance
According to the online uptime monitoring tool of Pingdom, the uptime of Hostgator servers is 99.98% and the average response time is around 660 ms. The stats are good, to be honest.
Hostgator Hatchling plan vs baby plan vs business plan
The number of websites: As mentioned earlier, it is possible to host a single website on a Hatchling server. On Baby/Business plan servers, you can host many sites.
Extras: The Business plan will offer SEO tools access, positive SSL upgrade, etc. It also provides a dedicated IP address. The Baby and Hatchling plans don't offer extra features like the Business plan. They share similar features i.e. unlimited storage memory/bandwidth, free SSL, etc.
Pros
Affordable.
Unlimited bandwidth.
Unlimited storage memory.
Excellent support.
1-click WP installer.
Cons
Hostgator Hatchling plan coupon code
The Hatchling plan costs $6.95 but with this special link, you'll get a cool 60% discount on the Hatchling plan subscription. The price of the plan after applying the discount will be $2.75.
Closing words
If you're looking for hosting for a single website, the Hatchling plan is a great option for you. This plan comes with unlimited bandwidth/storage and is affordable.