Debian, the open-source Linux distro was introduced in 1993. As the Debian OS source-code was available for everyone to view and use in projects, several developers & companies began to create new Debian based operating systems. Some distros failed to get traction but some of the operating systems became very popular e.g. Ubuntu OS, which is based on Debian is one of the top 5 distros of all time.
The latest version of the Debian Linux OS is 10.3. This version of the OS was launched in February 2020. What features does the Debian Linux OS 10.3 provide to the users? Is it secure and easy to install? Let's find it out!
Installation
Debian supports two modes of installation – graphical and text mode. When I entered into the graphical mode of Installation, the trackpad didn't work. I had to use the tab, spacebar, and enter keys to select the country, keyboard layout, timezone, packages, etc. I chose the "use the available free space" option of the disk partitioner. The entire process of installation took about an hour. I expected the installation to complete within half an hour as I was using the Debian ISO CD ISO (XFCE Edition) which had basic XFCE utilities and the Debian OS base files. One thing that contributed to the longer installation time was Grub that took nearly 17 minutes to detect other operating systems and install the bootloader.
Once the OS was installed, I rebooted the laptop and chose the Debian OS from the Grub bootloader menu. During the boot process, I was greeted with two errors – one was related to the AMDGPU and the other was the missing Realtek WiFi binary file. Debian showed a blinking cursor instead of the login screen when it finished starting the essential services. Instead of wasting time in fixing this error, I decided to install Debian with Virtualbox on Arch Linux (the OS that I use for work/self-entertainment, etc).
Surprisingly, the Arch Linux OS that was working like a charm before installing the Debian OS reported Swap file errors during the boot process. Fortunately, this error didn't prevent me from logging into my account. I ran the KDE partitioner to delete the partitions created by the Debian OS installer. I found that the Debian installer used the swap file that I had created for Arch Linux instead of creating a new one for the Debian OS. I fixed the swap file/partition error, deleted the Debian partitions, rebooted the PC, logged in Arch Linux, and installed Debian with Virtualbox (1GB RAM, 4gb storage, 4 processor cores).
Boot speed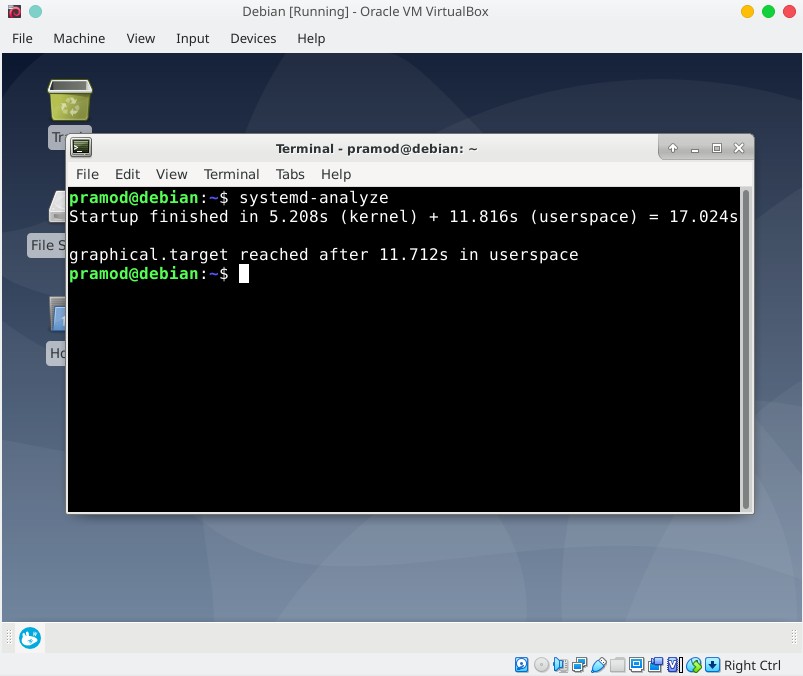 Debian Buster XFCE with no other services installed excluding the ones that were installed by the OS installer starts faster than most of the Linux distros I've tried. The graphical target was reached in 12 seconds.
Kernel
Debian is powered by Linux 4.9x kernel. The current version is 5.8.x. The old Linux version makes the OS compatible with old AMD and Nvidia GPUS and official driver software launched by AMD & NVIDIA.
Commandline package manager
Debian ships with the intuitive DPKG package manager. You can use DPKG to find, install, remove packages from the OS.
Synaptic Package Manager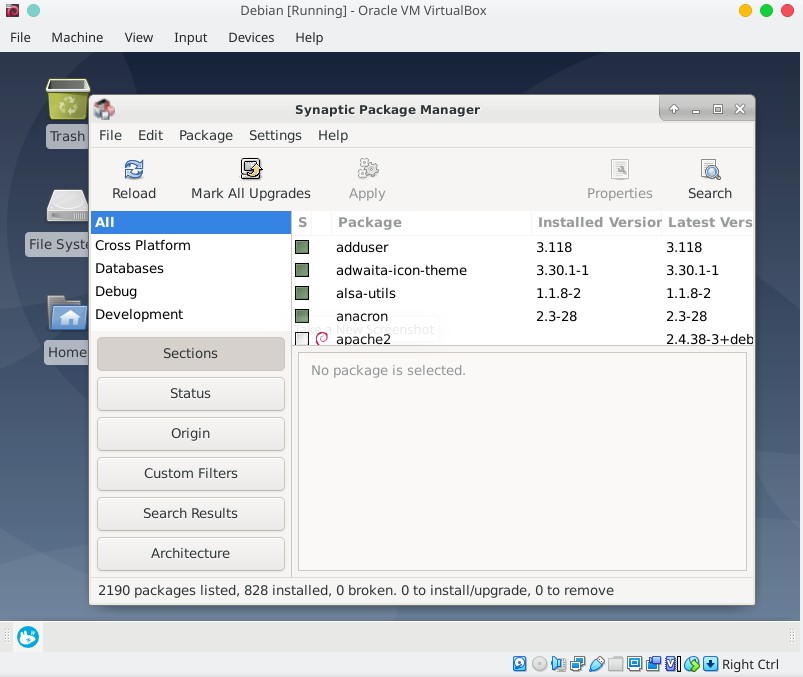 Debian OS is known for its software repository that hosts over 50000 packages. Although it is easy to find packages manually in the command line mode, why type commands when you can install software using a GUI? Synaptic is a powerful software manager. The design of Synaptic is similar to OpenSUSE Tumbleweed's Yast software manager. Synaptic allows you to find/install/upgrade packages. It remembers the search phrases you had used to find packages. It also enables you to add and manage repositories.
Firefox
Debian OS ships with Firefox ESR. Firefox is the default browser of the OS. ESR versions of Firefox get fewer updates in a year compared to the non-ESR stable releases.
RAM Usage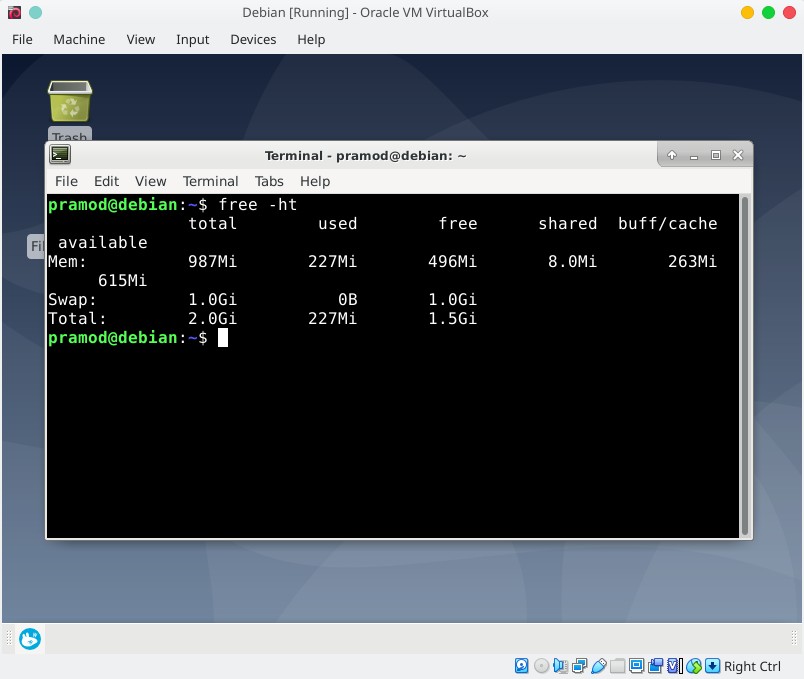 I installed Debian using the CD image. The RAM usage when no other application was running (excluding the terminal) was 228 megabytes and the number of active processes was 101.
Desktop Environment versions
Debian 10 Buster supports Gnome 3.30, KDE Plasma 5.14.5, XFCE 4.12, etc. The current version of Gnome is 3.3x.x, KDE Plasma desktop is 5.1x, and XFCE is 4.14.x.
Pros
Stable: As Debian ships with thoroughly tested Kernel and software, it can run for several months continuously without any issues.
Cons
Packages: The Debian software repo doesn't have software such as VSCode, Dbeaver, Eclipse, Jetbrains IDEs, etc. Although you can install these applications manually or with Flatpak/Snap, it would be great if the developers launch a separate portal where software that I've mentioned (and many other applications) will be published and the OS will allow you to install the same with DPKG or Synaptic.
Outdated software: You'll have to wait for several months to lay your hands on the latest desktop environment releases, software, etc.
Installer: The installer works great only when you're installing Debian on a drive that doesn't have an operating system pre-installed.
Nothing interesting: Excluding the Synaptic package manager, Debian doesn't ship with custom-built utility or system software or tools that you'll love to work with.
Debian is suitable for whom?
Debian is a great OS for users who don't like to update software often, love playing games, etc. It is also a good choice for servers. The reason for the same is that the Debian gets a major update once in a blue moon. Furthermore, the servers use virtualization technology wherein administrators are allowed to install and use a single OS only. Why am I saying this? Well, I had faced some issues while dual booting Arch/Windows 10 & the Debian OS. Another reason why Debian is a great OS for servers is that it uses a low amount of RAM. Less ram usage = more room for applications.
Which desktop environment is best for Debian?
In my perspective, as XFCE has fewer developers than GNOME/KDE and as its developers don't release a major update often, XFCE is the best DE for Debian. XFCE will not make you feel that your OS or software is outdated.
Final thoughts: Debian is a great Linux distro but its installer is not good. As the OS doesn't have junk software/applications or start useless services in the background, it uses fewer system resources compared to many other distros. Although Debian is a good OS, considering the vastness of the Debian ecosystem, the developers should add new things to OS. Right now, the developers seem to be only interested to provide the stable base for Linux distros that are dependent on it. They like testing more than developing.