What Is HostAmada
HostArmada is a relatively new Web Hosting Company, and it is independently funded and privately owned. Its' primary mission and vision is to provide a fast, secure, and reliable Web Hosting Service.
All Web Hosting packages come with these essential guarantees:
No cancelation fees
Free Website Migration service
Up to 45 day's Money-back guarantee
99,9% Uptime Guarantee for all customers' websites
HostArmada is considered as Best Web Hosting Company, and offered packages are: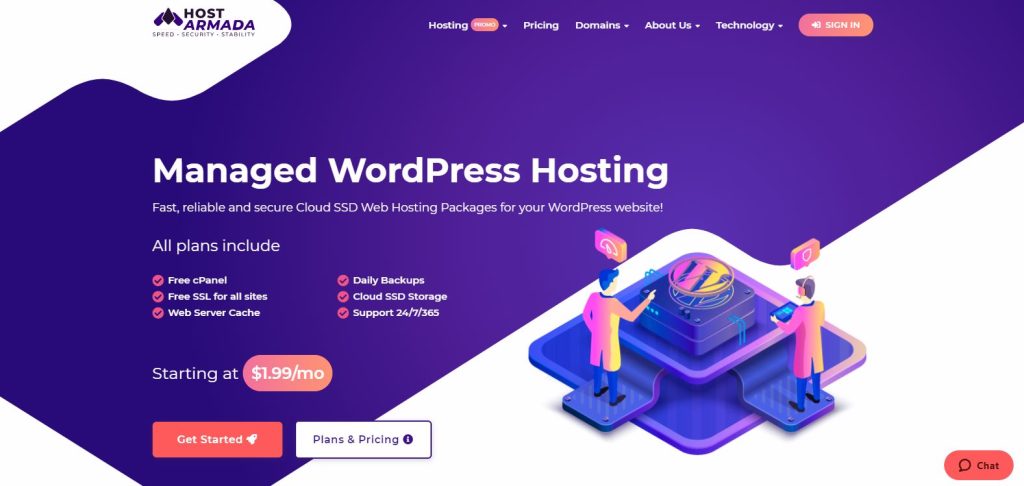 That is a Cloud Web Hosting SSD Package for the WordPress website. The main features of this package are:
1-click WordPress installer, which offers the users of this hosting, can easily deploy the WordPress site, and every installation can be configured separately. Automatic Daily Backups with 1-click restore and Web Server cache that will allow more visitors.
It is Managed Web Hosting service with the latest stable PHP version and constant check of Web Hosting health. SSD Cloud Storage is combined with the battery-powered RAID controllers.
There are three Shared Hosting Pricing plans, and the starting price is $2,99/month.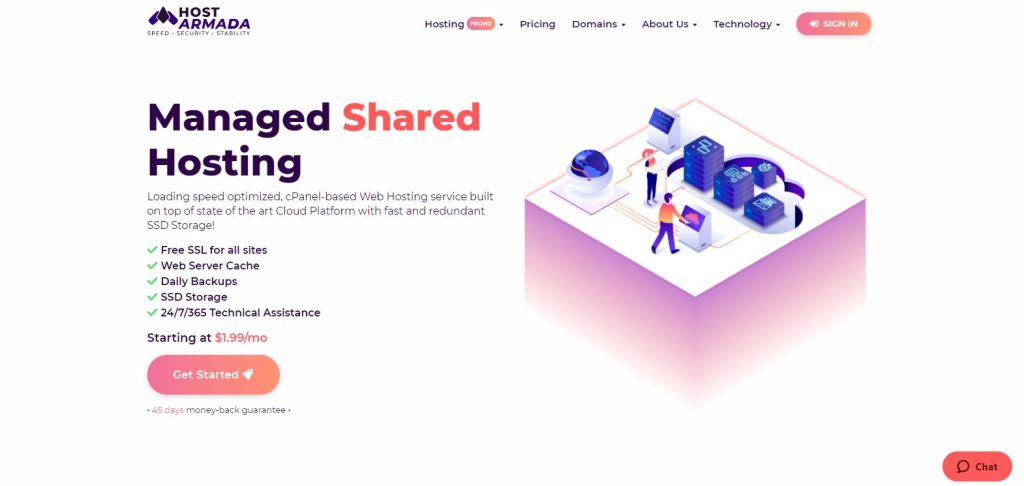 This Cloud Sharing Hosting package has SSD Cloud Storage using native SSD Drives that are best in class. It is combined with RAID battery-powered controllers for data integrity insurance. AI-based Security technologies are available for every Cloud SSD Shared Hosting plan for optimal degree of protection for web attacks.
For every Opensource application hosted by HostArmada as free features, there are Application installation, Visual theme installation, Module installation, Visual theme updates, and Application updates.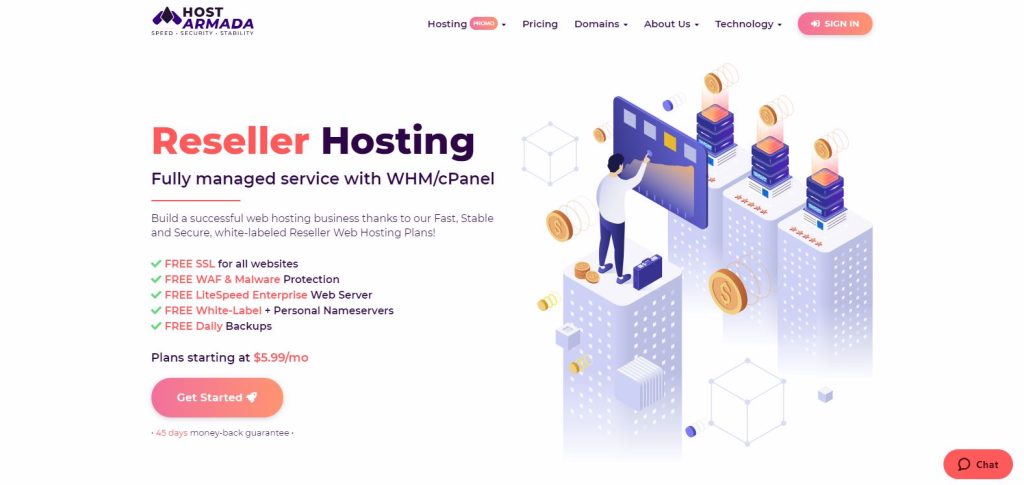 This Reseller Hosting is a service with WHM/cPanel that is fully managed. SSD Storage with high I/O capacity units power this HostArmada Reseller packet and Cloud Service with 99,9% uptime and small numbers of customers per server.
For control and management of your clients, there is WHM Access and a cPanel. With the Reseller plan, you will get Softaculous 1-click application installer as a go-to solution for Opensource applications deployment.
HostArmada Reseller Plans are optimized for WordPress Hosting, have static and dynamic content caching, LiteSpeed hosting server, and LS Cache plugin. Also, there are DDoS Protection and IP Based Firewall, and many more features if you choose this Hosting package.
It has four plans, and the start price is $7,49/month.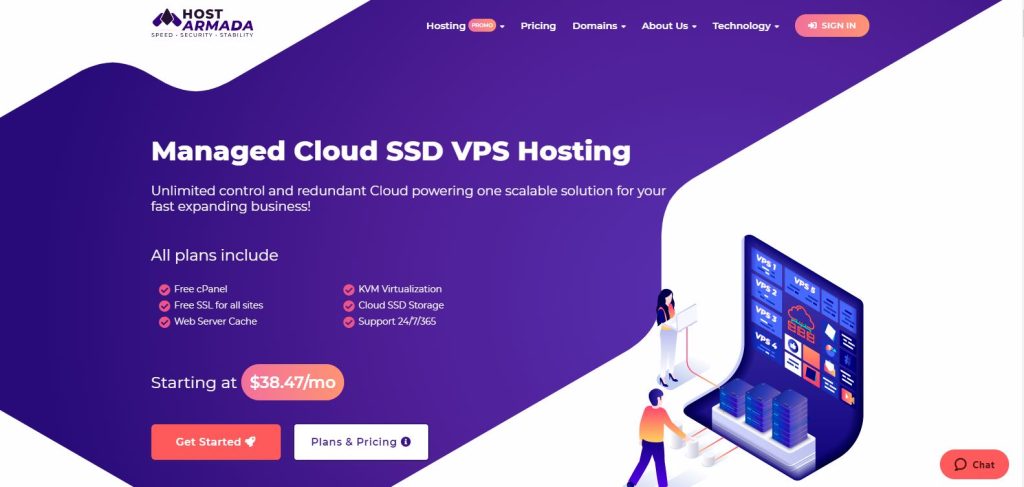 This package manages Cloud SSD VPS Hosting. Main HostArmada features are included, like 1-click Application Installer, consistent Backups, Nginx Web server Cache, service for optimal performance in their latest version, etc. If your business is expanding, this is one good scalable solution for you.
The purpose of this Cloud SSD VPS hosting package is mainly for clients that have e-commerce, multiple websites, Database server MySQL, Resource hungry Websites/Custom applications, and dedicated email service or similar.
You can start using this package at $41,21/month or select other plans among the four offered ones.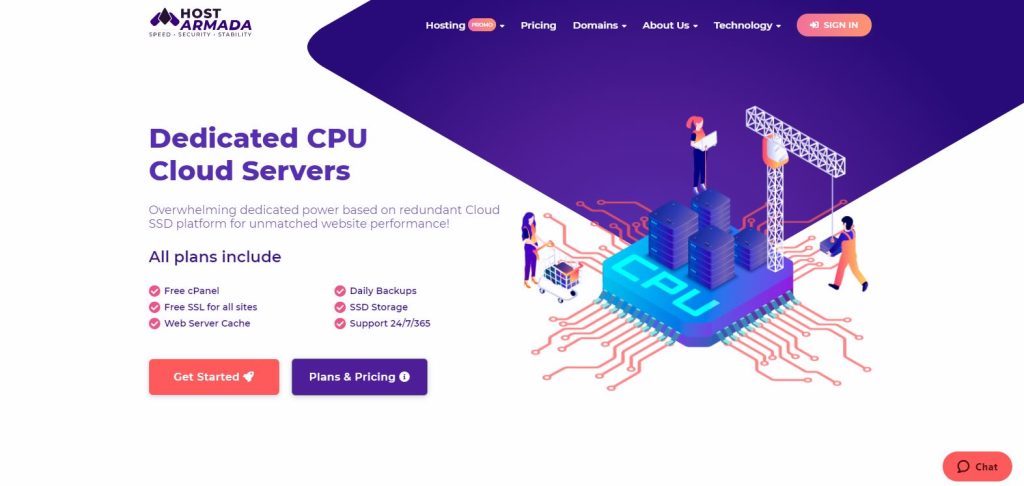 There is SSD technology to improve the speed of your websites and 24/7 technical Support that is human-powered. Those are dedicated Cloud SSD platforms which power is based on redundancy and website performance. They have On-demand granted access to the root user of the operating system that allows you complete control.
These Cloud SSD VPS plans start at $111,75/month, and if you need more CPU, RAM or SSD Storage than the three offered plans have, you can get a special quote on the site.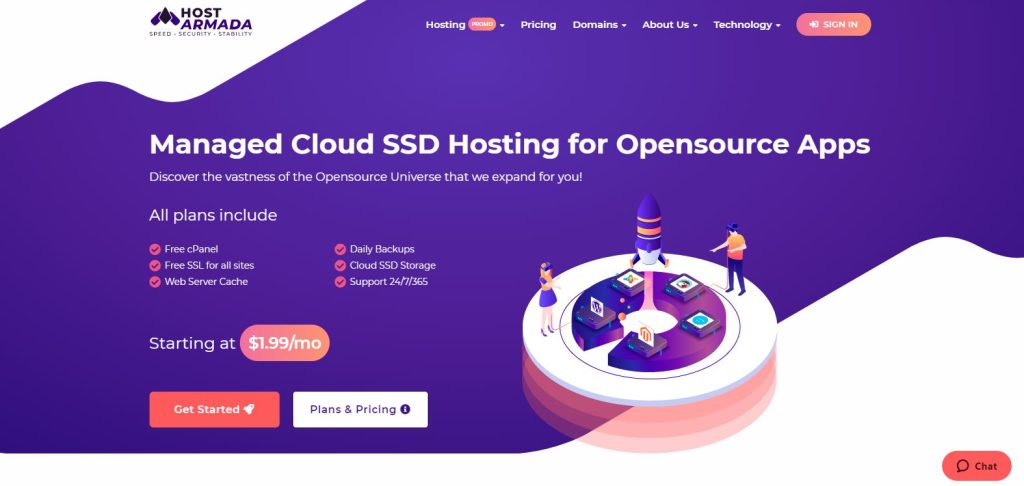 This Cloud SSD Open Source Shared Hosting comes with a 1-click application installer, managed-to-host web service, consistent backups, and LiteSpeed cache. Also, native SSD Drives, cPanel with easy pilot service, technical support, and website security that is AI-based.
This package has three plans, and a starting price is $2,39/month.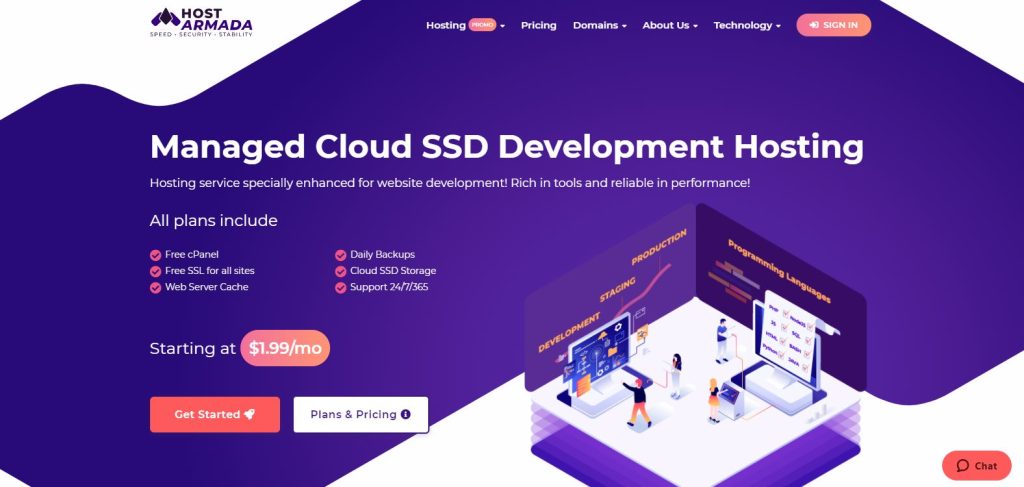 This is a Hosting service that is specially upgraded for website development. It has reliable performance, and it is well-supplied with tools. Plans start at $2,39/month, and they all include free cPanel, SSL for all sites, web server cache, daily backups, Cloud SSD storage, and 24/7 support.
SSH Access for advanced developers is included. Tools that come with this package are PHP Selectors, PHP Vars Editor, and Additional Tools you can see on the HostArmada site.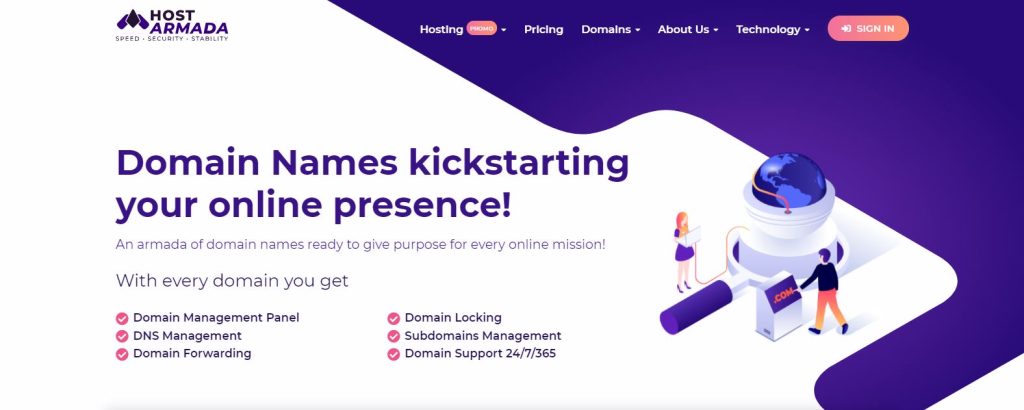 This company offers a domain service to find a new domain name that is just perfect for your site. With every domain you choose at HostArmada, you get:
Domain Management Panel
DNS Management
Domain Forwarding
Domain Locking
Subdomains Management
Domain Support 24/7/365
The main reason you use this Domain Name Registrar is that they have a vast number of supported domain extensions, flat pricing for renewal for all non-promotional domain names, and domain notification that is automated and prompt.
Domain management that HostArmada provides is intuitive and straightforward. An important feature is Domain security, and features that HostArmada has are Privacy Protection, Domain Lock, and Free SSL certification. DNS Management support is also provided, and this is considered to be the important aspect of a domain name, so you will have the ability to create, edit and delete DNS records.
In a Search Field, just enter a domain name that you would like, and results will be displayed. Examples of offered domain names with a price for them are: .in.net for $1,64 / .coupons for $11,54 / .tel for $13,18 / .website for $7,69 and other Promotional Extensions.
HostArmada offers those Domain Extensions Directories to search from:
Commonly Registered Extensions
Newly Released Extension
Country-Specific Extensions
Other Domain Extensions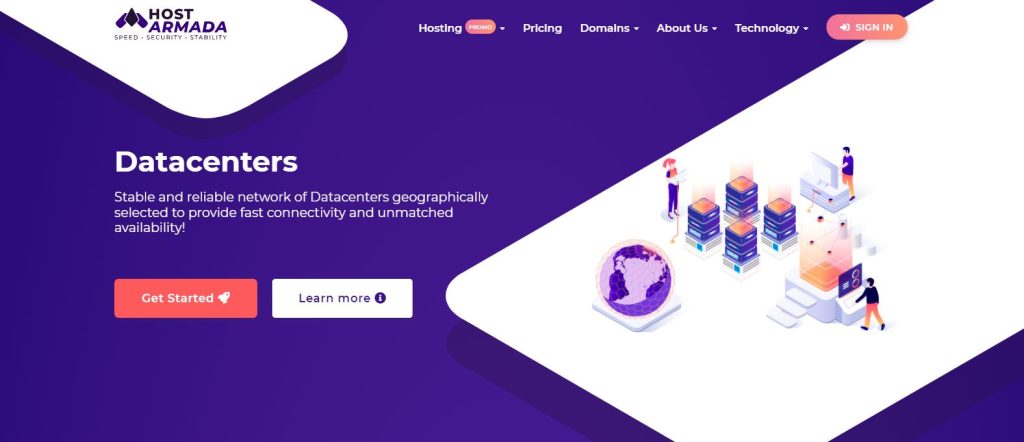 Services Launch Pads for HostArmada are available in their Data Centers. When you order a new Web Hosting package with HostArmada, you will be able to choose a location. Data Centers are located in the USA, Canada, United Kingdom, Germany, India, Singapore, and Australia.
Details are presented here: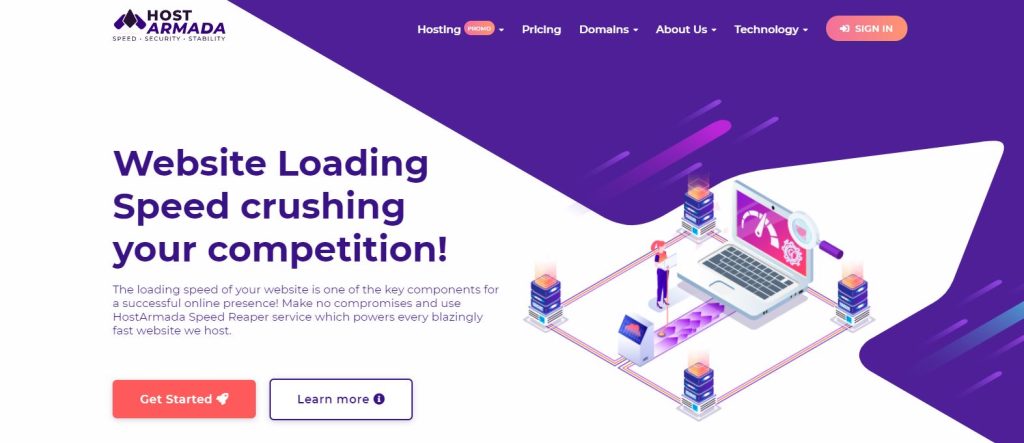 HostArmada Speed Repair service dazzles every website they host by its speed. The key instrument that will "make or break" your site's existence is its Loading speed. When you have a fast loading website, you will get all of the following benefits: improved SEO ranking among users, more visitors will browse your website, increasing conversion, the bounce rate will be lowered, and users will spend more time on each of your pages because of the fast loading speed.
Hardware features of HostArmada for loading speed are Cloud technology used, Native SSD Storage, all infrastructures are connected with up to 7000 Mbps network, and Latest AMD CPUs are used. Regarding Software Features, HostArmada uses and maintains the latest stable versions of all used software for speed improvement.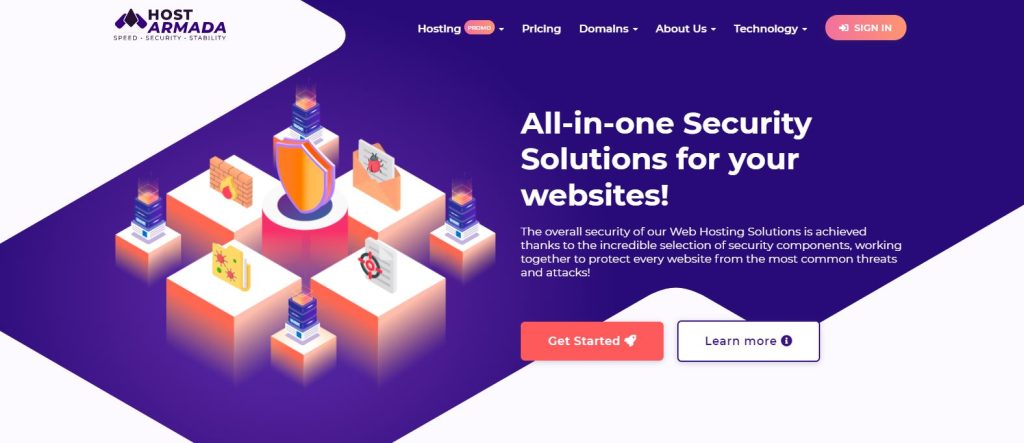 Top Security is achieved by all-in-one Security Solutions that they provide for hosted websites. Security components will make a unique solution to protect your site from the most common attacks and threats. Security Solutions are following:
Fast Patching on a server level
Daily Backup is a standard feature for all Shared Hosting Plans
Account isolation that prevents interaction of users among each other
Security power and tools are conditionally separated into Web Server Security Fleet and Environment Security Fleet.
Web Server Security Feet is a security solution focused on web servers, meaning that the server is considered a critical core for distributing malware.
Environment Security Fleet protects HostArmada clients' accounts by using live security event monitoring, advanced network Firewall and WAF, Intrusion detection and prevention, malware scanning, protective Zero-day attack detection, and OS Patch management features.
Conclusion
Even it is an entirely new hosting service provider HostArmada offers a variety of great features, and not only hosting service. We have shown you in a review, which is pretty short if you consider all that HostArmada has to offer, features that we consider most important.
This hosting company's commitment to providing you with top security and top speed is a huge benefit. So go to their website and select a plan for your website.