If you want to make money from an app/website you've built or code you've written, you should sell its plans online or offline. Convincing people to buy software or a subscription plan is not an easy task and there are just a handful of software/code marketplaces.
To be honest, submitting a software/service to an online marketplace is a lot easier than selling a product offline. This is because offline selling requires great marketing and communication skills. Although filling and submitting a form on a website is easy, the problem with marketplaces is the lengthy approval time, high chances of rejection, etc.
I had submitted an app to Codecanyon. The application was rejected because I had obfuscated/Encrypted the source code. After doing some research, I found Codeclerks. I created a new account on the site and submitted my app right away. My software got approved on CodeClerks withing 4 hours of submission.
CodeClerks is one of the few software marketplaces where you can sell your item at a price you like and you don't have to wait for a long time to get an approval/rejection email from the staff.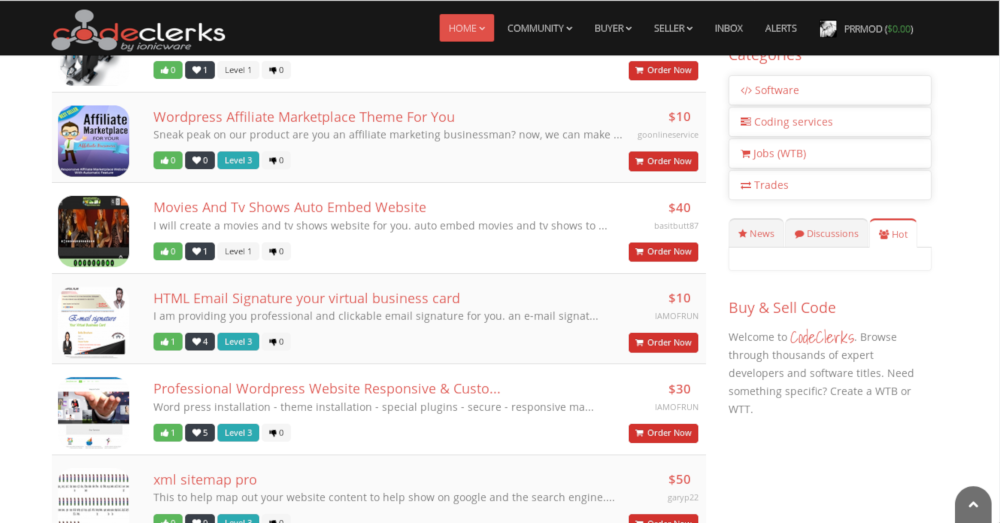 What you have to do to submit a software?
You must fill a form that asks you to enter a description, upload screenshots, logo, provide demo URL, enter tags, pricing, instructions to buyers, system requirements, select category, set up coupon codes, etc. CC allows users to use HTML in descriptions.
Features
Codeclerks enables you to run discounts. It lets users buy packs that will get more viewers to their service/product listing. It gives you access to forums so that you can discuss various things about CodeClerks with other users.
CC provides an option to disable, suspend, or enable a listing. It lets you manage sales. In the sales management interface, you'll find the following filters:
Active orders, Late orders.
Delivered, Completed.
Canceled, Subscriptions.
All, Unread, Important.
Warning
If CodeClerks staff finds out that you're reselling software or you're not the author of the software, they'll ban your account permanently.
Payments
Codeclerks supports payment to Payoneer or your PayPal account. To receive payments, head over to the settings page of the site and enter your PayPal email address or link your Payoneer account with the site.
Reason to sell on CodeClerks.
Approval is quick: The Codecanyon staff takes up to 14 days to accept your product. If your item is rejected, your 2 weeks waiting will go in vain. I thought CC might take 7 to 10 days but I was wrong. New submissions are approved quickly on CodeClerks.
Final thoughts: CodeClerks is one of the best places to sell closed source software or code online. If you want to make money online with your application, submit it to CC. CodeClerks provides several useful features to the buyers.