Have you started your business recently, or have you been in business for a long time? Creating surveys and questionnaires for your employees and customers is the only way to keep in touch.
What exactly are surveys and questionnaires?
Many people, even professionals, confuse these two terms. However, there is a difference between a survey and a questionnaire. A questionnaire is a written set of questions, while a survey is both a set of questions and a process of collecting, consolidating, and analyzing answers to those questions.
Why should you send surveys and questionnaires to your employees and customers?
It is vital to conduct surveys and questionnaires in the company because you need to know how satisfied and engaged your employees are. The same is with customers. It is necessary to understand how satisfied your customers are. If you do not measure the engagement and satisfaction of your employees and customers, you will not be able to improve it.
Listening to your employees or customer can help you quickly identify how employees feel about their job or how customers satisficed are with your products and your company. From all that feedback you received from the survey or questionnaire, you need to do something that will make your employees and customers happier. Give a voice to them! Also, your customers and employees will feel more valued when you pay attention to them.
That is why we have written this article to discover how and what tools you need to use to conduct surveys and questionnaires in your company.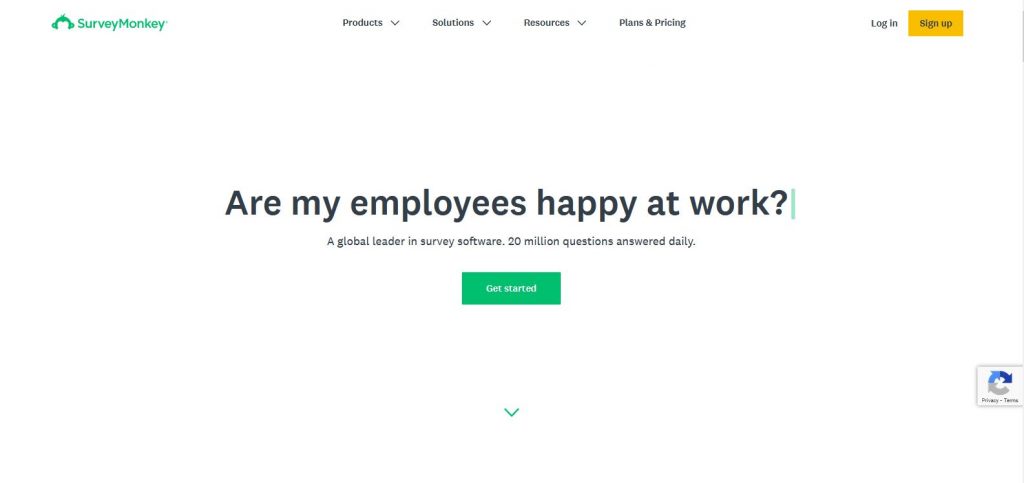 SurveyMonkey is the best-known and most commonly used online survey service. With this simple and professional tool, you will enable your users to create and design their surveys, without spending too much time and effort.
You can send a survey to users in several ways – by embedding it on your site, sending it by e-mail, Facebook, etc.
The basic plan allows you to have 10 questions per survey with a maximum of 100 answers per survey. This plan has all the features you need to use as well as 24/7 support.
Of course, if you need more features, you can choose the premium plan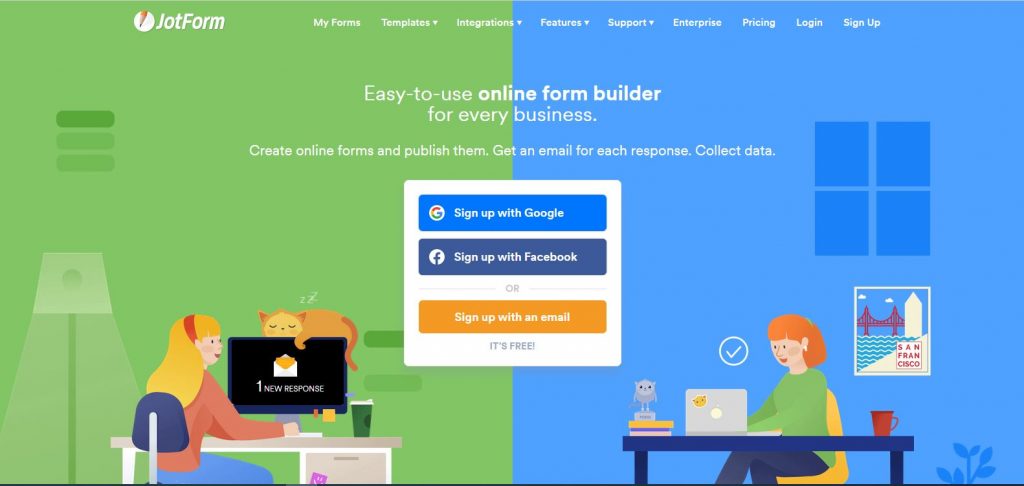 JotForm is a powerful online software for creating your forms in just seconds. Over 9 million people use this online software. The software offers more than 10,000 ready-made templates for forms, more than 100 third-party application integrations.
The main feature that makes JotForm is that it simplifies the whole process as much as possible – from the actual creation of forms to the management of the collected data.
This tool has the best form maker with the most advanced features. Perhaps you have no idea how to make your form look modern and attractive. With JotForm's drag-and-drop builder, you can make it easy. You absolutely don't need any coding experience to make amazing forms for your needs. With Theme Designer, create a form and customize it for your needs in just a few clicks and your form is ready! Yes, so simple!
JotForm has a free plan as well as premium plans. Free plan users have the same access to everything as users with paid plans, but with limits.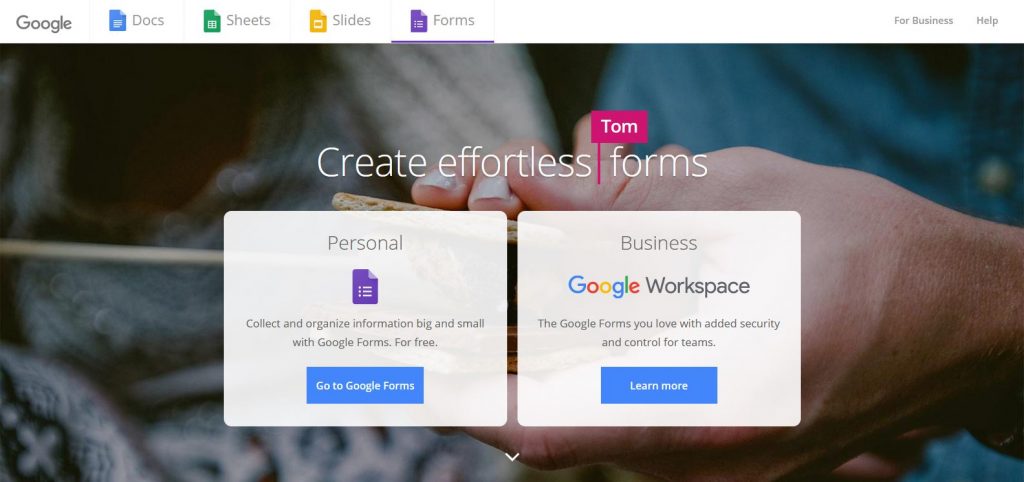 There is one more unlimited online survey builder for personal and business use. To use Google Forms, all you need is your Google account and you can begin making surveys, forms, etc.
Creating surveys via Google Forms is very easy and fast. You can choose any question format from the available formats, and using the web URL you can share the survey or surveys with the audience you want!
This tool is available for free and paid plans for companies. Using the paid version, you can create more complex surveys, and access all Google products with all the features like Meet, Chat, and Calendar. With each paid plan, you have a 14-day free trial.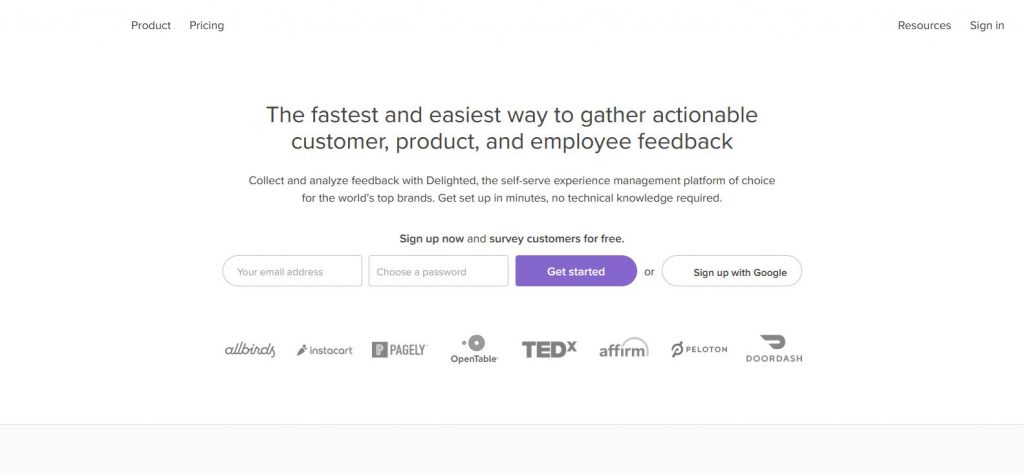 An online survey builder with the fastest way to collect feedback from your customers is Delighted. It uses the Net Promoter System to collect real feedback from customers.
Features of this tool include survey experience to bring the quality and quantity of customer feedback to high quality. You can also integrate with other third-party tools like Chatdesk and Zendesk.
This tool has a free plan as well as paid plans.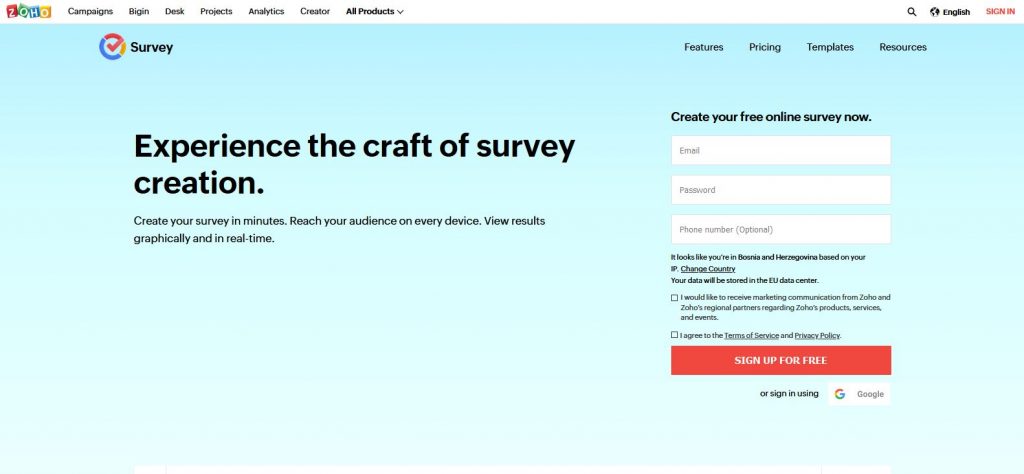 Zoho Survey is an online survey and questionnaire building software whose usage is quite intuitive. The features of this software correspond precisely to your needs.
This online software gives you a great opportunity to create surveys and send them to your audience. Over 200 professional templates already created are waiting for you, themes, panels, integration with Zoho CRM, Google Sheet, and much more awaits you in this program!
Of course, a free plan awaits you, as well as a paid plan where you have more features.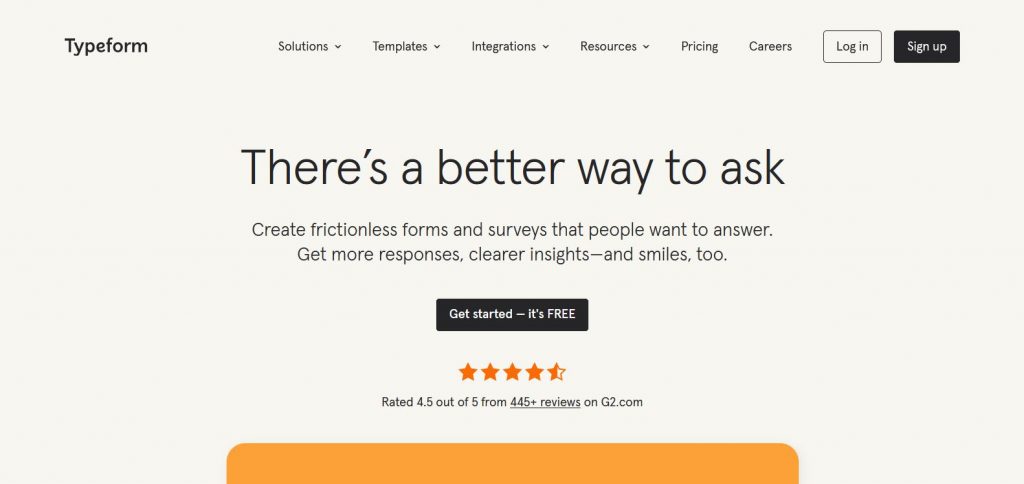 Typeform is an elegant and attractive online survey builder that surely wins the championship belt for creative survey creation. This online survey builder offers flexibility in creating surveys and questionnaires.
It allows you to collect high-level data for some respondents and helps you begin the process of designing a survey and questionnaire with a large selection of templates.
Typeform has a free plan that is useful but very limited compared to paid software plans. But you also have good choices for paid plans.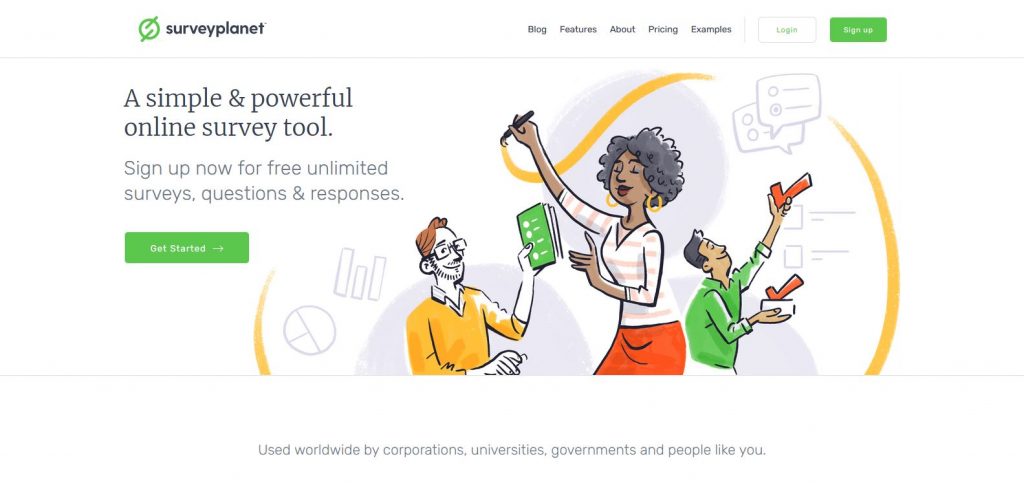 SurveyPlanet is an online survey software, which is easy to use with a clean and minimalist user interface. This online survey software is more than that. Survey Planet allows users to collaborate and connect with others.
Be creative. Be you. Surveys and questionnaires are a great way to communicate. The unique capabilities of this software allow you to be free and creative with each survey you make. Write your questions and edit topics! Enjoy your freedom to create surveys.
SurveyPlanet provides you with a free tool with great features. If you need something more advanced, there are paid plans.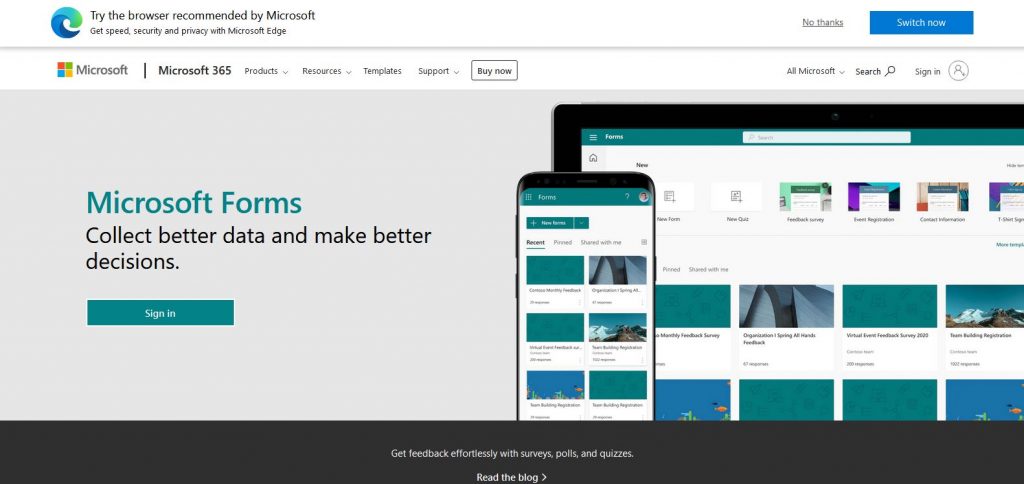 Another noteworthy software for creating surveys and questionnaires is Microsoft Forms. Similar to Google's Forms, but better in that you have more options for analyzing data thanks to integration with Excel.
Microsoft Forms is available to users of Microsoft 365 / Office 365 services or those with a Microsoft account.
Your customers or employees you survey can respond to this survey via any browser, even on mobile devices.
The advantage of Microsoft Forms is that you can distribute it easily via links, QR codes, or integrate it with other Office 365 products.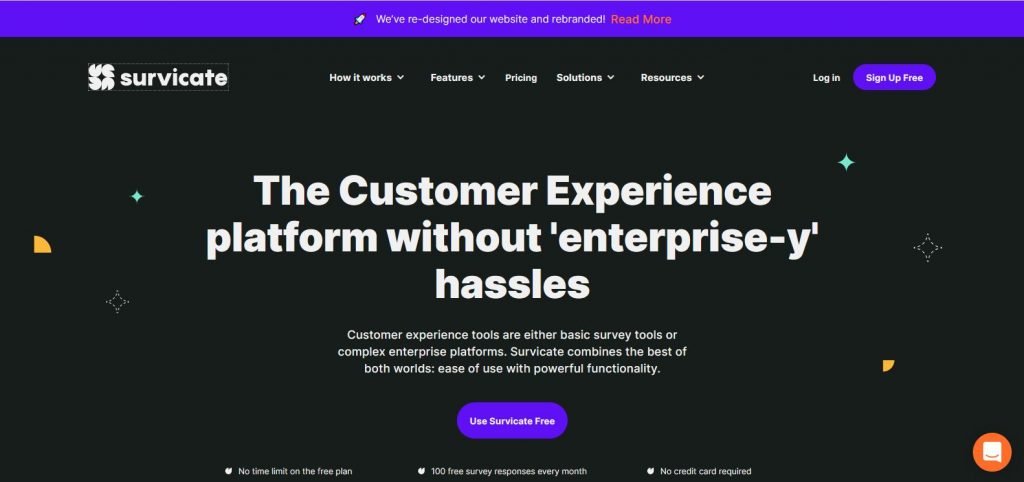 If you are looking for an all-in-one customer feedback tool Survicate is the solution for you. It provides you with feedback for your website, mobile app surveys, as well as a feedback hub. Of course, you can also create simple surveys and forms.
In just a few clicks, you can gather useful customer feedback that can help you improve your company and products. Improve the loyalty of your customers and respond more precisely to their needs!
You have two options, a free, lifetime plan with limited options and a paid plan with advanced capabilities.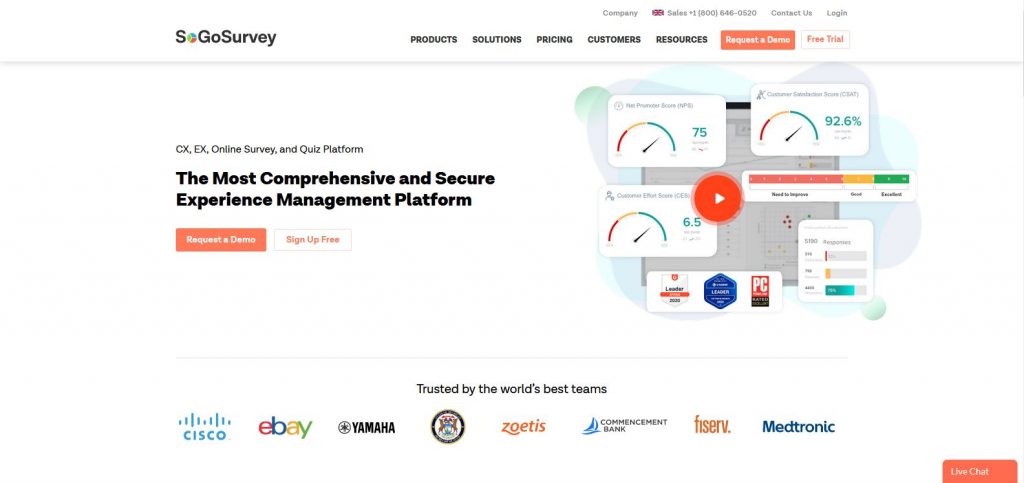 SoGoSurvey is an online survey builder tool that offers a lot – for free. You can use unlimited surveys and unlimited questions for your users/customers/employees.
Customize surveys and questionnaires by changing fonts, colors, adding logos and images. You have every freedom to customize your surveys. This tool gives you a lot of things for free that you will not find anywhere else.
You can use SoGoSurvey on your laptop, tablet, or mobile phone.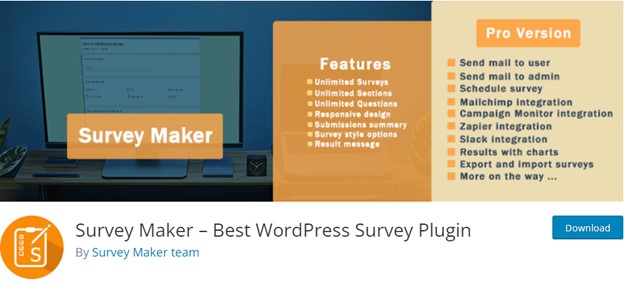 WordPress Survey plugin is a tool for you to create a survey and gather feedback. Don't think about the template styles or how to escape from the boring surveys. The Survey Maker will make it easier for you.
Even those who try it for the first time won't face any trouble while using it. The interface of the plugin is very much similar to Google Forms, which is why it is called a Google Form alternative in WordPress.
If you are looking for a plugin using which you will be able to create:
Customer Satisfaction surveys,
Market Research surveys, 
Personalized plans
Chat surveys
then you are at the right address.
The Survey Maker plugin offers you three options, a free plan, with limited options and two PRO version packages (Business package and Developer package) for creating advanced surveys.
Conclusion
In this article, we have introduced you to a set of online survey builder software that will make it easier for you to survey your customers or employees.
SurveyMonkey and JotForm provide lots of features with free and premium options. Google Forms and Microsoft Forms give you the ability to create unlimited surveys for personal and business use.
Also, there are excellent tools such as Delighted, Zoho, as well as Typeform, Survey Planet, Survicate, and SoGoSurvey.
We hope we have helped you choose survey builder software.