Want to make money by writing reviews of products you use or the products you're familiar with but don't know which affiliate network/programs to join? Well, Amazon associates is one of the best affiliate programs you can join. It was launched in 1996. Right now, over 1+ million users are making money with it. Every month, Amazon pays millions of dollars to its associates/affiliates.
Why join the Amazon affiliate program?
Amazon is the largest eCommerce company in the world. The firm sells millions of products online and is one of the most respected companies. Even if you don't have a website and you own a popular/active group or page, you can make money by joining the Amazon affiliate program.
What type of sites you can monetize?
Considering the vastness and popularity of Amazon, you can monetize any type of website with its affiliate program. If you know a product/category of a product very well, you can launch a niche site. Niche websites can earn you a good monthly passive income.
Getting started with Amazon affiliate program
1) Register a domain name: Namecheap and NameSilo are two of my favorite domain registrars. Cloudflare is also a great registrar but right now it supports domain transfers only.
2) Buy hosting: Buy a hosting plan from one of these top shared hosting service providers. Why not cloud or dedicated hosting? Niche sites are low traffic and highly converting sites. Also, new websites have relatively low traffic compared to established websites. Shared hosting will easily handle the traffic of niche/new sites.
3) Account: To make money with the Amazon, you should have an Amazon associates account.
Note: If have a social media account and you don't want to launch a website or you already own a website, ignore steps 1 and 2.
Dashboard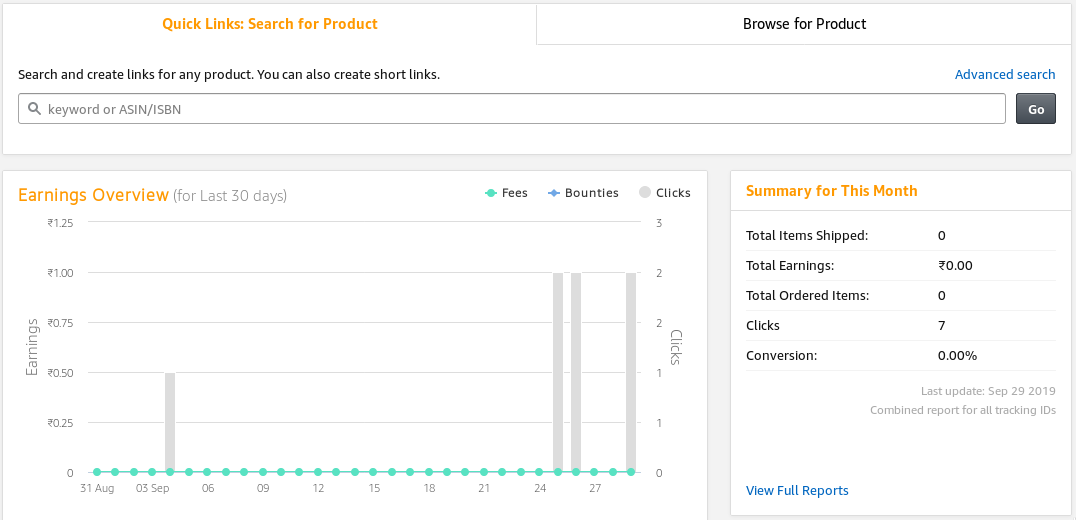 Generating affiliate links
To create an affiliate link, log in to your account, and open the product you're planning to promote. Now, click on of the following three links:
Text.
Image.
Text + Image
If you want to monetize your Facebook page or your Twitter account (Amazon Influencer Program), click the Facebook or Twitter icon.
Payment
To receive payments, you should enter your bank account information. To add the details, hover the mouse cursor on your email address and choose the Account Settings option. Now, click the "Change your payment method" option.

In some countries, Amazon asks users to submit a government-issued ID before they can send payment. For example, In India, the eCommerce firm asks you to submit your PAN card.
If the company operates in your country and if you shared your bank details with it, it will send your payment via NEFT. If your niche site/website is for US citizens, you can use Payoneer or open a US bank account to get paid. The company releases payments at the end of every month.
Banners
The Amazon affiliate program provides limited banners of various sizes. You can put the banners before the page title, after or in between the content, or in the sidebars. If a user clicks this banner and purchases something from Amazon, you'll earn a commission of up to 12% of the product price on each sale.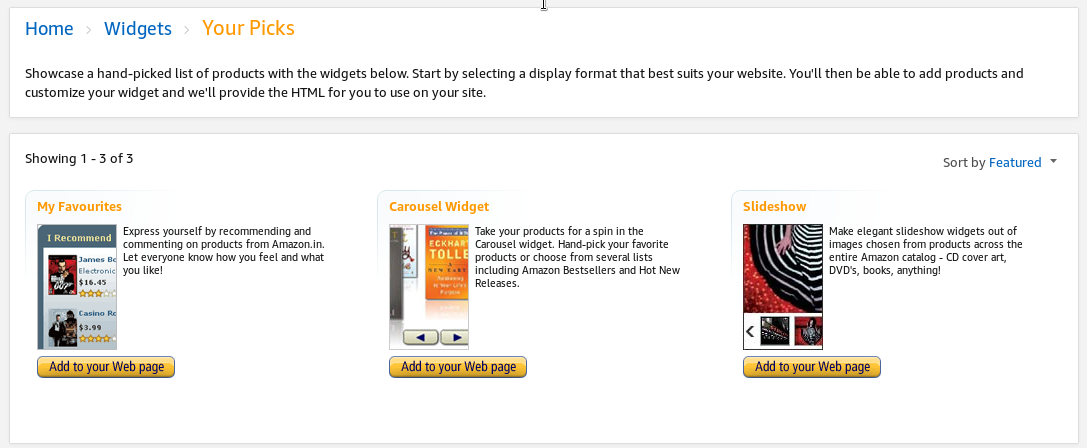 Amazon also offers various widgets. You can configure this widget to display products from a specific category only. This widget has a search box which website visitors can use to find products.
Native links
The Native Links feature is available for the US Amazon affiliate program only. According to the company, these links increase the conversion rate.
How does this feature work?
Amazon will display a script. You should edit your theme and place the script where you want to see ads. For example, if you want to see the Native Link ads below the post content, you should put the script after the post area section. If you're using WordPress or any other CMS, you can use an ad inserter tool to accomplish this task.
The eCommerce giant detects your location automatically and displays ads. If the page is about a phone, Amazon will display phones.
The native links are nofollow. They are responsive/mobile-friendly as well. Thus, you don't have to worry about mobile-friendliness or SEO while using the Native links.
Limit
There's no limit on the money you can make from the Amazon affiliate program. Also, there's no minimum traffic requirement for a website. Even if you've got a website that was created a few days back, you can monetize it with the Amazon affiliate program.
Disabling accounts
If your affiliate account has no transactions, your account will be temporarily disabled.
Reports

Amazon lets you export the commission/transaction reports to a PDF file. It lets you see the reports of previous months. The firm displays the number of clicks your affiliate link has got, the conversion rate, and the commission you've earned to date.
Short-links & customization
Amazon's affiliate program lets you shorten affiliate links. It also enables you to customize the text link's color. Once your affiliate URL is ready, you should insert it in the blog post. In addition to the text links, you can generate an Image URL from your affiliate dashboard. The image link displays the product image. The image points to an URL that contains your tracking ID.
Bounty program
In addition to the affiliate program, you can earn money online by promoting Amazon services. For example, if the user signs up for Amazon Audible or Business service (seller), you'll make extra cash.
Security
Amazon protects your affiliate account from brute force attacks with a captcha system. It also supports two-factor authentication.
Pros
No selection criteria for websites.
Easy to use dashboard.
Detailed reports.
Cons
How to become an affiliate in the Amazon affiliate marketing program? 
There are countless affiliate marketing campaigns currently available for bloggers seeking additional revenue. All you need to do is register to an online affiliate program and choose the one that is perfectly aligned with your editorial line and your audience.
The amazon affiliate program remains a fruitful partnership considering the panoply of products offered by the group. Moreover, an important platform like Amazon will increase the traffic on your blog tenfold. 
Here are the steps to become an affiliate marketer: 
What will be the criteria on which your application will be reviewed?
Submit your application to become an Amazon partner;
After reviewing your submission, Amazon verifies the media you would like to monetize. This can be a website, a social media profile, or a video channel.
How do I sign up for an Amazon affiliate campaign?
You can join an affiliate program with Amazon by using your current login on the platform. So, first, remember to sign up as an affiliate with your customer account and email address. If you don't have an account, you can create a new Amazon customer account.
You should know that the remuneration offered by this brand for its affiliates is of three types: 
Pay per sale;
Pay per lead;
Pay per click. 
Closing words
If you want to monetize your website, join the Amazon affiliate program. AA is free to join and easy to get started with. It is a great alternative to PPC or CPI ad networks.