People love to share interesting things they find on the internet with their friends. On mobile devices, it is difficult to copy and share a link displayed in the address bar. If the site doesn't have a social sharing button, the visitor may not share the article with his/her friends no matter how good the content is. This is the reason why social media plugins must be used on a website. If you want to increase the social media traffic to your site or followers of the pages/profiles you own, you must add social sharing or follow buttons to the pages of your site. You can do so by either writing code that will insert social sharing/follow buttons on the pages of your site or by using one of the following best social media plugins for WordPress: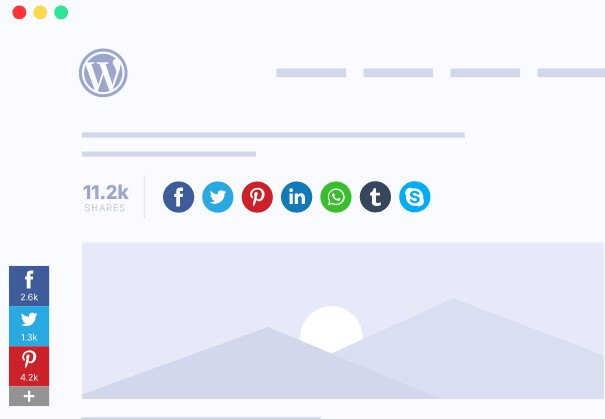 ESSB is the most popular social media plugin. It is used on over 500k websites and has a good rating of 4.67/5. ESSB ships with social sharing buttons of different styles. It lets you change the color and name of the buttons. The plugin can display a custom message when the user shares the article on a social media portal. It can show the social sharing buttons in a popup, below the post title, at the bottom of the article, etc. ESSB ships with an opt-in form generator tool. Once you create an opt-in form, you can place it at the position of your choice.
You can configure the Easy Social Share Button plugin to display sharing buttons of different styles on mobile devices and desktop or show a sharing counter to the right/left side of the icons. The Easy Social Share Buttons plugin for WordPress features a social media analytics dashboard where you can see the number of times visitors have clicked on the button or have shared your article on Facebook, Twitter, etc. The plugin allows you to add Facebook/Viber Messenger/TikTok feed to your site with a few clicks of a button. It also lets uses add Facebook Messenger and Skype live chat system to the WordPress site. ESSB has a built-in caching system and an option to use minified CSS/JS files aka plugin resources instead of unminified files. ESSB is a premium plugin that costs $22.
Monarch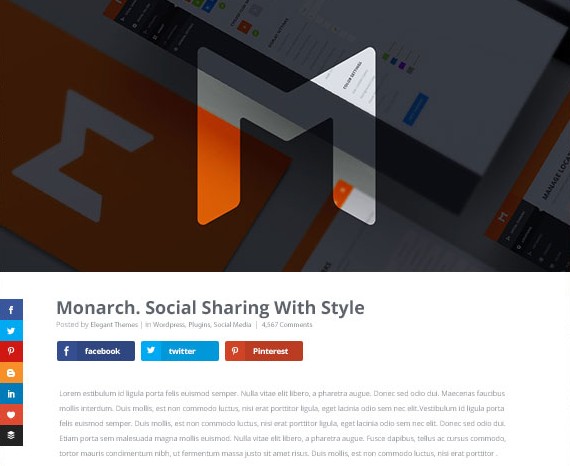 Monarch plugin is a good alternative to Easy Social Share buttons but you can't use it unless you purchase one of the Elegant Themes subscription plans. ET is one of the best theme development firms. Its Divi WordPress theme is used by 500k+ users. If you're looking for an all in one WordPress plan, buy the subscription plan of Elegant Themes. Monarch offers fewer options than ESSB. It is easy to set up. The plugin offers several social sharing button styles and it supports various positions. It has a built-in social analytics tool.
Things you'll get when you Elegant Themes plan:
Revive Social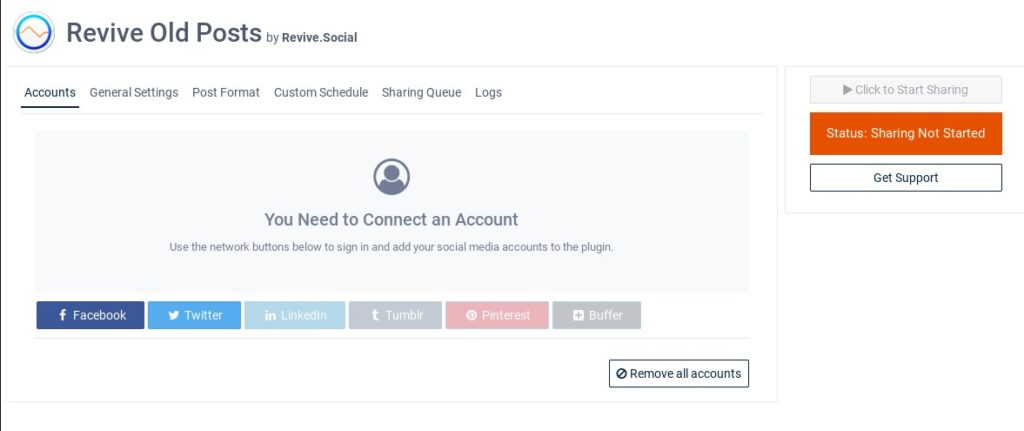 Revive Social is a WordPress plugin that lets you bring life/traffic to the WordPress pages by sharing them automatically on social media sites. The plugin supports custom share messages. It can share the post automatically on Linked, Facebook, Instagram, Tumblr, Twitter when you create a post and click the publish button of the WordPress editor. Revive Social supports custom schedules and has several options. Revive Social can generate hashtags from the WordPress post tags/category automatically. It lets you see the number of clicks the post shared on Facebook, Twitter, etc has got. Revive Social plugin supports custom post types. It can also share the posts of sites that you don't own on the pages/groups you own. The plugin costs $59.
Ultimately Social

Ultimately Social is a free alternative to Monarch and Easy Social Sharing button plugins. It offers 15+ different icon themes and supports 190+ social networks. Like the premium plugins, it can show the number of times a post was shared. Ultimately Social also allows you to add an opt-in form to your website and upload custom icons. You can configure this plugin to execute a specific task when the user clicks a button e.g. like the page, share the post, etc. The free edition of Ultimately Social has basic features. Its premium version costs $7 more than the Easy Social Share Buttons plugin.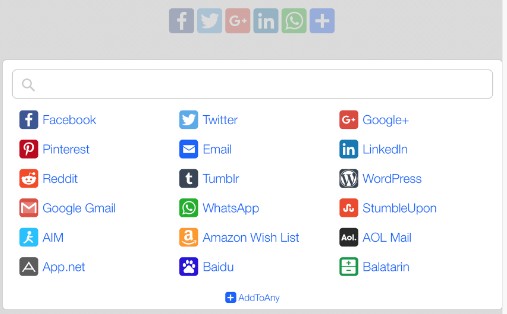 AddToAny is a simple social media plugin that supports horizontal or vertical layouts. It doesn't support icon color customization and has a single button style. AddToAny allows users to change the size of the icons. It can display a "+" sign near the sharing buttons. When you click this button, AddToAny will display the social networks it supports. This plugin supports custom headers for the social sharing icons. It enables you to remove services that you don't use.
Social Media Flying Icons

SMF is yet another top-rated social media sharing plugin. It ships with 29+ themes and has an option to change the size of the icons and their order with a drag and drop interface. You can configure the plugin to enable/disable floating sharing buttons. The plugin adds social media follow buttons to your site. It supports shortcodes, Pinterest, Instagram, Skype, Whatsapp, Reddit, and many other social networks/messaging services.