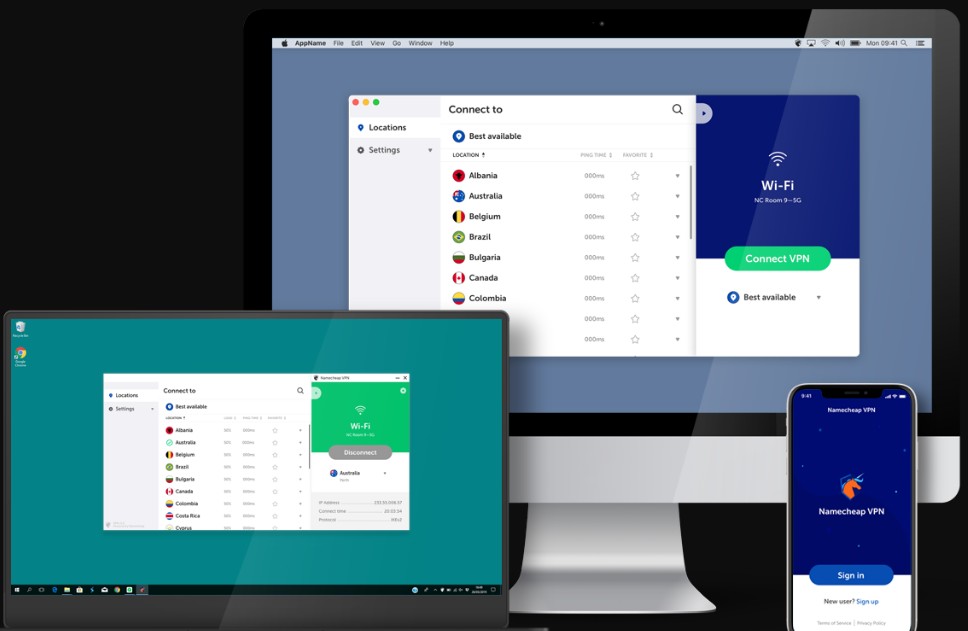 Looking for a cheap, reliable, and secure VPN service? Namecheap is what you might be looking for. Namecheap's VPN service was launched in 2018. Although Namecheap is relatively a new addition to the VPN service providers list, the company carries a wealth of experience in providing domain registration and web hosting service.
Is the new VPN service of the web hosting company trustworthy? Is it fast? Here's our honest review of the Namecheap VPN:
Getting started
To get started with Namecheap VPN, download the app on your Android, IOS, Windows, or Mac device, and install it. Now, you'll be prompted to log in to your Namecheap account or register a new account. If you're a new user, choose the latter option. If you already use one of the products of the company, select the 1st option.
Namecheap is easy to use. To connect your handset or PC to the VPN server, choose your location, and click the connect option.
Here is the list of features Namecheap VPN service offers to the users:
Privacy
When your PC or cell phone is connected to the Namecheap VPN service, your web browsing activities won't be logged to a file. Hence, you can browse any site without worrying about your online privacy.
Support
Namecheap provides world-class support to customers. The company offers two types of support – live chat, and email-based. To get email support, you must raise a ticket. Once NC's staff comes across the ticket, they'll answer your query. In live chat support, the customer and the support staff interact with each other in real-time. The Namecheap support staff is available 24 x 7 for the entire year.
Encryption
Every bit of data transferred and received by your mobile device or PC is encrypted with a 256 bit AES algorithm by the Namecheap VPN application. Data encryption ensures that a person who tries to sniff the HTTP data won't be able to decrypt the encrypted data. AES is one of the most powerful encryption algorithms developed to date. It is employed in important applications of many large organizations.
Throttling
Some ISPs throttle the download/upload speed if the user is downloading movies, games, etc. As the Namecheap app will encrypt your data, the engineers working for the ISP won't be able to detect the file you're downloading. Thus, the chances of the ISP lowering your internet connection speed will be slow.
Locations
Namecheap has over 1000 VPN servers located in 40 countries. They have servers in each continent. While setting up a VPN connection, you can choose a country of your choice. You can also switch to another country in case you want your PC to be assigned a different IP address or the server your device is currently connected to is overloaded with the network traffic.
Speed
Namecheap VPN servers are powered by the premium DNS servers of the company. Its DNS service is backed up by the Anycast networking technology. It is fast and reliable.
Download speed
Namecheap servers are connected to a 10 Gbps network. Thus, the data transfer to/from its servers is usually fast. Also, NC's VPN servers are nothing but dedicated virtual private servers that have a huge amount of RAM and a powerful Intel XEON series processor. Hence, you won't face upload and download issues unless one of the components powering the network fails. Even if this happens, Namecheap's support staff will take care of the issue.
Supported OS
The Namecheap VPN app is available for the Apple Mac, Microsoft Windows, Google Android, and Apple IOS operating systems. You can use the VPN service on up to 5 devices at a time.
Pricing
NC's plan starts at $5.88 for the monthly plan. The company provides a great discount of 68% on its 3-year plan. If you go for this plan, you just have to pay $68 to use the Namecheap VPN service for 3 years. NC also offers an annual plan for the users. It offers a flat 17% discount to the users buying the yearly plan. This plan costs $58.56. If you're not happy with the new service, support, etc of Namecheap, you can ask for a refund within 30 days of buying the plan.
Get 2 Months of VPN for free from Namecheap
Final thoughts: Namecheap's new virtual private network service is promising and affordable. If you find other VPN plans costly, try out Namecheap.