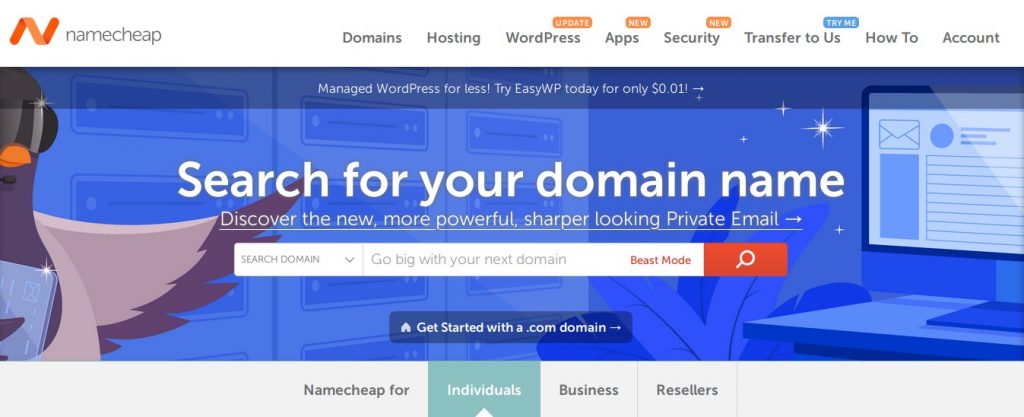 Every month, Namecheap, the domain registrar/hosting firm/VPN service provider organizes a sale that lasts for a few days or a couple of weeks. The company unleashes its biggest sale in November/December. Should you wait for November? Frankly speaking, if you've found a cool new domain or you need an SSL certificate for your business website or blog, or your site is suffering from performance issues on the current host and you're looking for an alternative to it, waiting for several weeks or months for the sale to commence will be a blunder. This is because thousands of users find/buy domains every day, poor hosting service may affect your website's search engine rankings or people may not purchase a product/service from your website unless you use an SSL certificate. As in every month, Namecheap has revealed special discounts for this month. If you want to save money on domain registration, SSL certificates, shared hosting, etc, go through the offers I've shared below:
Note: The Promo code has been added to the link. When you click the link to buy a product/service, the discount will be applied automatically. You don't have to copy-paste the discount code while completing a transaction.
Namecheap promo codes, discounts, offers
.inc domain Sale
Corporations and Businesses are switching their site from .com to .inc. domains. Frankly speaking, .inc domains are costly. They are priced well over $2000. But with this link (promo code pre-applied), you can buy it for around $1590 from Namecheap i.e. you'll save $400+.
KingCom .com, .net, .org, .co domain sale
Want to buy a .com domain with free WHOIS protection for cheap? Well, Namecheap, right now is selling .coms for just 8.88. The registrar also offers a free WHOISGuard service. When you enable the Whoisguard protection, your contact details will be made private by Namecheap. In addition to .com, you can buy .org, .net, .co, and .io domains at a great price. Click here to see the domain offer.
SSL discount
Namecheap is offering up to 41% discount on SSL certificates. If you're looking for a reliable SSL certificate, you should check out this deal. This offer is a part of Namecheap's web security sale. Click here to see the SSL offer.
VPN Sale
Namecheap had introduced a VPN service this year. To attract more customers, the company is offering a mouth-watering discount of 62% on its yearly and 3-year VPN plan. It also selling the monthly plan at a massive 83% discount. See the Namecheap VPN offer here
Namecheap not only sells domains and SSL certificates, but it also offers a cheap web hosting service. The plans start at $2.x. You can get one of the three plans of Namecheap i.e. Stellar, Popular, Business Plus at 50 % less than the original price with this special link. The Promo code is pre-applied.
As you can see above, NC is providing a great discount on its various services. You might have already made up your mind to buy a hosting plan, domain, VPN/Hosting plan from the company. In case not, here are the top 5 reasons to choose Namecheap. Click here to see the shared hosting offer.
Also see: Which Bluehost plan to choose?
VPS sale
Namecheap offers two VPS plans – Pulsar and Quasar. It provides CPanel, Softaculous, WHMCS as an add-on (paid). It also ships dedicated IP addresses (1 or 2), backup service, root access, Raid level 10 storage, etc with one of its two VPS plans. The Namecheap VPS plans cost 14.88 and 24.88 respectively but with this link, you can get a 34% or 30% discount on both plans. When the discount is applied, the plans will cost $11.88 and $19.88.
EasyWP Trial
Namecheap now allows users to try their EasyWP hosting service for a month before buying the plan. Thus, you can get 1 month of free WordPress hosting. NC doesn't offer discounts on the monthly plans of EasyWP. If you sign up for one of the 3 annual EasyWP hosting plans with this link, you can get up to 50% discount.
Why Namecheap?
Trusted by millions of users
Namecheap is one of the most respected domain registrars. Over 5 million users are using their services every day.
Great support
From my personal experiences with the company, I can say that NC's support is one of the best in the industry. Not only you'll enjoy live chat support, but you can also contact the company's technical support team over email.
Vast knowledgebase
The knowledge base of Namecheap comprises self-help articles and tips grouped in the following categories:
Domains, SSL Certificates.
Hosting, Billing.
Whoisguard, Domain transfers.
Email service, etc.
The knowledgebase section gives you access to frequently asked questions and an option to open the live chat interface.
Security
One of the best features of Namecheap is that it supports 2FA (two-factor authentication). NC can send OTP on your mobile device. The firm supports 2-factor authenticator apps as well.
Great UI
Namecheap developers may have spent several hours building the website's great user interface. The domain manager tool of NC is not only beautiful but is also fast and easy to use.
Also see: Namecheap review