Hetzner, the dedicated/shared/VPS hosting service provider used to charge 0.59 Euros for DNS zone files a year back (primary/secondary name server entries). Also, to create domain name server zones, the user had to use the Hetzner Robots tool. This year, the company made its DNS service free and it also launched a new utility called DNS console with which users can configure and manage their site's DNS records.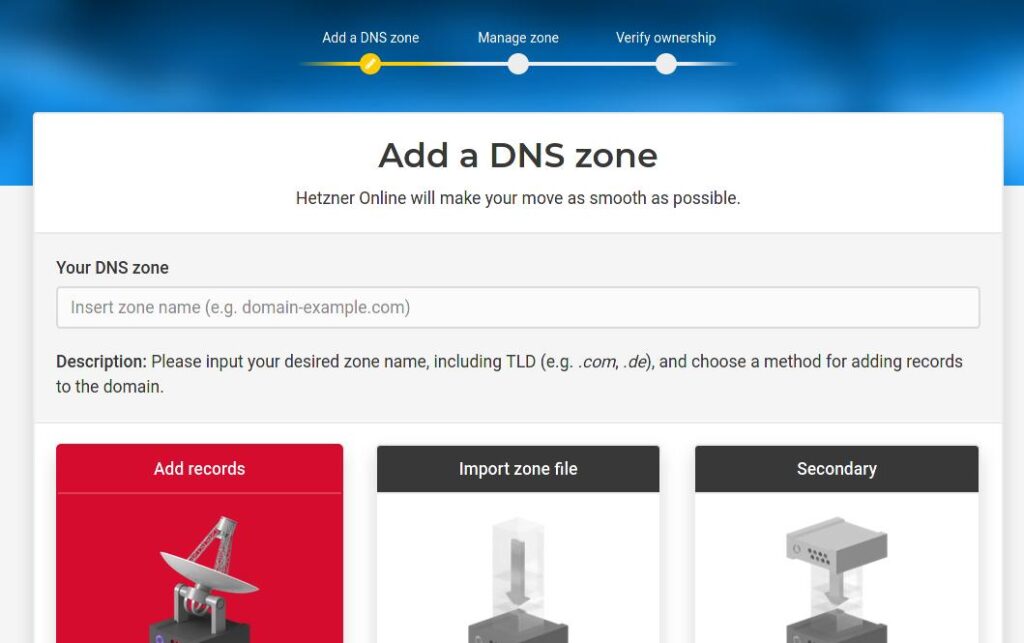 This new utility enables users to create DNS zone files and configure the same. I learned about this new tool yesterday and I started using it since then. Until yesterday, I was using the Cloudflare nameservers. After discovering the Hetzner DNS console, I created DNS zones for my sites, and replaced the Cloudflare name servers with the Hetzner name servers.
Is the new tool from Hetzner easy to use? Is it fast? Read the below paragraphs to get the answer:
Limit
You can create up to 25 zone files for free. If want Hetzner to increase this limit for your account, you must contact the Hetzner support staff.
Does Hetzner support DNSSEC?
Now, Hetzner DNS doesn't support DNSSEC yet.
API access
Hetzner lets users access their DNS records programmatically with the help of APIs.
How to use the new DNS console tool?
Log in to the Hetzner account and click the "DNS console" option that appears when you click the 6 squares icon.
Now, click the yellow colored "Add new zone" tool and in the text box you see on the screen, enter the domain name without HTTPS, HTTP, or WWW. Below the text box, you'll find three options:
Add records.
Import zone file.
Secondary.
The "Add Records" option will make Hetzner find the existing DNS records and add them to the list of DNS entries. Like some DNS hosting service providers, Hetzner scans the domains existing DNS records and displays them. Before clicking the submit button, you can make changes to the A, TXT, NS, CNAME, etc records if you want. Once you're done, the Hetzner DNS console will ask the user to change the DNS to the one it displays.
The Import option enables you to import settings from a Zone file saved on your PC. If you want to use the AXFR protocol, choose the 3rd option.
My experience with the DNS console
My overall experience with the new tool from Hetzner has been good so far. As I use Hetzner Cloud hosting service to host my sites, it is easy to switch between the DNS and Cloud consoles. Once I changed the name servers, my sites were accessible as the domain name resolution is fast.
Closing words
If you're using Hetzner Cloud or dedicated servers and you were using third-party name servers until now, you should start using the Hetzner DNS console. With the introduction of this new tool, Hetzner has made it easy to switch between the cloud/DNS consoles.