Hetzner is a leading German web hosting service provider that was incorporated in 1997. It has 3 three datacenters – Two in Germany and one in Finland. The company uses renewable energy to power its servers. According to BuiltWith, it hosts over a million websites. I had moved my sites to Hetzner in 2018. If you're planning to do the same and you would like to know more about Hetzner and its service, go through the review of Hetzner Online GmbH I've shared below.
Hetzner review
To get started with Hetzner, register an account on the site. Make sure you enter the correct information as the details you enter will be used to verify your account. Once you register an a/c, you'll receive an email asking you to provide an identity document – passport or government issued ID or send $20 via PayPal to an account id that was mentioned in the mail.
Note: You won't be able to purchase products or hosting from Hetzner until your account is verified manually.
Once you send the required documents, Hetzner staff will go through them to verify your identity. When the verification process completes, you'll get an email from Hetzner staff confirming your account. This process might take up to a day.
Support
Hetzner is the only cloud hosting service provider that offers live chat support. The support staff are helpful. Once you finish the conversation, a transcript of the conversation will be sent to your registered email address. You can also get in touch with the Hetzner support staff via email. When you send an email to the support team, a ticket is raised automatically. Well, I came to know about this in the first week itself. I had a problem accessing my cloud console account. The issue was due to an incorrect timezone configuration on my laptop. The problem was pointed out by the Hetzner staff. I changed the Time Zone and the issue was fixed.
Interface
The interface of Hetzner cloud console is the same as that of DigitalOcean. When you log in to the cloud console, you'll see an interface to manage projects. If you're planning to launch more than 1 instance, this feature will be useful for you. To create a server, click the default project now click the "Add Server" button. Now, choose your location, plan type, OS, and click the "Create and Buy now option". If you want to add more storage to your server, click the volume option. This interface enables you to set up ssh keys and enable backups.
The cloud service provider supports Ubuntu, Fedora, Debian, and Centos OS, and Intel/AMD Processors. Its cloud hosting plans start at 2.49 Euros. In 2020, Hetzner added CPX servers to its cloud servers portfolio. The CPX servers are equipped with AMD EPYC processors. They are slightly costlier than CX servers. Initially, I had signed up for the 4.90 Euro plan which provides 4G RAM and a dual-core Intel Xeon Skylake series processor. My site is now hosted on a CPX server that has a 3 core processor and 4GB of RAM. It is easy to rescale resources or switch to another Hetzner server.
Hetzner provides a different web interface for setting up nameservers, managing DNS, etc. The interface to manage your cloud service is cloud console and the interface where you'll find options to buy a dedicated server, domain name, register nameservers is called Hetzer Robots. In 2018/2019, the company used to charge $.50 for each hosted zone. In 2020, the firm scrapped the fee on the hosted zones after launching its DNS Console tool.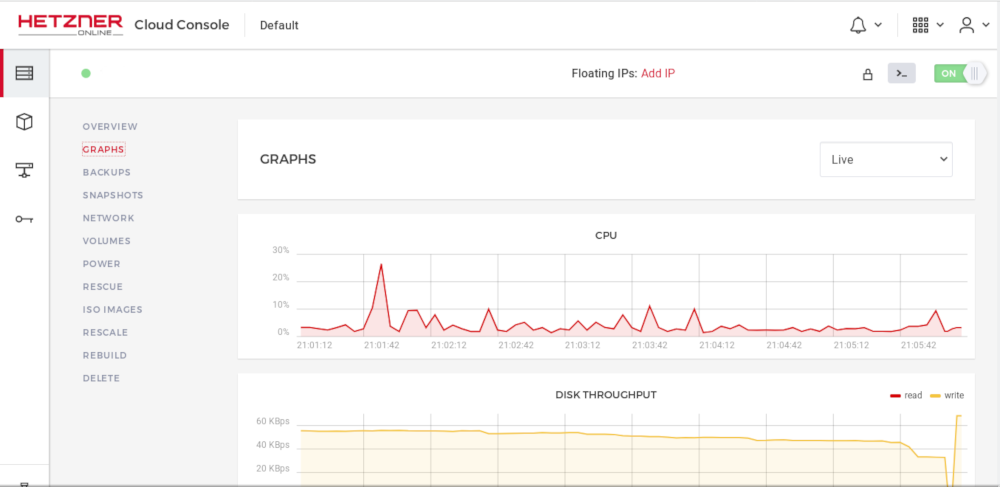 Backups: This service costs 20% of your cloud hosting plan. Hetzner saves 7 backups. The oldest backup is deleted when a new one a created.
Graphs: The DO Agent graph was not being updated in real-time. I had contacted the support staff. This didn't help. Instead of fixing the DO Agent, the technical support engineer advised me to restart it. This is one of the reasons why I decided to move my site to Hetzner. The graphs are updated in realtime. You can see the performance of the network, CPU, and disk of the last 30 days with this interface.
Performance
I have been using the Hetzner cloud VPS service since 2018. I haven't faced a single minor/major downtime or network issue to date. Thus, my experience with Hetzner has been great. The performance of the network and server has been good since 2018. The average network speed has been 200 to 300 KBps which is the same as that of Digital Ocean. File transfers between Hetzner and other cloud servers are quick. The transfer speed for the same is 10 to 10 MBps.
Final thoughts
Hetzner is a hidden gem in the world of cloud hosting. Its plans are incredibly cheap and customer service is great. Its pricing is better than that of Amazon Lightsail, Digital Ocean, Linode, etc. If you're looking for a reliable and affordable cloud hosting service, try out Hetzner. You won't be disappointed.