Cloudflare had revealed its plans to enter the domain registration business in September 2018. The number 1 CDN service provider is now allowing users to transfer domains. It might soon allow users to register domain names.
As of now, the company is charging the same amount as ICANN for transferring domains i.e. it's not overcharging customers (like many other domain registrars do).
Cloudflare registrar review
Pricing
Industry leaders GoDaddy, Enom charges around $10 for renewals and registration. GoDaddy provides a good discount to customers who register their domain for 2 or more years. I visit the ENOM website frequently. I have never seen any promos/discount details on their website.
NameCheap, yet another top registrar charges $8 for new .com domain registration/transfers. During BlackFriday/CyberMonday, it sells domains for $0.88. NameSilo is the only registrar that charges below 8 USD for .com domains.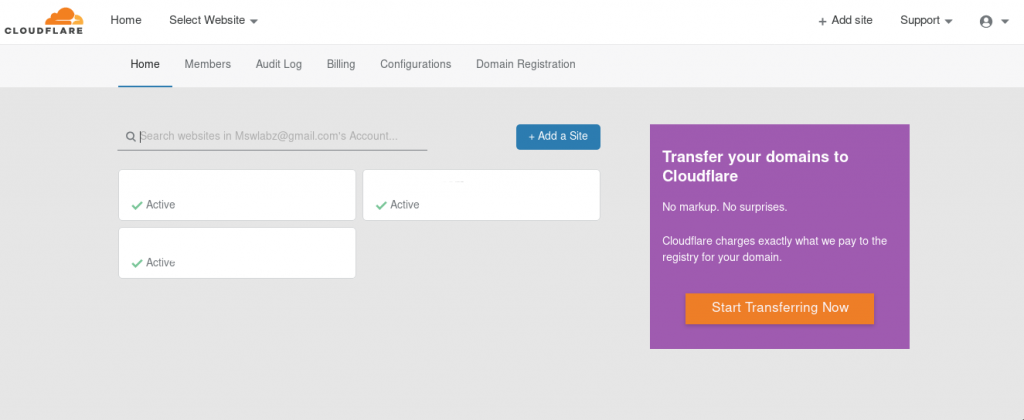 How much does CF charge?
CF plans start at $7.85. To move your domain, you must follow the instructions I have shared in the below paragraphs:
How to transfer your domain to Cloudflare?
Create a new account on Cloudflare.com and log in. Now, add your website to Cloudflare (if you have not done so). You'll now see a purple color box on the right side. As shown in the above screenshot, the box contains an orange button. Click this button.
Note: If you see an "opt-in" message instead of an option to transfer the domain, you'll have to click on the domain and wait for Cloudflare to open its doors for you.
CF will now open its domain transfer page. CF will check the registration date of the domain you've added to your account. If the date is greater than 60 days, you'll see a table that displays the following details of the domain:
Name.
Current Expiration date.
New Expiration date (After Transfer).
Wholesale cost.
If you scroll down further, you'll see a button with the label "Confirm". The button will be locked. It will unlock when you add a payment method. Cloudflare accepts payment with PayPal or a credit card/international debit card. To proceed with the domain transfer, add your preferred payment method.
When the Confirm button gets unlocked, click it. Now, log in to your previous registrar and unlock the domain you want to transfer. Then, get the Authorization code for transfer.
Registrars usually send the code to your registered email address. Copy the code and paste it into the text field you see in the "Authorization Codes" section of the Cloudflare domains dashboard. Click submit and wait for the transfer process to complete.
Like other registrars, CF provides an easy to use interface for managing domains.
Pros
The biggest advantage of Cloudflare is that the management of domains will become easy if you're already using the company's Content Delivery Network or DNS service. Also, the charges are way lower than that of the top 3 registrars.
Cons
Cloudflare is slowly but steadily turning out to be a powerful internet company. Its CDN service is being used by around 12 million users. Even if 1/3rd of customers ditch their existing registrar, CF will become one of the leading registrars in a short span of time.
I am using the Cloudflare DNS service for some of my sites. I had opted for the new service. I'll be soon moving one of my expiring domains to CF.
What service will Cloudflare introduce next?
I have a strong feeling that the next service Cloudflare may launch is the cloud hosting service. If it does so, CF will be in competition with AWS, Google Cloud, etc.
My experience with the Cloudflare registrar
The process of transferring domains from other registrars to CF is smooth and fast. I had transferred .com, .org, and .xyz domains from Namecheap, Namesilo to Cloudflare. The transfer was completed within a couple of hours.
Update: The current year is 2021. Cloudflare is not allowing users to register the domains yet. It only supports domain transfers. Has the firm increased or reduced the pricing? No, in the last three years, the CDN service provider hasn't changed its pricing.
Final thoughts
Cloudflare's new service is a money-saving saver as well as reliable. If your domain is about to expire, move it to CF. You'll save some bucks. Cloudflare domain transfer, registration, and renewal charges are cheap. The user interface to manage domains is intuitive as well.