WordPress is the most popular content management system in the world. Plugins and themes are important parts of WordPress sites. Various developers have launched their themes on WordPress.org but if you have a closer look at the theme features and support forum, the template may provide some interesting paid features and basic free features. The support forum of the theme will be active only if the theme is providing premium aka paid features. If the theme is completely free and doesn't have premium addons or features, most of the questions published in the support forum will be unanswered.
Newbies unintentionally install and use WordPress themes that may have several SEO issues. If the site gets good traffic, within a week of installing and activating the theme, the site's ranking may get tanked. To make sure that your hard work of writing content doesn't go in vain, you should always use a premium WordPress theme launched by a trustworthy company.
Elegant Themes is a trusted brand in the world of WordPress. It is the most popular theme development company. According to Elegant Themes, their products are used by over 600k users. The company was founded in 2008 by a passionate WordPress user/developer Nick Roach. It has 80+ employees. To make sure that the customers enjoy 24 x 7 support, Elegant Themes has hired staff in different countries. Elegant Themes has launched four products for the WordPress content management system, two themes called Divi and Extra and three plugins i.e. Divi Builder, Bloom, and Monarch. This Elegant Themes review will:
Educate you on the features of the products.
Make you aware of the plugin/theme quality.
Explain various modes of support Elegant Themes provides to the users.
Elegant Themes review
Elegant Themes Monarch plugin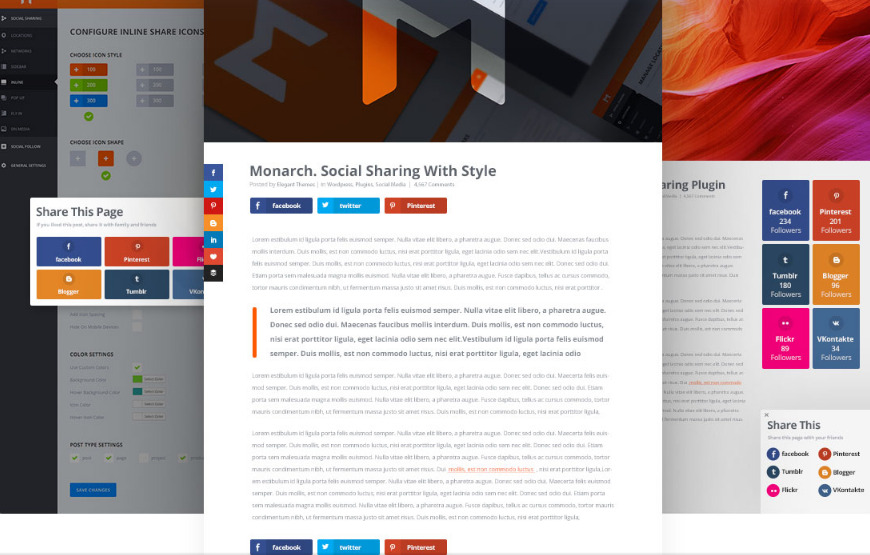 Although many themes have social sharing options built-in, Elegant Themes offers a separate plugin called Monarch. This plugin is available free of cost to the buyers of the Elegant Themes developer or standard package. Themes that have the social network sharing buttons built-in provide only 1 or two styles. Monarch, in contrast, provides several styles of buttons. You can configure Monarch to display the buttons on the left side, the right side of the blog post, below, or above the post content. You can also make the plugin display the buttons in a beautiful popup box.
Monarch supports a plethora of social networking platforms. It provides an option to make the social networking icons sticky. The plugin can automatically display the number of times the post was shared or the number of people that are following your social networking profiles. This feature is very important as many website visitors would be interested to know how many users are following your website on social media sites and how many visitors have shared the post before they go ahead and share your article on FB, Twitter, etc or follow your social media profiles.
Elegant Themes Monarch provides a dashboard where you can see your site's performance on social networks. This dashboard allows users to perform A/B tests i.e. You can experiment with different positions to find out which position has resulted in maximum button clicks and shares. The social networking icons displayed by the Monarch plugin have a responsive design. Thus, whether the visitor is browsing your site from a mobile phone, tablet, or desktop browser, the social network icons/follow buttons will look great.
Download the Monarch plugin or see its demo here
Bloom plugin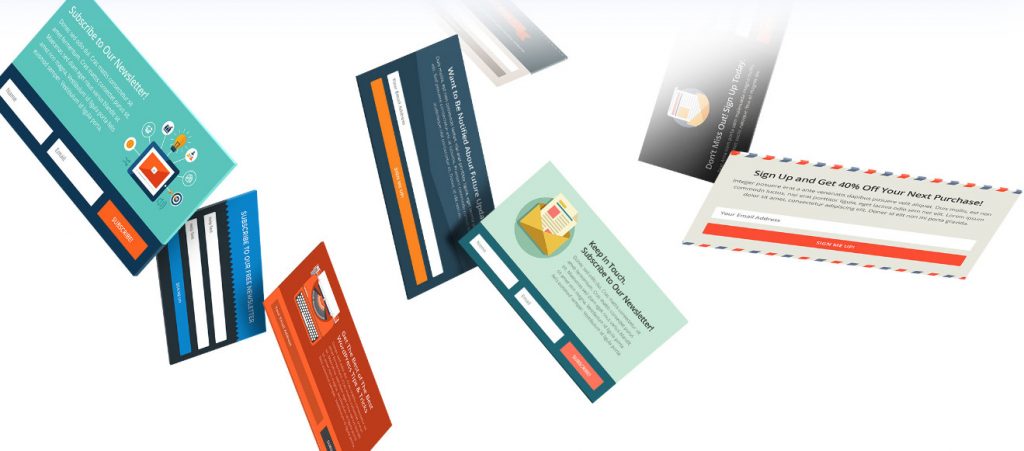 Bloom is a powerful email opt-in plugin that offers several features to the users. It is a plugin that can convert new visitors to your website to regular readers. Bloom provides over 100 customizable templates and it has a responsive design. You can configure Bloom to show the opt-in form in the sidebar, post, after the post content, or in a popup box, or when the customer buys a product from your store, or the website visitor leaves a comment on your website, etc. Users can also configure this plugin to display opt-in forms on posts belonging to specific categories or posts of their choice. The plugin can lock content and unlock it when users subscribe to your newsletter by entering their email address in the opt-in form.
Important features of the Bloom plugin
Customization: Bloom lets users change the font and colors of their opt-in form. It lets you add an image to the form. If you've added a picture to the form, you can change the picture's alignment with a few clicks of a button.
Dashboard: Elegant Themes Bloom plugin adds a dashboard to your website where you can see the number of impressions your opt-in form has received, the number of users that have subscribed to your newsletter, and the conversion rate (percentage).
Integration: Bloom supports integration with MailChimp, Hubspot, Convert Lite, Mailer Lite, Constant Contact, and 15 other services.
The Bloom plugin, if placed at the right location can dramatically increase the number of subscribers to your website newsletter. It is one of the most powerful opt-in form WordPress plugins launched to date.
Download the Bloom plugin or see its demo here
Divi Builder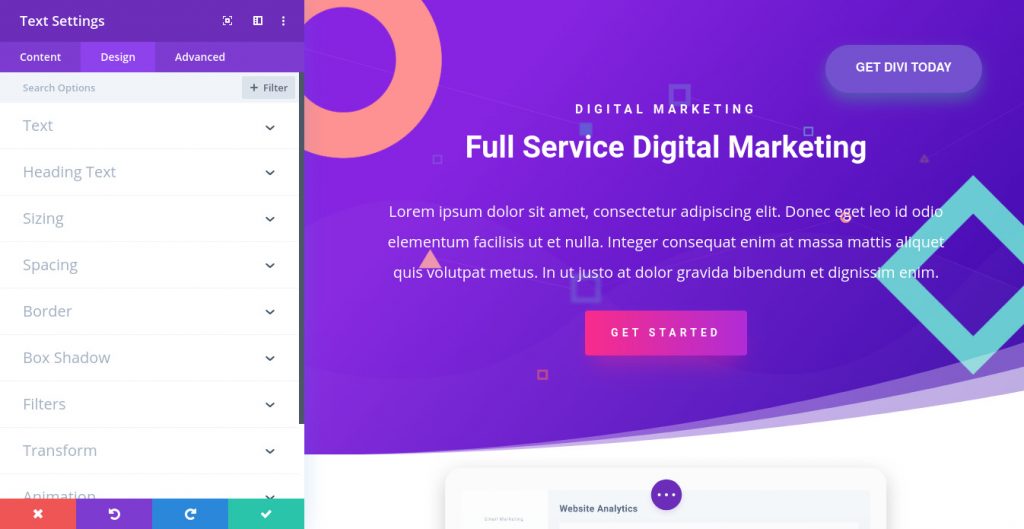 Divi Builder is the most powerful page builder WordPress plugin. It lets users create beautiful SEO friendly pages without writing a single line of code. All elements/modules the plugin offers to the users are mobile-friendly. The best thing about Divi Builder is that it supports drag and drop functionality. Thus, to design a page, all you have to do is select an element that the Builder provides, drag it to the position of your choice, and customize it as per your requirements. Like the Monarch and Bloom plugin, Divi Builder has a responsive design. Thus, you can use it on your mobile device.
The Divi Builder is compatible with WordPress sites of all niches. It supports custom CSS. Thus, if you've knowledge of CSS, you can use your own CSS rules while creating a new page. Here are some of the elements the Elegant Themes Divi Builder provides to the users:
CTA button: Call to action buttons are very important on any website. They help in increasing conversions, improving user engagement, etc. Divi Builder lets you create and use CTA buttons on your website. It also enables you to customize its design.
Sliders: Sliders not only look attractive, but they can also lower down your website's bounce rate dramatically. Divi Builder provides its own slider module.
Testimonials: If you're running a business website or if you sell services through your WordPress website, you should add a testimonial to your website
Galleries: This module allows users to display a beautiful gallery containing images of their choice on a page or in a post.
Forms: Want to create a custom login/registration form for your website? Use this module.
Accordion: Want to display different blocks of text in a single block one after another? Use the Accordion module of the Elegant Themes Divi Builder plugin.
And more…
Elements of the Divi Builder should be placed in a module called "row". The row is a horizontal space where you can add elements of your choice. The page builder plugin of Elegant Themes lets you set the padding and margin for the row. In layman's term, padding/margin are nothing but the empty space that should be displayed at the top, right, left, or bottom side of the element.
Divi Builder enables users to save their customization and re-use them. It lets you duplicate the blocks and undo/redo customizations. It gives users access to over 800 pre-designed website packs that you can use on your website. Divi Builder enables you to export and import the layouts. This feature comes in handy if you want to use the same design on your or your client's website.
Cool fact: Elegant Themes had launched 80+ themes. Once they launched the Divi Builder plugin, they retired several themes. Right now, the flagship themes of the company are Divi and Extra. Wondering what would be the reason for this? Well, Divi Builder enables you to create unique pages. You can customize the Extra and Divi themes to make it look like a different theme. Divi Builder gives users access to hundreds of cool web packs. In case you don't want to design from scratch, you can use these web packs on your website right away.
Download the Divi Page Builder plugin or see its demo here
Divi and Extra themes
Elegant Themes has launched two WordPress themes – Divi and Extra. Divi WordPress theme is a multipurpose WP template that you can use on technology, real estate, business, marketing, food, health, automobile niche sites. The Extra WP theme is suitable for the magazine sites of various niches. Both the themes of the company are powered by the Divi Builder. Elegant Themes Divi is the most versatile and stylish WP multipurpose theme I've come across. Extra is a powerful magazine theme. It has a stunning design and several cool features.
Features of the Extra and Divi themes
Shortcodes
Shortcodes allow users to use the element they've designed in other parts of the website. Once you copy the shortcode of the element, you have to paste it in the widget, row, or an empty space provided by the theme. Once you save the widget or the customization and open the page where you have put the shortcode, you should be able to see the element.
Ad management
Divi and the Extra WordPress theme provide an option to enable advertisements on your site. Thus, to monetize your website with third-party advertisements, all you have to do is copy the ad code and paste it in the text boxes displayed in the "Ads" settings" tab of the Theme settings panel.
Ad manager plugins add unnecessary JavaScript or CSS to your site. They may also slow down your website. The built-in solution for ad management In the Extra and Divi themes makes sure that users can place advertisements on their site without installing a plugin that can hurt the site's performance.
Translation
If you're living in a country where English is not the official language, you can translate the theme in one of the 32 languages supported by the Elegant themes.
SEO Friendly
A poorly designed theme may cause several SEO issues on your website. For example, a script in the codebase of the theme may generate HTML tags dynamically when the user clicks a button on the site. If the code leaves the generated HTML tag open or adds a duplicate meta tag i.e. meta description, meta robots, etc, your website will suffer from technical SEO issues. The plugins and templates of Elegant Themes are developed by experienced PHP developers. Before a new update is released, they are tested thoroughly.
Divi and Extra WP themes have responsive design and valid HTML, CSS, and JS code. They don't have duplicate meta or title tags. Thus, you don't have to worry about SEO issues when you're using one of the two WordPress templates of Elegant Themes. The 2 WordPress templates provide their own SEO settings panel. In case you want to use another WordPress plugin, you can ignore this panel.
Fast
Page speed is one of the search engine ranking factors. The speed of the WordPress website not only depends on the theme but also requires an optimized server configuration. You can leave the task of optimizing the webserver to your hosting company's engineers. What about the themes? Well, as the Extra and Divi themes are coded by experts and as the theme doesn't have complex Javascript code that takes a lot of time to execute, they are fast.
The themes are fast should you install a caching plugin?
Yes, WordPress saves post content in a database table and it fetches it every time you open the page/post. You can make your Divi/Extra theme powered website significantly faster by using a page caching plugin or if you're using the Nginx web server, make sure that you activate the built-in Nginx FastCGI cache.
What happens when you enable page caching?
The plugin/Nginx will save a copy of the page on your server's hard disk drive or SSD. When the visitor or a search engine bot requests the page, the plugin or Nginx will return the cached page instead of requesting PHP to get the post details from the database.
WooCommerce
To be honest, Divi Builder + Divi or Extra is a great combination. Using the page builder tool, you can easily create a top-class page for your WordPress powered store. Is the Extra and Divi theme compatible with WooCommerce? Yes, both the templates are fully compatible with the WooCommerce framework.
Review system
Magazine sites often publish a review of products. The Extra theme is one of the few premium WordPress themes that features a built-in product review system.
And more…
Download the Divi theme or see its demo here
Download the Extra theme or see its demo here
Elegant Themes Support
Elegant Themes offers a brilliant after-sale service. It is one of the few companies that offer 24 x 7 support to the users. To get support, you can either post a new question in the Elegant Themes forum or send a direct email to the company's support team. As Elegant Themes has a large number of users, you should first search for forum threads that may have an answer to your question. Elegant Themes is not the company that sells products for the sake of making money. It has been updating its entire range of products with new features. This is the reason why I trust Elegant Themes products.
Elegant Themes Money back guarantee
Although this is very unlikely, if you're not happy with customer support or the support team is unable to fix your problem, you can ask Elegant Themes to refund your money within 30 days of buying one of the two plans of the company.
Documentation
Elegant Themes gives you access to detailed documentation on the Divi, Extra themes, and the Bloom, Monarch, Divi Builder plugins. The documentation teaches you basic things i.e. installing the theme/plugin, etc, using the theme options/plugins, and customizing the theme, etc. The documentation section of Elegant Themes covers 100+ topics. It provides a search utility so that you can quickly find a topic that you're looking for. It also has filters so that you can see topics that are relevant to the selected filter.
Is the Divi, Extra theme compatible with your website niche?
Yes, as Divi is a multi-purpose WordPress theme, you can use it on any type of website. Extra WordPress theme is designed for magazine sites of all types of niches. Also, Divi Builder, which is fully compatible with the Extra and Divi theme offers over 799 free pre-designed packs. The great thing about these packs is that you can customize them.
Plans, pricing, and discount
Elegant Themes has two membership plans – Yearly access and Lifetime access. Both plans give you full access to all themes and plugins launched by the company. What's the difference between the two plans? If you're using the yearly plan, your membership license will be valid for one year from the date of purchase. As long as your license is valid, you'll get theme updates and support from Elegant Themes. Once the license expires, you will have to renew the license to get updates.
The Elegant Themes yearly access plan provides a license that is valid for a lifetime. You'll get unlimited support and updates from the company. Also, if Elegant Themes launches a new product in the future, you can download and use this product for free. The Yearly Access plan is priced at $89 and the Lifetime plan costs $249. With this special link, you'll get a massive 20% discount on both plans. Elegant Themes offers a complete package for cheap pricing. If you go ahead and buy a separate opt-in, social network sharing, page builder plugin, and a theme, you may end up spending over 150 USD.
Pros
Easy to update: Once Elegant Themes releases a new update for their themes or plugins, you'll see a notification in the WordPress dashboard. Before updating the theme, you'll be asked to enter your account's user name and an API key. To generate a new API key, navigate to the account's interface of your Elegant Themes account. When you enter the requested details and click the submit button, a script will automatically download the newer version of the plugin or the theme and will replace the older files with it.
Stunning: The Extra and Divi WP themes have a great design. Once visitors visit your website, they'll be tempted to explore your website categories, tags, and other pages.
SEO Friendly: The WordPress templates launched by Elegant Themes are search engine friendly. They are fast and have a mobile-friendly design.
Affordable and feature-rich: Elegant Themes gives users 2 of the best themes available for WordPress and 3 powerful plugins for a price of $89 or $249 (lifetime). Other companies sell a single theme for $50+ and a plugin for $20+. The products of Elegant Themes are a one-time investment.
In this Elegant Themes review, I've covered various features the Monarch, Bloom, Divi Page Builder, Divi/Extra themes provide to the WP users. Divi Builder provides features you can get in individual premium plugins. For example, various premium slider plugins are available for WordPress users. These plugins may cost between 20 to 100. Other plugins of Elegant Themes and Divi/Extra WP templates offer tonnes of premium features.
Support: One of the reasons why Elegant Themes has over half a million users is the excellent support they provide to the users. As I've mentioned earlier, ET provides support during the day as well as during the night. I've used several premium themes to date. ET is the only company that offers day and night support to the users.
Cons
Click here to get a 20% discount on Elegant Themes subscription plans
Final thoughts
Divi, Extra themes, and the Bloom, Monarch, Divi Builder plugins are feature-rich, powerful, and easy to use. If you're a newbie and you're looking for premium theme/plugins for your website or you're unhappy with your current WP template, email opt-in/social media/page builder plugin, you should join Elegant Themes. ET provides great after-sales service and has an affordable annual subscription and lifetime access plan.