Google Analytics is the best free tracking tool available on the web. Whether it is a large WordPress website with millions of users or a new site, Google Analytics plays a vital role in shaping the future of the website. If the performance of a website is deteriorating because of heavy user activity/huge number of visitors or if several pages of the site are showing 404, 503 errors instead of the content and if you don't fix the problem by moving your site to a new server, fixing the erroneous web server configuration or improving the code that is taking a lot of time to execute, your website's sales or organic traffic might be affected after a major Google Algorithm update.
GA makes you aware of the time spent by the visitors on your website, the time taken by the website to open up in the browser, errors, and more. The tracking reports from the recorded data are generated in real-time. Thus, once you find the issue, you can quickly fix the issue to prevent it from hurting the website. The basic tracking code i.e the code Google Analytics generates when the users create a new property is easy to add to a website but to activate or use the advanced features, you must have a fair knowledge of the feature. You should also know the method to activate the feature. For example, to track the clicks on a link, you must tweak your existing GA code. The Google Analytics code is a JavaScript snippet. You should know JavaScript and the various methods/variables of GA. If you don't want to waste your time on this, you should use a Google Analytics WordPress plugin.
Why use a plugin? The Analytics plugins have an option to enable advanced GA features. With just a few clicks of a button, you can enable tracking of links of certain types, 404 errors, and more. One more reason to use a GA plugin is that many users are addicted to the GA reports. These users keep GA real-time reports opened in a new tab of the browser. Whenever they're free, they see the report. The Google Analytics plugins for WordPress can display various reports of your website on the WordPress dashboard. To see the GA data in your WP dashboard or to enable its advanced features, you can use the following plugins:
5 Best WordPress Google Analytics plugins
Google Sit Kit

GSK is the latest WordPress plugin launched by Google. It is a great plugin for users that want to add the visitor tracking functionality to the website without editing PHP files. Apart from Analytics reports, you can track AdSense performance and see the Google Search Console data in your dashboard with GSK. Google Site Kit is a new plugin. It is expected to get loads of new features as time passes by.
Monster Insights

Monster Insights is the highest-rated free Google Analytics WordPress plugin. It supports every advanced GA feature you might be aware of. It has 2+ million users and a rating of 4.5. The developers of the Monster Insights plugin have built customized reports so that you can quickly see the important data. The plugin is employed by low as well as high traffic websites. This extension supports instant articles, Google AMP, etc. You can track affiliate link clicks, AdSense revenue/ad unit clicks with it.
Actionable Google Analytics plugin

AGA has been designed and built for WooCommerce powered eCommerce sites. It lets users track the performance of their website products, sales, shopping cart, etc. AGA gives you access to several reports. It makes you aware of the payment method that has generated the most revenue for the user, the time taken by the user to checkout on the store, or add a product to the cart. It lets you anonymize IP addresses and allows users to opt-out from analytics tracking code. The plugin is easy to set up. Its latest version supports Facebook Pixel and Google AdWords.
Google Analytics Dashboard Plugin for WordPress by Analytify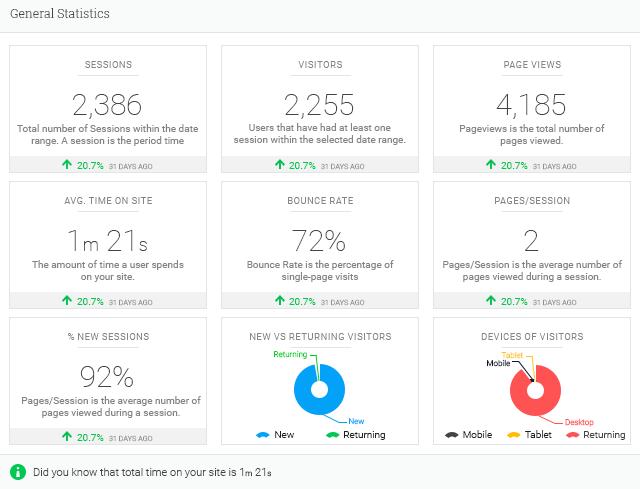 Unlike some plugins that ask users to enter the tracking code manually, Analytify's plugin ships with 1 click authentication module. It pulls various important details such as top cities, countries, bounce rate, etc from your GA account and shows the same in your dashboard. The premium version of this free WordPress analytics plugin can display the real-time visitors in the WP dashboard. It also supports shortcodes, Easy Digital Downloads, WooCommerce, etc.
Google Analytics Dashboard for WP

GADWP supports IP Anonymization and custom dimensions. Some of its features are:
WordPress multi-site and eCommerce support.
Accelerated Mobile Pages support.
Option to use Google Tag Manage code instead of the GA code.
Reports of the affiliate, download, outbound, email, etc link clicks.
GADWP is similar to the Monster Insights plugin. It has over a million users and an excellent rating.
Which plugin should you use? If you want to use GA for basic tracking, you should use the GADWPA/GADWP or the Google Site Kit plugin. If you want to use several advanced features of GA, use Monster Insights. If you own an eCommerce site, Actionable GA is the extension you should use.
Also read: SEMRush review
Are the plugins easy to use? Yes, once you install one of the above extensions, you'll find a new section in your WordPress dashboard. The section will have options to enable/disable the features you want to use. It will also give you access to various important analytics reports.