Zoho Mail is one of the cheapest email hosting service providers. I'm using its Lite plan ($10/year) for sending verification mails for my SaaS. The below review I've shared of Zoho Mail is based on my experience of using this service.
Zoho Mail review
Set up and Administration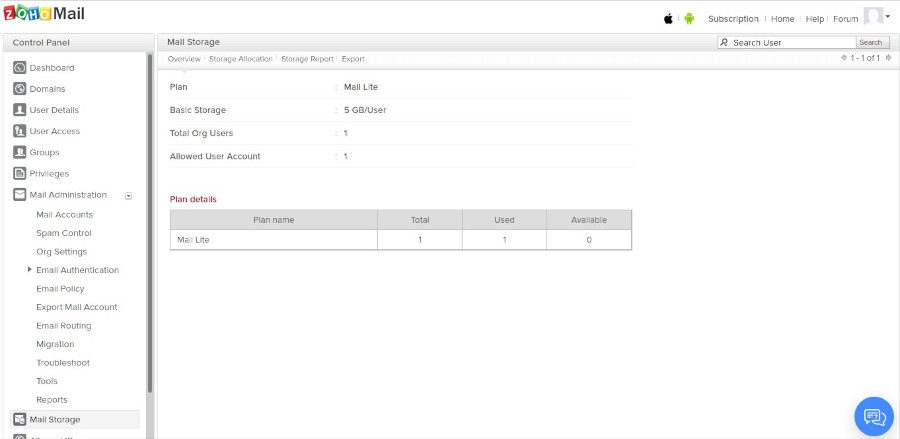 Getting started with Zoho is easy. Open the "Control Panel" and then click the "Domains" option. Now, click the "Add Domain" option. The control panel of Zoho is the place where you'll find all domain administration options. From the Control Panel interface, you can add a new domain to your account and create as many email aliases as you want. There's no restriction on the number of domains you can add (IMHO).
To successfully add a domain, you'll have to verify it by adding a verification code to the DNS zone file. Zoho will also request you to add MX records and SPF/DKIM records to the DNS zone file. You'll have to do this by logging in to your DNS service provider's interface. Once your domain has been added, click the "Mail Accounts" option that you'll find under the option "Mail Administration".
Zoho Mail lets users create email IDs for users related to the same domain or for the users who are working for the same organization. For example, if you own a business website and have 5 employees, you can create 5 email addresses of the type user_name@businessname.com. You can chat with these users if they're online.
You can set a Super Administrator email ID with the Control Panel and manage the way Zoho handles spam for your account. Once you set the email ID, you can log in to your account by using this email ID and the password you've set for your Zoho account.
In the Spam Control interface, you'll find options to create a trusted domains/emails/IPs list. This interface lets users enable SPF, DKIM, DMARC based filters, and activate Language-based filtering. ZM supports email routing and it provides a migrator tool that you can use to import messages from the old server to Zoho. ZM enables users to export their email accounts.
Zoho lets users filter emails by their type. It includes a search utility with which you can find mails containing specif words or mail sent by specific users. You can configure it to show only the emails with attachments. ZM supports three mail views – Classic, Compact, Super Compact. It can also hide/show fields of your choice. ZM enables users to activate the "offline" mode.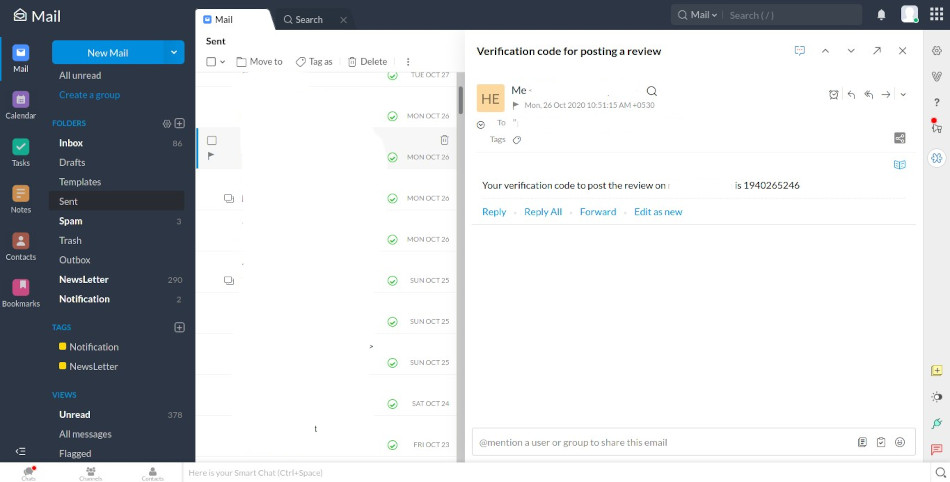 Spam control
Zoho handles spam very well. While using Postfix + Dovecot, my mailbox received 4 to 10 spam emails every day. Zoho discards most of the spam messages automatically. Unlike Dovecot + Postfix that stores spam mails in a single folder, Zoho moves spam messages to the "Spam" folder.
Security and email delivery
Zoho Mail supports 2-factor authentication. If mail-related DNS records for the domain are incorrect, the mail might not be delivered to the inbox of the receiver. To make sure that this doesn't happen, Zoho will check the DNS records of the domains you've added frequently. If there's an issue with the record, Zoho will prompt you to fix it each time you log in to your account. For example, if you've not set a DKIM record, Zoho will ask you to add it when you access the Control Panel.
When a message is delivered successfully, Zoho will show a tiny green tick beside the size of the message and the date on which it was sent. ZM lets users sort messages by their date and size. If the email sender has requested a read receipt, Zoho will ask you whether it should send the receipt or not.
Support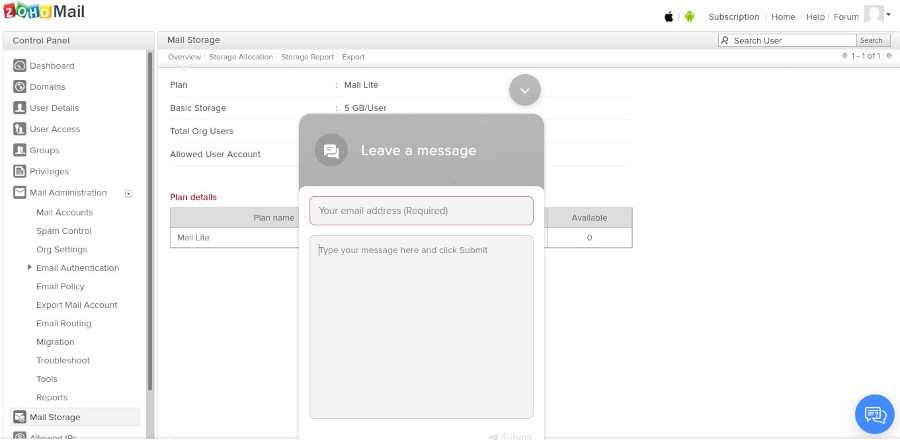 Although Zoho Mail service is easy to use, if you're facing an issue or you need help, you can contact the support team by writing an email or dialing the support number, or by opening the live chat interface. You can access this interface from the Control Panel. I had contacted the support staff on a few occasions. I was satisfied with the support. If all the members of the Zoho Mail tech support team are busy, the message you type in the chat interface of Zoho will be automatically sent to the support email ID of Zoho.
Productivity tools
Each paid subscription plan of Zoho Mail gives you access to the following tools:
Calendar: Zoho has added a beautiful calendar utility to its email hosting service. You can add events on a date.
Tasks and Notes: Users can add and manage to-do lists/notes in Zoho Mail.
Contacts: When you send a mail to someone or when a person sends you an email, his/her email ID is added to the Zoho Contacts list automatically. Zoho allows you to manage contacts. You can also group contacts.
Bookmarks: This utility lets you bookmark URLs and manage them.
Real-time chat: If you're managing multiple users, you can chat with the users in real-time.
Pros
Cheap: Zoho's Lite plan is one of the cheapest email hosting plans on the internet.
Delivery rate: The emails sent by the Zoho servers are delivered to the inbox of Gmail, Outlook, Yahoo, etc account holders (I have tested it). They're not sent to the junk/spam folder.
Nice interface: The main interface as well as the Control Panel interface of ZM are intuitive and clean.
Storage: The Zoho Mail Lite plan offers a generous amount of storage memory. You can see the storage memory in use by clicking on your profile icon.
Cons
Outgoing service may get temporarily suspended: If several undelivered mails are sent, Zoho may block outgoing service for your account. You'll receive an alert email for the same with a link to unblock the service. My application once had sent many mails in a short time to nonexistent mail IDs. The outgoing service for my account was suspended (see the below screenshot).

Final thoughts
Zoho offers one of the cheapest and most reliable email hosting services. Make sure you try it out if you're looking for an affordable service that lets you create branded email addresses for multiple domains.