Looking for a managed WordPress hosting that provides several features for a low price? Meet WPX, one of the fastest growing hosting companies in the world. WPX has two data centers, one in London and another in Chicago. Its servers are powered by the latest hardware and software.
WPX has an excellent rating of 4.9 out of 5 on Facebook from 100+ users. It also has good ratings and reviews on product review sites. Is WPX Hosting worth using? Is it suitable for your website? What features does the company offer to its web hosting service users? Here's our honest review of WPX Hosting.
Plans
WPX offers three plans to the users – Business, Professional, and Elite. The WPX business plan is the entry-level plan of the firm that costs $24.99 per month. It offers 10GB storage and 100GB bandwidth. It lets you host up to 5 websites. The next plan i.e. WPX Professional Plan is priced at $49.9. It provides 20 GB storage space and 200GB bandwidth. You can host up to 15 websites if you're using this plan.
WPX Elite plan costs $99. It offers a server that has 40 GB of storage memory. There's no limit on the bandwidth. This plan enables you to host up to 35 websites. The above three plans are ideal for all types of WordPress sites. Here's the comparison table that explains the differences and similarities between the 3 plans: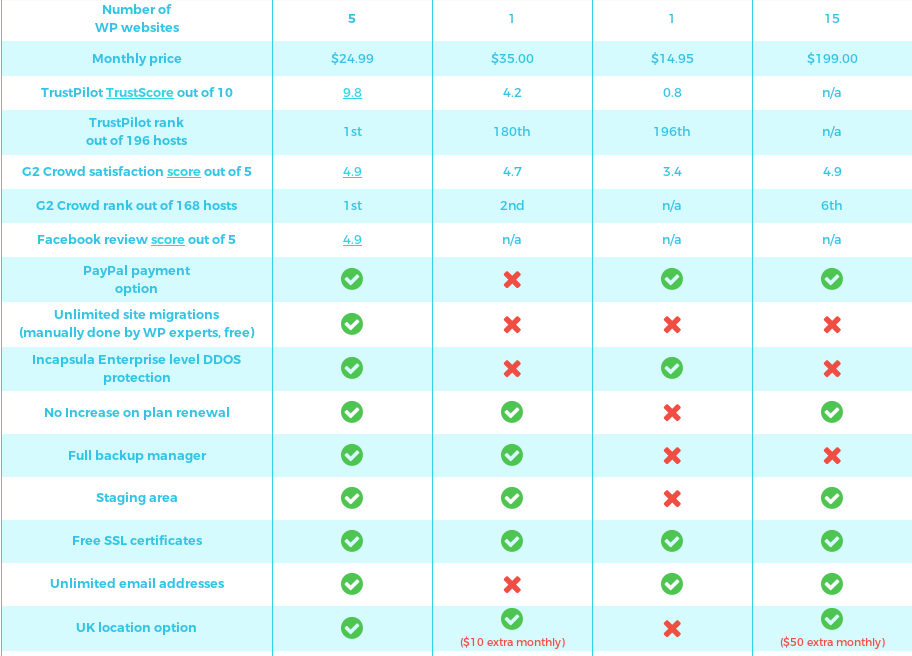 Features of the WPX Hosting
Security
DDoS protection and firewall: It doesn't matter whether the site gets millions of visitors or a few hundred, WordPress websites are often targetted by hackers. The hackers will employ a DDOS attack or attempt to access the dashboard of the WordPress content management system by using brute force attacks. Although brute force attacks can be averted by WordPress captcha plugins, you can't control DDOS attacks unless you have excellent knowledge of Linux firewalls and networking protocols.
To make sure that your website is always available to the users, WPX Hosting protects the websites deployed on their platform from DDoS attacks with InCapsula's powerful anti-DDoS technology. It also prevents malicious code injection by employing powerful firewalls. Also, to keep the website owner details private, users are given an option to turn on the free WhoIS protection.
Malware removal and supported WP security plugins: A WordPress user may unknowingly install a malware infected plugin. Once the user activates this plugin, the malicious code will modify the WordPress core, plugin, and theme files. Thus, making the website behave abnormally. When you suspect that your site has been affected by malware, you can request the WPX Hosting company's staff to clean your site. The company offers malware removal service free of cost.
Unlike many web hosting companies that ask users not to use security plugins that can increase the load on their server, WPX Hosting enables users to install and use any of the below popular plugins:
iThemes Security.
WordFence.
Sucuri.
Learn more about your site's security on WPX
SSL
WPX Hosting allows users to switch from HTTP to HTTPS with a few clicks on a button. Like other hosting service providers, WPX uses Certbot to install LetsEncrypt SSL certificates. By default, LetsEncrypt certificates expire every 90 days. WPX will automatically renew the certificate when it is about to reach its expiry date. Thus, the web browser won't display invalid or expired SSL certificate errors to the users. WPX allows users to create as many SSL certificates as they want. It won't ask you to pay money for making your site use HTTPS protocol instead of HTTP.
CDN
Content Delivery Networks makes your website faster by caching your website pages and their assets on their servers and serving it from the data center nearest to the visitor's location. Companies that offer this service may charge between $5 to $1000.
WPX provides a custom-built free WordPress CDN service called WPX Cloud to the users. Its CDN servers are located at 20 different locations.
Learn more about WPX's CDN service
Backups
WPX Hosting provides a GUI based tool with which users can back up their website data manually. This feature comes in handy when you've added new content to your site recently or you'll be installing a new theme, plugin and don't want to lose the data. The company will also back up your server data automatically on a daily basis.
Migration
Migrating a website from one server to another can be tricky especially when the website's root folder has 1000s of media files, several themes, plugins. To make sure that your site doesn't lose its permalink structure, SSL certificates, or important database tables, you should seek professional help to get this job done. Many hosting companies provide a tutorial to migrate the site. They may also offer 1 free site transfer service.
What if you want to move several websites or you are not comfortable in moving the sites yourself? Well, you'll have to hire a freelancer or avail the company's paid website migration service. If you're using WPX, you don't have to worry about migrations. This is because WPX is the only company that provides unlimited site migration service.
Learn more about WPX site migration
Support, guarantees, payment methods, and documentation
WPX offers live chat, ticket, and email-based support to the users. You can contact its staff anytime during the night or day throughout the year. The company's knowledge base comprises articles that explain the basics of web hosting, domains, etc, and tutorials on using the WPX control panel software.
WPX will refund your money if you cancel your account within 30 days of buying a plan. To get a refund, you should fill the form that is displayed in the "cancel account" interface of your dashboard and submit it. The company accepts payments with Paypal and credit cards.
Pros
Several features are included with each plan.
No limit on the traffic.
Easy to use control panel.
Custom-built CDN service.
Daily backup service.
Cons
Final thoughts
WPX is currently the highest rated WordPress hosting company. The company's managed WordPress hosting plans are budget-friendly considering the number of premium features (add-ons) it provides to the user at no extra cost.