While affiliate marketing is one of the top ways to make money online or promote products online, finding a trustworthy affiliate network is a difficult task. This is because the internet is not a safe place. 1000s of scammers are continuously looking for their next prey on the internet. You should avoid signing up with bogus networks and join reliable ones. ShareASale is one of the most reliable affiliate networks on the web. It was launched in 2000 and was acquired in 2017 by a company called Awin. For those who are not aware, Awin is one of the largest affiliate networks. In 2017, its publishers had generated combined revenue of over 700 million USD. Like its parent company, ShareASale is a popular affiliate network. I had joined SAS as an affiliate in 2013. I've been using it since then. Here's my unbiased review of SAS:
SAS can be used by developers as well as bloggers/affiliate marketing professionals.
Developers on SAS are called "Merchants". There's no special requirement to join SAS as a merchant. To join ShareASale as a developer, you'll have to pay a one time fee of $500 plus you'll have to deposit $100. The company charges transaction fees as well. Visit the pricing page of ShareASale for more information.
SAS offers a sophisticated affiliate management system. It lets you approve/disapprove affiliates, upload data feeds, etc. It also handles the tracking and delivery of your ads. ShareASale enables you to send newsletters to its affiliates from its dashboard. It features a powerful notification system. Any changes you make to your merchant account or when you're running low on cash, ShareASale will immediately make your affiliates aware of it.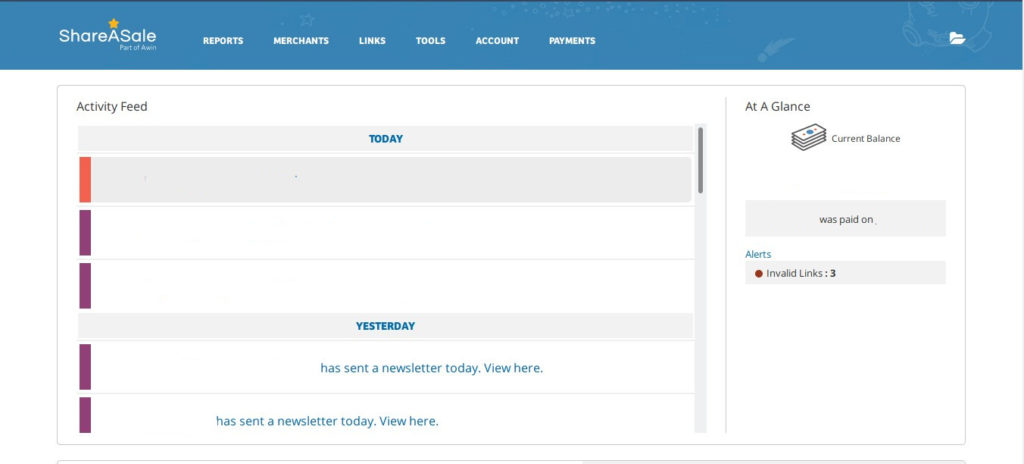 ShareASale is one of the best affiliate networks. Why am I saying this? Well, as I have mentioned earlier, I'm a ShareASale affiliate since 2013. The company doesn't have any requirements to join as an affiliate. However, your application to join the merchant's program depends on the merchant. The merchant team will review your application by analyzing your site. If the reviewer thinks that your site won't get good results for his/her company, your application will not be approved.
The website of ShareASale is fast and easy to use. The affiliate homepage i.e. dashboard displays important details such as your current earnings, clicks your links have received, networks you can join, and more. ShareASale lets you set the threshold amount after which it should send the payments. Once your balance reaches the threshold, the company will transfer your earnings to your bank account. ShareASale processes payments on the 20th of every month. Depending on your location, it can take up to 6 days for the deposit to take place.
Links shared by merchants are displayed in the merchant's profile. The link can be a text one or an image that points to the link. When the user clicks the link and buys something from the merchant account, you'll earn a commission. Each merchant has a different commission rate ranging from 10% to 60%. When you generate a sale, the commission amount will be locked after X days only if the sale meets the requirements of the merchant. Sometimes, the merchant will void the transaction citing reasons such as "duplicate order", etc. Merchants in ShareASale are grouped into the following categories:
Education, Books/Media.
Clothes, Marketing.
ShareASale provides a search tool to find merchants i.e. to find all merchants that are in the web hosting business, you should enter the word "hosting" in the search box. SS lets you filter the merchants by their "power rank". Power rank is a metric that indicates the popularity of the merchant. The higher the power rank, the more sales the merchant has registered with ShareASale. Before applying for the merchant's program, you can go through their terms and conditions.
Click here to create your ShareASale account right now
ShareASale tracks the clicks on its links and makes the affiliates aware of invalid links and the referrers. SS filters links by their type i.e. deals, offers, etc. It also provides a link generator tool that you can use to create an affiliate link for a URL you find on the merchant's website. SS lets you download the merchant list in the CSV format. It allows you to filter the report data by day, week, and month. It displays the number of times your affiliate links were clicked. SS categorizes the clicks by the merchants.
Support
SS has a powerful ticket management system. When the merchant has disapproved the transaction generated with your affiliate link, you can raise a ticket. SS assigns the ticket to the merchant. When the support team of the merchant sees your ticket, they'll reply to it.
Updates
When there's a change in terms of conditions or the merchant has changed the price of their product or the merchant has closed their account, ShareASale will immediately notify all the users that have joined the affiliate program.
Pros
Great UI: SAS has an easy to use interface. Bloggers and marketing professionals are not tech-savvy users. The website's clean UI makes life easier for them.
Tickets: SAS lets you contact the seller/merchant when you think the seller has mistakenly voided your transaction.
Timely Payments: ShareASale has sent me my affiliate fees on a timely basis. I've never had an issue with the firm to this date.
Many networks: SAS lets you join 100s of merchants. Its "power rank" system helps users in finding and join some of the best affiliate programs on the web.
Final thoughts
If you've built an app or your firm has built an application and you're looking for a trustworthy affiliate network to promote your product or if you want to make money online with your website, join ShareASale.