Sedo is the largest domain marketplace in the world. It has a listing of around 20 million domains. It is used by over 2 million buyers.
Sedo not only enables you to sell domains, but it also allows you to sell websites. It is used by top companies and brokers. Over half of the domains listed on Sedo are premium.
For those who are not aware, premium TLDs and SLDs have a very high market value. For example, an exact match single word domain that is searched highly in search engines can cost 1000s or even millions of dollars.
Is Sedo a good place to sell or buy domains? What features does it offer to the sellers and buyers? Here's our unbiased review of Sedo.
Interface
Sedo has a beautiful interface and an XL size search box with which you can find domains containing a specific word. The app lets users filter TLDs, gTLDS, SLDs, etc by their length price, characters, etc. It also enables you to sort the list of domains by the bids, price, name, listing, etc. Once you find a domain, all you have to do is click the "Make Offer" button that is displayed to the right of the domain. When you do so, Sedo will open a new interface where you must enter the amount you're ready to pay to the seller to own the domain he/she has listed. If you want to make offers/bid only after some user has posted a bid, you can add a domain to the watchlist in Sedo.
Click here to buy premium domains on Sedo for a great price
Adding domains to the marketplace
To sell domains, you'll have to list them on Sedo. To do so, login into your Sedo account. Now, hover your mouse cursor on the account name and select the "Add Domains" option. The website will now open a new interface where you'll find a wizard utility.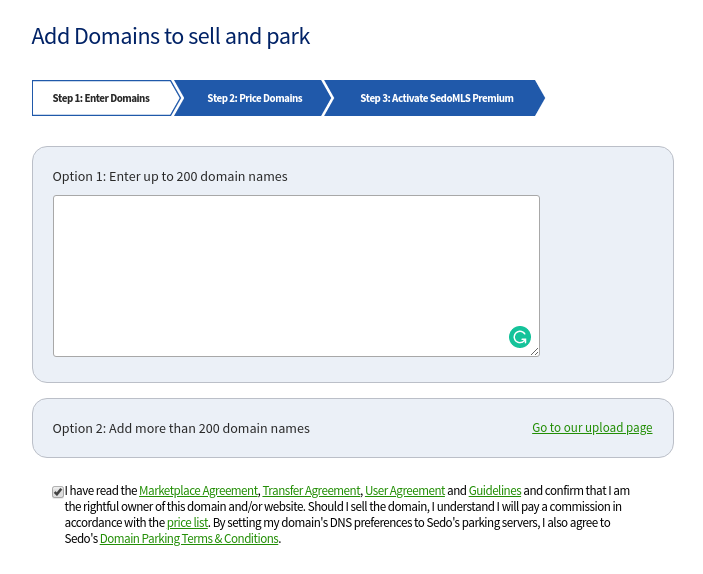 In the 1st step, the Wizard prompts you to enter a domain or a list of domains.
In the 2nd step, you must set the price, currency, and the minimum offer the buyer should make. In this step, you'll be asked whether you want to sell the entire website or just the domain. Select the appropriate option from the drop-down list.
Once you complete the 1st two steps, Sedo will find out if the domain you've added to the marketplace using its wizard tool is yours or not. To do so, it will perform a WHOIS lookup. For faster verification, you can add the verification code provided by the firm to your website's DNS records.
Click here to list your domain on Sedo
Parking domains
To park your domain on Sedo, you'll have to change the name server from the current one to the one provided by Sedo by logging in to your registrar's dashboard. The firm will note down each visitor to your domain's parking page and will make you aware of it via its Parked Domains Reports interface. It lets you customize/personalize the parking page of your domain.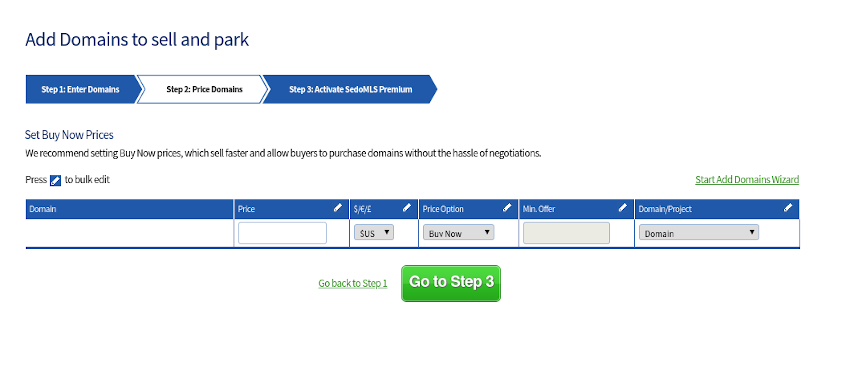 Security
To make sure that no one gets scammed on its platform, Sedo provides domain transfer service free of cost. Once the buyer posts the highest bid or agrees to pay the asked amount, the marketplace will issue a Domain Purchase Agreement document to both the parties. Then, the buyer will have to transfer money to an account provided by Sedo. One of Sedo's staff will ask the seller to transfer the domain to the buyer. Once the transfer is complete, the company will release the funds to the seller's account.
Appraisal service
Don't know the value of your domain? Interested in a domain but not sure if its price is right? Use the Appraisal service of Sedo. When you order this service, one of the company's staff will calculate the value of your domain by considering several factors. Once he's done appraising your domain, he'll send you a PDF document. This document will have a detailed analysis of your domain and its estimated price in USD.
See the list of high-value premium domains listed on Sedo
Promotion Options/Pricing
Many people think that Sedo only allows users to list premium domains and the company charges a hefty fee for listing a domain on their platform. Well, this is incorrect.
Sedo is a platform that accepts prepaid and postpaid listings. If you want to launch a domain name auction, you'll have to pay $59. If you don't want to participate in auctions and want to pay money only if you manage to sell the domain, you can go for the free listing. The company charges a flat %15 commission on each successful sale.
To increase the exposure of your domain on the Sedo marketplace, you can also buy one of the promo packs. The price of these packs starts at $0.3.
Auctions have the best visibility. If budget is not a problem for you, the best way to sell quickly on Sedo will be to launch an auction.
Learn more about SEDO's pricing here
Support
The company provides email and phone support to the users on weekdays. If you've any questions on a listing, buyer or the interface, get in touch with the company's support staff.
My experience with Sedo
I've recently listed one of my domains for sale on Sedo. My listing was live within half an hour. I didn't pay anything to the firm. I asked a couple of questions to the staff. I got a satisfactory reply from them even though I didn't pay a penny.
Pros
Largest marketplace to sell domains.
Affordable premium plans.
Reliable transfer service.
Cons
Summary
As Sedo has millions of users, it is one of the best domain name marketplaces in the world.