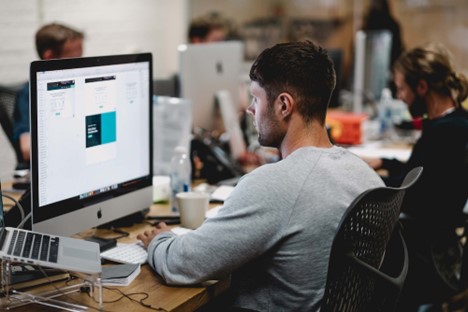 In an increasingly competitive labor market, setting up a website can establish your professional presence and give you an edge. One of the main reasons to have a professional website is to increase the credibility and legitimacy of your work to potential clients or employers. It serves as your business card in the virtual world, a way to make a great first impression and communicate what you can offer.
Creating a user-friendly and fully-optimized website takes time and effort, but here's a guide that can help you put together your professional website.
Decide on a web host and domain name
Your domain name is what people have to type in order to visit your website. Pick a name that is concise and reflective of your brand. Remember that it should look professional, so try to avoid numbers, dashes, and misspellings.
After registering your domain name, you have to choose a web hosting service that can house your website. Consider which features of a web host matter most to you. While there are free web hosts out there, the paid ones are usually offered for reasonable prices. Focusing on site speed and performance means visitors don't have to deal with slow-loading pages. Meanwhile, security features can help you mitigate the threats of cyber attacks.
Map out and design your website
Your website is more than just the landing page; you also have to map out web pages through which your visitors can navigate and gain more information. Professional websites usually have pages for background, products or services offered, and contact details. You can also tailor your pages to your target audience by adding a portfolio of relevant work.
You'll also want to think about what your website should look like. There are website builders which have templates for layout, font, and brand colors. But design is not merely about appearance—our post on tips for website design emphasizes functionality and user experience. A well-designed website will look up-to-date, is easy to navigate, and makes users want to visit again.
Make your website tell a story
Building your website around a brand means site visitors don't just know what you do—they also learn who you are. Sharing your personal story on your website means communicating what a CV or resume fails to include. It may describe your journey from one workplace to another, or detail the obstacles you had to overcome to get to where you are today.
This story will be the anchor from which you create relevant content like blog posts, updates, or testimonials. Try to strike a balance with the amount and length of content that you post, otherwise it'll look less legitimate or professional. Make sure to add compelling visuals, too!
Optimize your website to drive traffic
Look for ways to drive traffic and bring in more site visitors. A way to do this is through SEO (search engine optimization), which operates on a set of rules to increase website visibility and rank it higher on search results.
You can drive organic traffic through SEO by placing internal links, linking back to other credible websites, using relevant and specific keywords, and posting content consistently. Start by adding keywords to your About page or dividing your blog posts into subheadings. It may seem complex at first, but leveraging SEO for your website will steer you miles ahead of your peers and competitors.
Investing in a professional website allows you to reach potential professional partners, clients, or employers. Much like how you keep your CV or portfolio updated, make sure that your website is populated with fresh content and regularly tested to address any technical issues. Good luck!