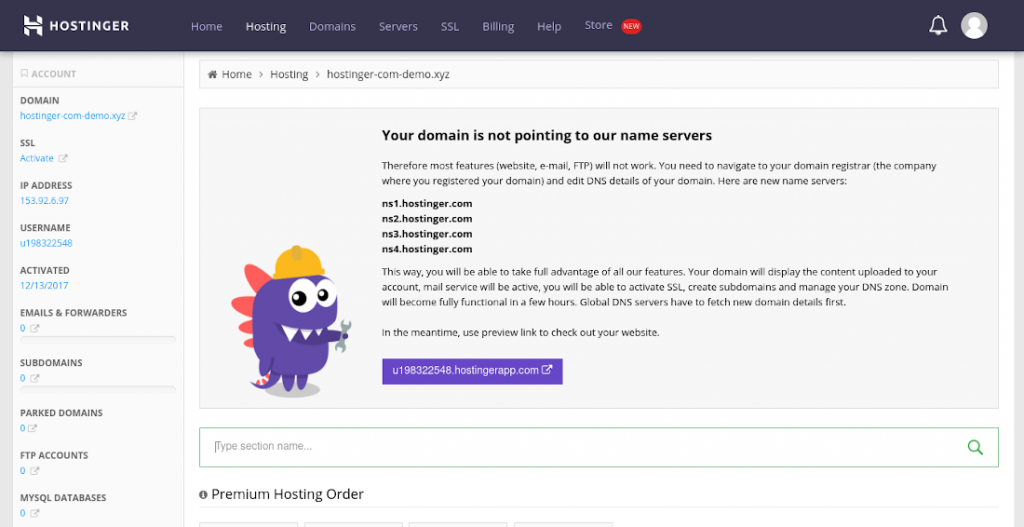 Hostinger is a domain registrar and web hosting company that was launched in 2004. It owns the popular free hosting service provider 000webhost has over 30 million customers. The company has data centers in the United States, Brazil, United Kingdom, India, Singapore, and Indonesia. Hostinger is adding thousands of new users every day. It is growing at an incredible pace.
As mentioned earlier, Hostinger offers 2 services to the users – hosting and domain registration. The company sells .com, .org, .net, .in, .site, etc domains for a price starting at $0.99. Their hosting service is subdivided into the following three categories:
Hostinger shared servers are powered by the Cloud Linux operating system and LiteSpeed webserver. They are suitable for medium or low traffic WordPress sites. The company provides the following three shared hosting plans to its users:
Single: This plan offers a free email account and 100GB bandwidth. It supports a single website that has up to 10000 visitors per month. This plan offers 1 email ID. It lets users create 2 MySQL/MariaDB databases. It doesn't let users log in to the server via SSH nor does it a provide free domain. The Hostinger Single plan costs $7.99/month.
Premium: The premium plan enables you to create and manage up to 100 websites and email accounts. It offers unlimited bandwidth, automated weekly backup service, a better processor, and faster memory than the Single plan. This plan supports SSH, up to 25000 monthly visitors, and unlimited databases. It is priced at $11.95.
Business: Priced at $15, this plan lets users host 100 sites that have up to 100k monthly visitors. It also allows users to activate CDN and SSL certificates for their sites. The Business plan supports daily backup service and it provides a faster processor/RAM than the Premium shared servers. Other features of this plan are the same as that of Premium plans. Hostinger Business servers are powered by a script that creates a backup of the website files and database automatically every day.
See the complete features and table of comparison of the above plans here
99% uptime, Control Panel/PHPMyAdmin access.
Access to a custom-built website builder tool.
Cronjob support, Hotlink protection.
And more…
Click here to buy shared hosting from Hostinger at a discounted price
About website builder: If you want to launch your website without using the WordPress content management system, use Hostinger's website builder tool. This tool provides pre-designed templates that you can use and customize as per your requirements. In case you don't want to use the template, you can use the tool's drag and drop editor to build your website.
Hostinger cloud hosting
Hostinger's cloud hosting plans are great for newbies as well as experienced users who don't want to waste their time installing apps such as WordPress, Joomla, Drupal, Magento, etc manually. Hostinger offers three cloud hosting plans – Startup, Professional, Enterprise. The Startup plan is priced at $7.45. The Professional and Enterprise plans cost $14.95 and $27.45 respectively. These three plans let users host unlimited websites.
The Startup plan's server is equipped with 3GB RAM, 40GB SSD, and a dual-core processor. The server of the Professional plan features an 80GB SSD, quad-core processor, and 4GB RAM. The Enterprise plan offers the best configuration i.e. 12GB RAM, 160GB SSD, and a Hexa-core processor. Hostinger provides a custom caching module with its cloud hosting service. It enables users to switch to another version of PHP manually. Hostinger offers a one-click app installer tool to the users of its cloud hosting service. It doesn't provide root access to the users i.e. you can't install a programming language or web server of your choice on Hostinger's cloud servers.
See the comparison table of Hostinger cloud hosting plans here
Hostinger VPS hosting
This hosting is suitable for users that want to install and use the software, programming languages, database server, web-server of their choice as Hostinger gives root access to the users of their VPS hosting plans. Hostinger VPS servers support Debian, Windows, Centos, Fedora, OpenSuse, and Ubuntu operating systems. It assigns a dedicated IP address to the server and uses SSDs instead of HDDs in them. Its VPS servers are connected to a 100 MB/Second ethernet network.
Hostinger Linux VPS hosting plans start at $3.99. This entry-level plan provides a server that has 1GB RAM, 1 core VCPU, and 20GB storage memory. This sever has a good Geekbench score of 3513. Hostinger has VPSes that have 2, 3, 4, and 6 core processors, 2, 3, 4, 6 GB system memory (RAM), and 40, 60, 80, 120GB storage memory.
The Windows VPS hosting plans of Hostinger start at $26. This plan offers a virtual private server that has 2 core processor, 4GB RAM, and 50GB storage memory. The next cheapest plan has 4GB RAM, quad-core CPU, and 100GB storage space. It costs $62 per month. Hostinger's $120 Windows VPS server has 8GB system memory, 4 core processor, and 200GB storage memory. Its $250 VPS has 16GB RAM, quad-core CPU, and 400GB storage.
See the comparison table of Hostinger VPS hosting plans here
Support, Knowledgebase, payment, guarantee
Hostinger offers email-based and live chat support to the users. It accepts payments made with PayPal, debit cards, and credit cards. It also offers a 30 days money-back guarantee.
The company's knowledge base is divided into three categories – websites, general, and domain. Each section covers various topics that you can go through to increase your knowledge or fix a common problem yourself. In addition to the knowledge base, the website has a Tutorials section where you'll find 100s of detailed tutorials. In case none of the tutorials or the knowledgebase articles provide a solution to your issue, contact Hostinger's 24 x 7 support.
Is Hostinger a reliable company?
Yes, the company is an ICANN approved registrar. It has a very large userbase. People buy service only if it is reliable. Hostinger employs Cloudflare's nameservers. Thus, its DNS service is robust.
Other features
One-click Cloudflare CDN enabler and app installer.
Beautiful user interface (Control panel and official website).
HTTP 2/3, ipv6, Letsencrypt support.
DDOS protection.
Servers are powered by the best in class Cloud Linux OS.
And more
Discount
With this special link, you'll get an incredible discount on the web hosting plans of Hostinger. You'll also get a free domain.
Pros
Excellent user-interface, support.
Cheap VPS, Cloud, Shared hosting plans.
User-friendly Control panel.
Multiple data centers.
Cons
Click here to buy hosting + domain from Hostinger for a price starting at $0.8 per month
Final thoughts
Hostinger's web hosting plans are affordable and its website (including Cpanel) is beginner-friendly. The company provides great support to users.