Founded in 2008, Greengeeks is a web hosting company whose servers are powered by clean energy. It has over 35k customers. The company hosts over 300K websites.
Is GreenGeeks an ideal platform for users who are looking for cheap and reliable hosting?  What features does it provide to the customers? Let's find it out!
GreenGeeks hosting plans
GreenGeeks hosting plans start at $2.95 (link to the special offer). The company offers 3 web hosting plans – Ecosite Starter, Ecosite Pro, and Ecosite Premium. The three plans provide unlimited storage space, bandwidth, etc. It allows you to host unlimited websites and create unlimited email accounts. The company provides a free domain name with each of its plans. It also lets users enable an SSL certificate with a single button click.
Difference between the 3 plans
The performance of the servers is different. The cheapest plan offers good performance. For better performance, you can go for the Pro plan, and for the best performance, you should sign up for the Premium plan. The Pro plan is priced at $6.95 per month. The Premium plan costs 16.95 per month. Here's the comparison table of the GreenGeeks hosting plans.
GreenGeeks has 4 data centers, 2 in the US, 1 in Canada, and 1 in the Netherlands (Europe). Its servers are equipped with the latest generation Xeon processors and high-speed ECC-Registered RAM. While buying a plan, users are allowed to choose a server location. The web hosting company supports payments with PayPal and credit cards.
Once you buy a hosting plan from GreenGeeks and log in, you'll see a beautiful dashboard that displays your account information, an option to log in to the site builder or server, and the current status of your plan.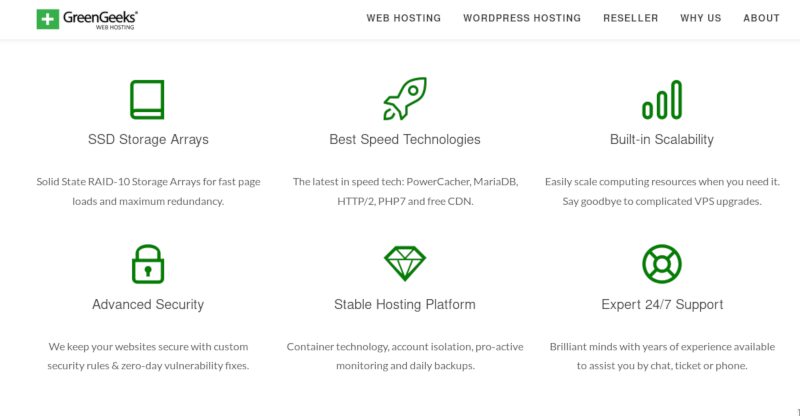 Features
Each plan of GreenGeeks allows users to manage their servers with a web software called CPanel.
Free transfer
When you buy a hosting plan from GreenGeeks, the GreenGeeks support staff will transfer your website to their servers on request. The company won't charge you a penny for transferring a site.
CDN and Email
GreenGeeks allows you to enable Cloudflare CDN with just a few clicks of the mouse. The number of emails the cheapest plans allow you to send every hour is 100. The max emails you can send is 500.
Backups
GreenGeeks will back up your website data automatically every day. The company will not charge you for this service.
Can you launch a website with software other than WordPress
Yes, GreenGeeks gives users access to a drag and drop site builder tool through which users can design and launch a new site quickly without writing a single line of code or without installing any software. It also supports websites built with Perl and Python.
Security
GreekGeeks uses a custom-built solution to protect the websites of their customers. To make sure that your site doesn't have any vulnerability, GG updates WordPress CMS automatically whenever a new version of WP is available for download.
Also see: Bluehost Review
Custom caching
GreenGeeks has built a special tool called PowerCacher which increases the speed of pages automatically by caching them on a server. The tool is called as PowerCacher. It is available for Pro and Premium GreenGeeks hosting plans only.
Technology
GG employs the latest SSD, CPU, and network equipment. It also uses the latest server software. It uses LiteSpeed web servers and MariaDB database servers. The web server has been configured to use the HTTP 2.0 protocol. For more details on the technology used by the GG, visit greengeeks.com.
Moneyback guarantee
GreenGeeks plans ships with 30 days money-back guarantee which means if you're not happy with the service, support, or performance, you can request your money back. GG will deduct $15 (setup fees) before transferring the amount to your account.
Documentation
The GreekGeeks knowledge base is made up of over 160 articles that explain various hosting related topics and tutorials. The articles are easy to understand. Check out the GreekGeeks documentation.
GreenGeeks support
GG provides live chat, phone, and email-based support to the customers. The support staffs of GreenGeeks are available 24 x 7. Hence, you can reach them at any time of the day or night. As in other hosting service providers, live chat is the quickest way to contact the support staff. The company has not declared the time frame in which you'll get a reply from their staff.
Uptime
GG promises 99.9% uptime for all websites deployed on its servers.
Should you use GreenGeeks
Yes, GG is a company that has survived 10+ years in the web hosting industry. It has several thousand customers and cheap hosting plans.
Final thoughts: GreenGeeks is a reliable shared hosting service provider. It provides free domain, daily backup service, and several premium features free of cost to the customers. Its hosting plans are worth the money. The company offers good support to its users. See the special offer for GreenGeeks hosting here.