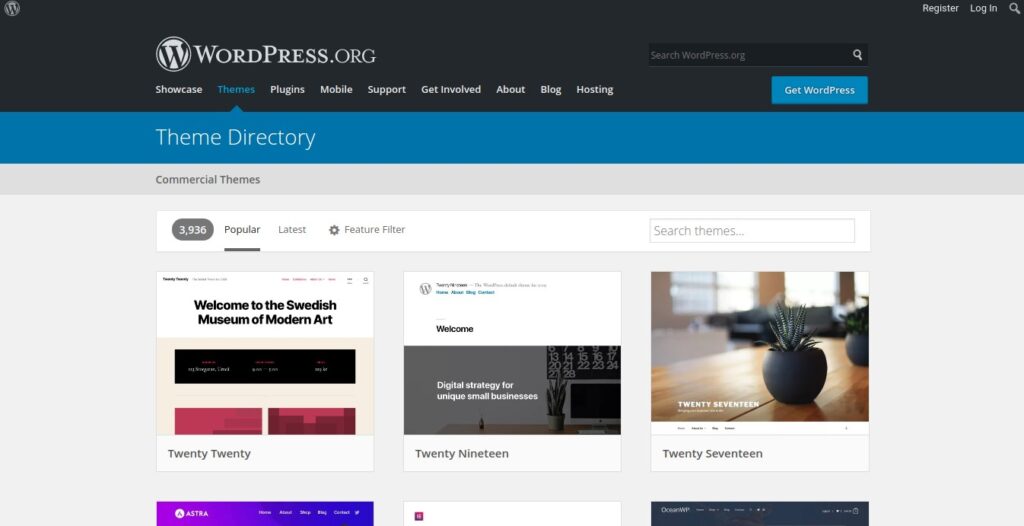 The first thing that most WordPress users do after buying a hosting plan and installing WordPress is that they look for the best theme for their sites. WordPress themes are either free or premium. Both types of themes belong to one of these sub-categories – multipurpose, magazine, business, etc. If you'll explore the WordPress theme repository or a premium theme marketplace, you'll find 100s of free templates in each one of these categories. The following paragraphs will help you decide which WP template you should use:
Pros of free themes
You don't have to spend money: Free themes available on WordPress.org don't ask users to register an account or pay money to use them. You can install them from the WordPress dashboard. The free themes can be either be customized with their built-in options, Gutenberg editor, or with a free page builder plugin.
You can switch from one to another template: The WordPress repository has over 1000 free templates. If you don't like the current template, you can install another template without spending a dime.
Unlimited installations: Many premium themes come with 1 site usage restriction. You can download and use the free template on as many sites as you want.
Cons of free themes
Poor support: Support for free templates is provided on WordPress.org. The theme's official page on WordPress.org has a forum section where you can post new questions or see the answers that have been already answered. The developer of a free WordPress template may or not reply to your query. If the theme has paid addons, the developer may provide good support so that the people would be impressed with the developer.
Paid Add-ons: Top-rated or most downloaded WP themes are not completely free. 25 to 30% of the features in these templates are free and the remaining ones are premium. To use the premium feature, you'll have to buy it.
Ads: If the theme doesn't have add-ons or paid premium features, it will have affiliate banners.
May not be SEO friendly: In 2013, I downloaded a new WordPress theme that promised tonnes of features. After a week of installing the template and activating it, the traffic to the site tanked. When I checked the Google Webmaster Tools HTML report, I found that the site had hundreds of pages of duplicate titles and meta description tags. In addition to the tags added by a popular SEO plugin, the theme inserted the title and description tags in the header as well. The tags were empty. If you're using a free theme, you should check the HTML code to check broken HTML, duplicate title/meta description tags, etc.
Excellent support: The developers of premium WordPress templates give their theme users access to a forum where they can ask questions to developers or get help on a feature they're finding difficult to configure or use. The support team/developers of a popular template reply to the queries within 24 hours (or faster).
Error-free: The premium WordPress templates are carefully designed and built. Thus, your site will not suffer from SEO issues. If the theme is poorly coded, it will attract negative reviews. Negative reviews = death of a brand.
Updates: Unlike 100s of free templates that are updated once in a blue moon, premium WP themes are updated on a regular basis.
Feature-rich: This is the major reason why many people buy premium WordPress themes instead of free templates. Multipurpose WP templates offer 100s of features. You can use them to launch any type of site. Simple premium themes ship with powerful widgets or they make the lives of WordPress users easy by providing an option to disable/enable features such as social networking icons, sticky header, menubar, etc.
Cons
Confusing License: Some companies provide lifetime free updates. The license of some premium themes is valid for 1 year only and support is available for 6 months or a year. Once the license expires, you'll get notifications from the developer that a new version of the theme is available but you won't be able to update the theme. Also, the developers may not reply to your questions or you may not be able to raise a ticket. When the license expires, you'll have to renew the license by paying the same amount you had paid while purchasing the theme (or a bit lower amount) to continue getting the updates.
Is this licensing strategy bad? To be honest, if a theme is popular (having 1000s of users), a single person won't be able to provide support. The developer may hire support staff. The staff won't work for free. The money you spend to renew the support/theme license will help the developer in paying the salary of the support staff.
Usage: As mentioned earlier, you can use some premium templates on a single site only. To use the same theme on different sites, you'll have to purchase additional licenses. Some WP theme development companies (e.g. StudioPress and Elegant Themes) allow users to use a single template on multiple sites. Themify Ultra is another great theme that doesn't come with 1 site restriction.
Final thoughts: Although you don't have to pay money to use a free WordPress theme, free templates have basic features. Premium templates have many features and they make you eligible for priority support from experts but you'll have to buy them.