Creating an online resume is a better idea compared to creating an offline resume with a text editor or software such as MS Word, LibreOffice Writer, etc. This is because your resume website will be indexed by Google, Bing, and other search engines. If people are looking for skilled professionals online and your site ranks in search engines for some work-related queries, you may get hired for some work. Another reason is that if you edit the document, you'll have to re-share the document with people if you're applying for a job. If you've built a resume website, you don't have to do anything. To create a resume website from scratch, you should know HTML, CSS, JS. If you want to add a dynamic feature such as a contact form to your site, you must also know a programming language. If you're a professional who has got nothing to do with programming, why waste time learning HTML, CSS, etc when you can create a resume website with WordPress. With WP, you can create an online CV quickly with the following resume themes. At the end of this article, we've shared the things you have to do once you download the theme to make a resume website with WordPress.
Best WordPress resume themes
Themify Ultra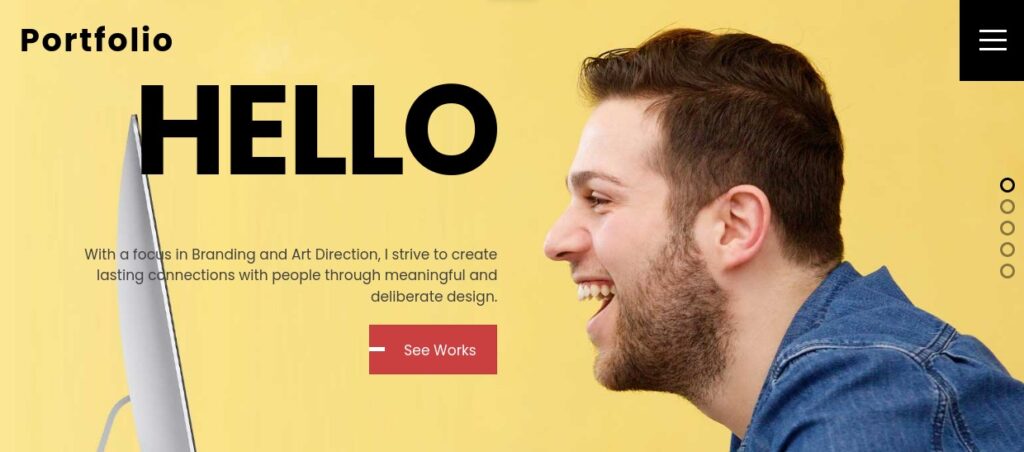 Ultra, powered by the Themify page builder is a versatile theme that can be used to create an attractive and SEO friendly resume website. Themify Ultra ships with 12 premium addons which include a pricing table, typewriter, progress bar, timeline, slider, etc. It supports WooCommece and many header/page/footer layouts. Ultra also lets users activate horizontal/vertical section scrolling and horizontal scrolling. It can apply filters to the photo without modifying the original picture. You can use this feature in your online resume's portfolio page.
ElegantThemes Divi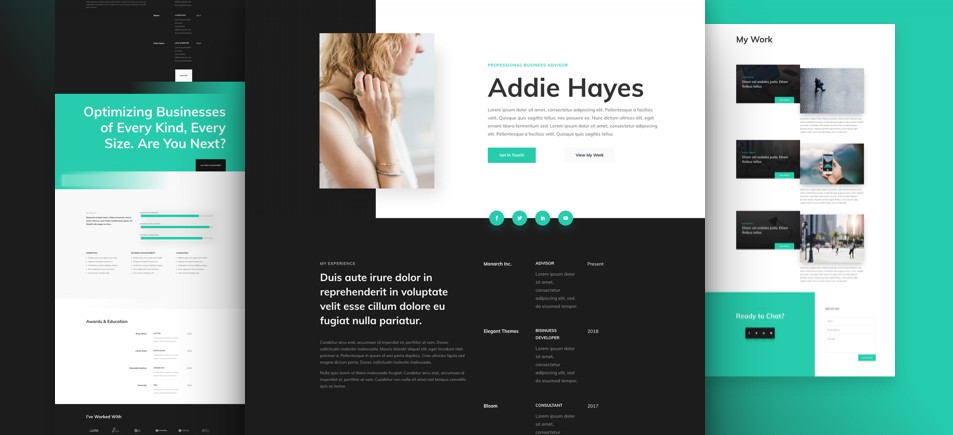 Like Ultra, Divi is a multi-purpose theme. This template is powered by the ElegantThemes Divi Builder, which is considered to be one of the finest WP page builders right now. As the Divi WordPress theme supports multiple header/footer layouts and many cool effects, it is possible to create any type of resume website without writing code. In case you don't want to design a resume site from scratch, you can use Divi's free CV layout packs.
You can use the above two multi-purpose themes on as many sites as you want. The following templates are cheaper compared to Divi, Ultra but they can be used to create only a resume site. If you're impressed with WP and want to launch more sites, you'll have to purchase a new theme or use the free themes available in the WP repository. The free templates don't have as many features as Ultra/Divi. They may have ads to purchase addons, the pro version of the theme, etc
Leven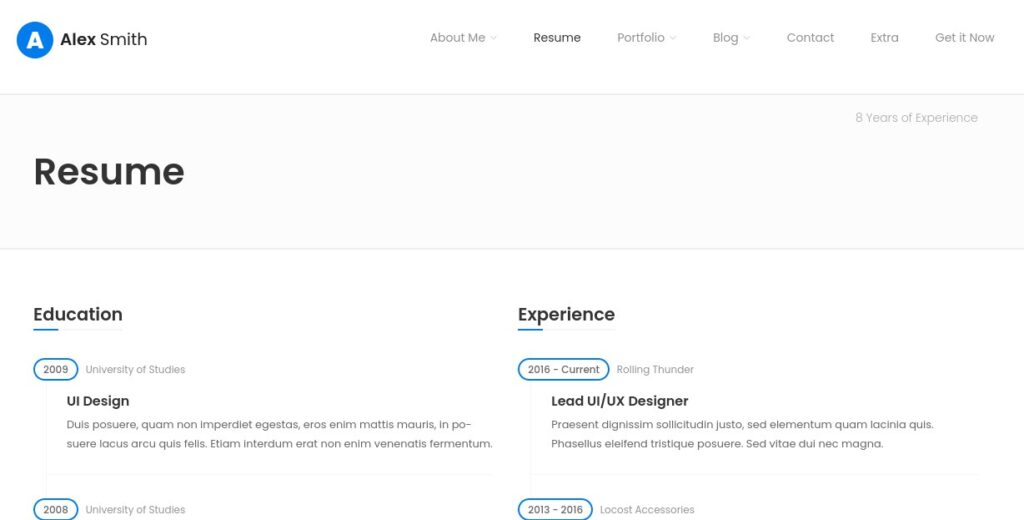 The Leven WP resume theme supports full width and boxed layout. It has the option to change the color theme from dark to light and vice versa. Leven lets its users add links to their social networking profiles in the footer section. It supports testimonials and features a slider for highlighting clients. It allows you to create/manage a blog, add pricing page/accordions/YouTube, Vimeo Videos to the site, etc. Leven ships with a child theme. It has W3C compliant HTML code and .pot files through which you can translate Leven in your native language (if it is supported). It allows users to add a nice animation effect to their online resume. The developer of this resume theme will offer free updates for a lifetime.
Download Leven theme
Kerge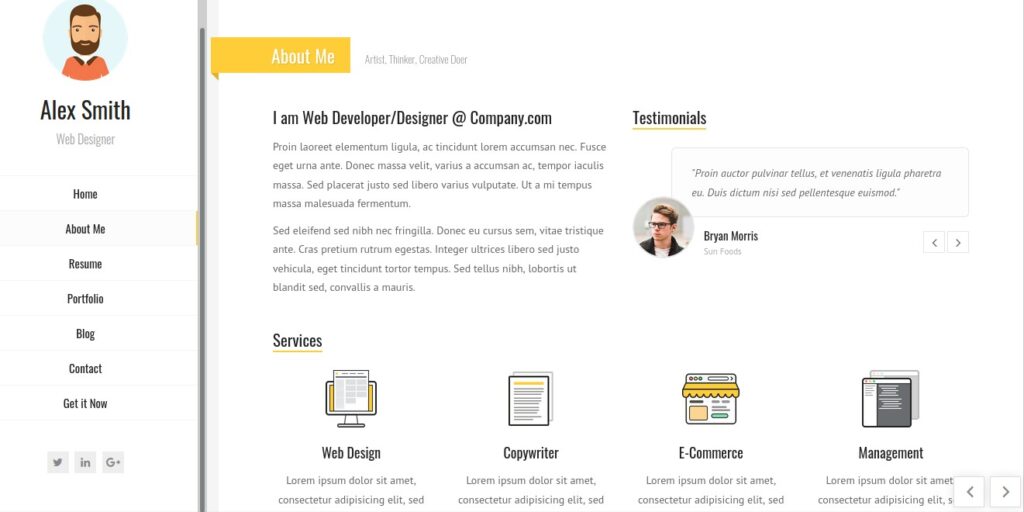 The Kerge WordPress resume theme was launched by the developer of Leven. It costs $14 more than Leven and has a nice design. Kerge features a left sidebar where the theme shows a link to your resume, portfolio, contact form, etc. You can also configure it to show two floating navigation arrows to open the next/previous pages. Like Leven, Kerge lets users add testimonial and client slider to a page/pages of their CV site. Other features of Kerge are the same as the Leven template.
Download Kerge theme
RyanCV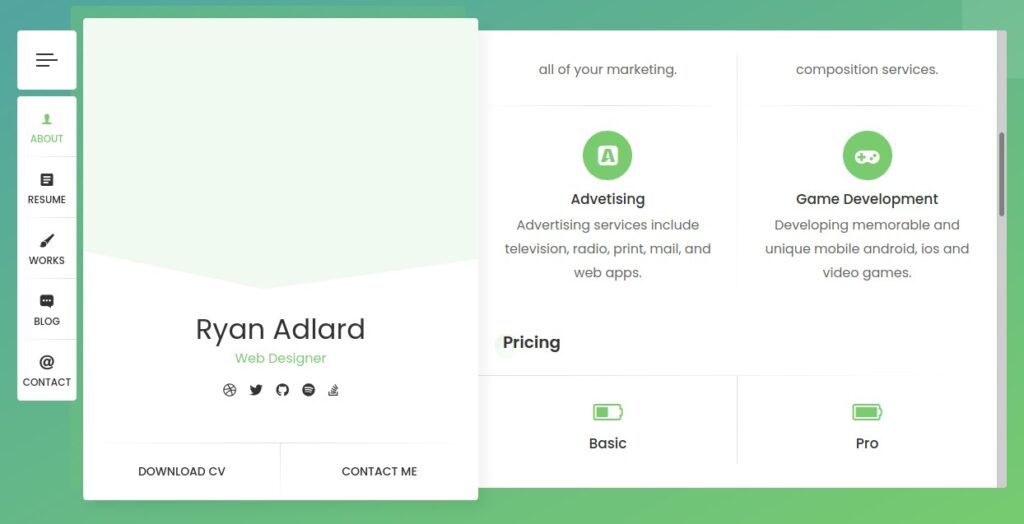 RyanCV is a WordPress resume theme that supports the Elementor page builder. Elementor offers many blocks/modules. The template also ships with the Pro version of the ACF plugin. You can thus make a powerful feature-rich CV website with RyanCV. This template lets users create online timeline resumes. RyanCV enables you to add gradient/color/image to the background and customize the foreground of the website with beautiful Google Fonts. It supports RTL languages and translation.
Download RyanCV
Profession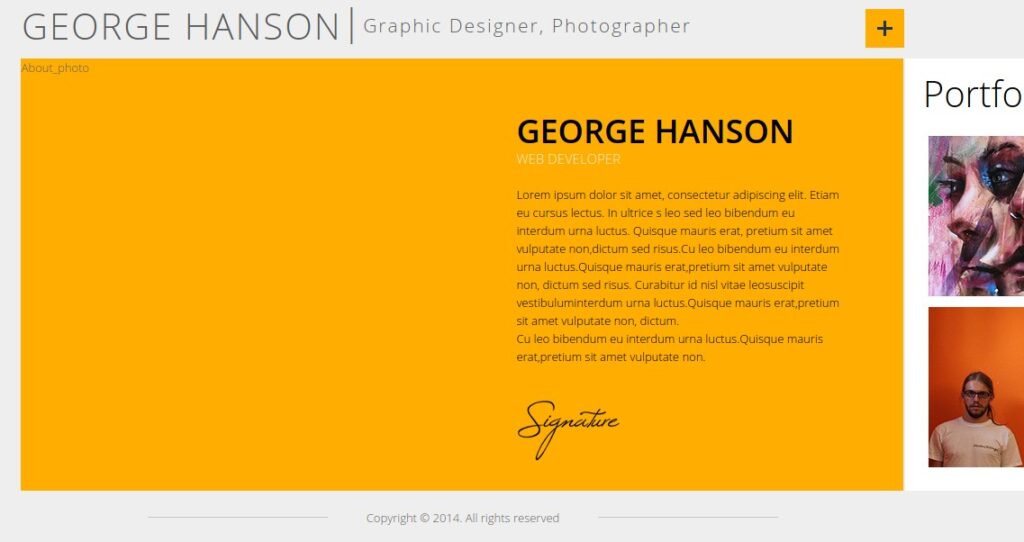 Profession is a beautiful WordPress resume theme that supports horizontal and vertical layouts. In the horizontal layout, the theme supports navigation with the left/right keys on the keyboard. In this layout, the scrollbar is hidden. In vertical layout, the browser will show a scrollbar. The Profession theme features a menu toggle. When the user clicks on the toggle, the theme will show a menu. It lets users apply animation to the skill/resume section. It offers the Layer Slider plugin through which you can create various types of sliders for your CV website.
Download Profession theme
Free CV themes don't have fancy elements like the themes I've shared above have. They have a simple layout. Here are the best free WordPress resume themes
Twenty Twenty-one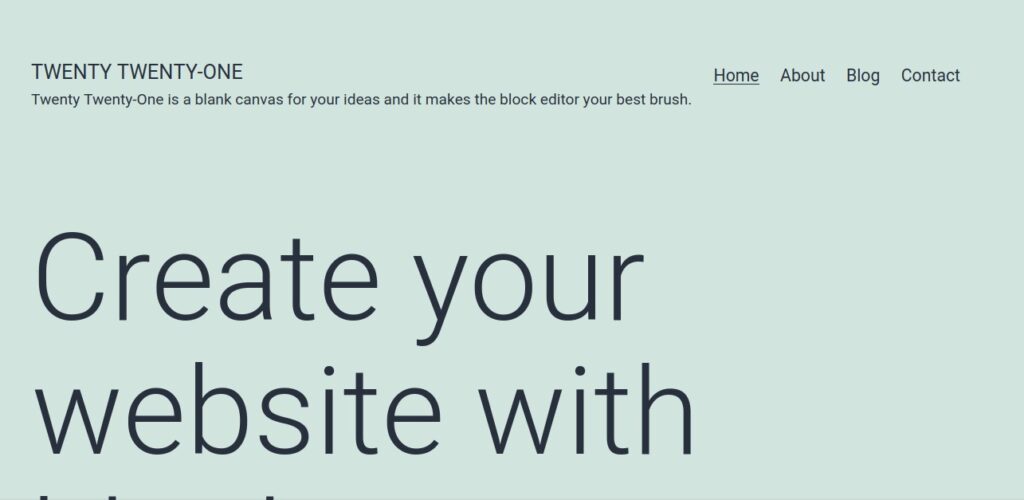 According to Automattic INC, the developer of WordPress and Twenty Twenty-One theme, Twenty Twenty-One is a blank canvas and Gutenberg is your brush. You should use the Gutenberg editor and the existing blocks that Gutenberg offers to create your resume site from scratch. If you don't like the big fonts of the text in the theme's header/footer or the background color of the menus/header/footer, you'll have to write CSS code to change the font.
OceanWP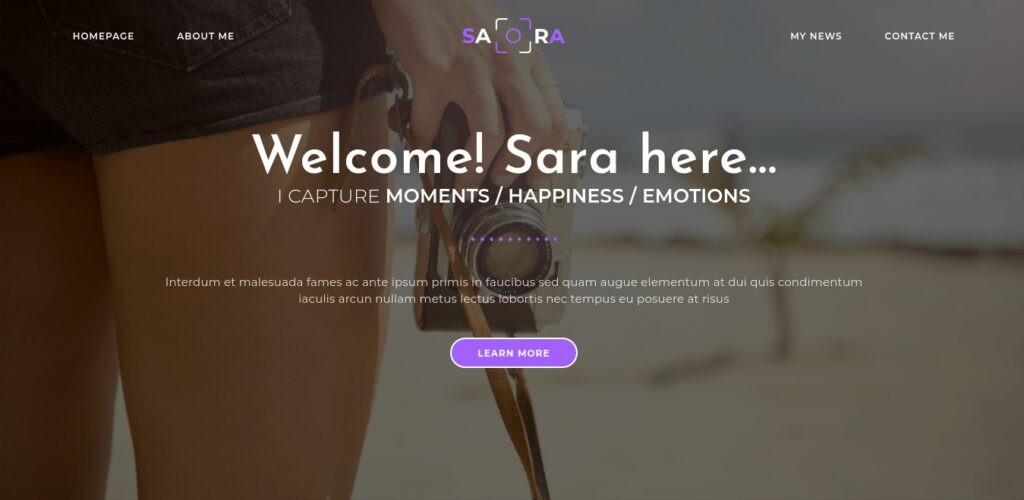 OceanWP is yet another great free WordPress resume theme. It supports all major page builders which include Elementor, SiteOrigin, Divi, Beaver Builder, Visual Composer, etc. With its powerful built-in features and modules of page builders, you can create a nice looking resume site quickly with OceanWP.
Resume-Example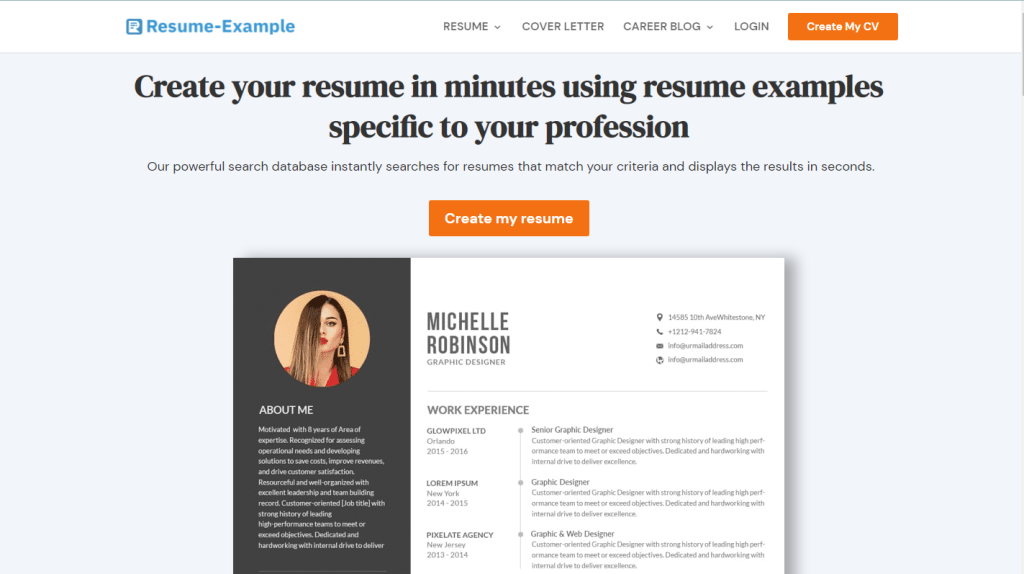 "Resume-Example" is a powerful search database that instantly searches for resumes that match your criteria and displays the results in seconds.
You will have numerous resume templates at your disposal. Modern, professional, and creative designs to help you multiply your chances of success.
Clear, fast, and easy to understand. Follow the steps and you'll write a captivating resume effortlessly, in only a few minutes! So simple, the assistant will tell you exactly what to do to highlight your skills.
Conclusion 
Should you create a resume site with WordPress? Yes, although a person who knows WordPress very well will quickly find out that your online CV site is built using WordPress. If you use your creativity and make the site look different or beautiful, the website visitor will be impressed with your creativity. If the person doesn't know WordPress, he'll be impressed with your site and will hire or contact you.
You've chosen a theme.. what's next? If you know how to launch a WordPress site, you should know what to do next. If you're new to WP, you need a domain name and a hosting plan. Learn how to get free .com domain with a hosting plan and save $10 to $20. Once you get the hosting plan, use the hosting company's 1-click WP installer tool to install the WordPress CMS. Now, log in to your WordPress dashboard and install the WordPress resume theme.