Real estate sites such as Zillow, Trulia, Homes dot com are feature-rich. They have a powerful search tool, several filters, beautiful pages, etc. Unless you're a developer, you might not know the efforts/hard-work the company's staff has put in to build the site. Building a real-estate site requires you to do months of research in requirement analysis and then you must hire a developer. The developers may charge you hundreds or thousands of dollars as a fee. They may also ask you to pay money when you request them to add a new feature after handing over the project. Why build a site from scratch when you can use WordPress? Creating a real-estate site from scratch is not easy but with WordPress, it is dead simple.
The backbone of the WP CMS is a theme. To launch a powerful real-estate theme, you'll have to find a good theme. As many developers have launched property listing themes, finding a good real-estate template is like finding a needle in a haystack. This is because you'll find several templates that claim to provide 100s of features. Depending on your understanding of the WordPress CMS, real-estate business, and knowledge of SEO, you'll have to spend several hours on the internet to find a property listing theme. If you don't want to waste your time on this, refer to the below list of the best real estate themes for WordPress.
Best WordPress real estate themes
RealHomes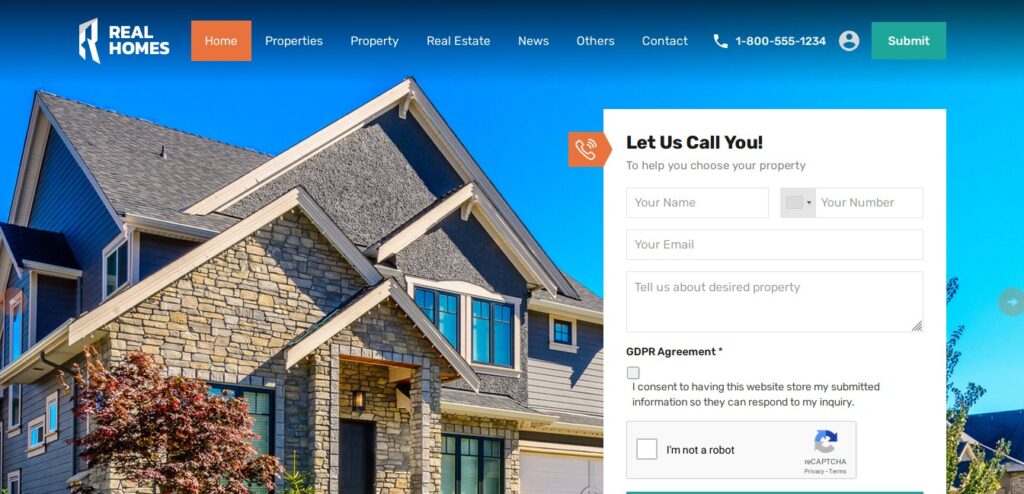 The RealHomes WordPress real-estate theme supports OpenStreetMaps and Google Maps. For those who don't know, Google now asks users to create the Google Cloud API account and an API credential before they can use their map service. The developer has used his own API credential in the code that handles the Google Maps API. This means you don't have to enter the credit or debit card details to use the Google Maps service. RealHomes is a GDPR compliant theme. It has complete real-estate related fields divided into the following categories:
Basic information, property video, agent information.
Gallery images, homepage slider, top banner.
Floor plans.
RealHomes enables you to add additional information you think should be part of your real estate website. It allows you to compare properties. The theme uses Google ReCaptcha technology to block spam. It ships with the premium version of the Revolution Slider plugin. RealHomes is the most popular theme in the real-estate category of ThemeForest. It was launched in 2013 and has a rating of 4.69/5. Its developers offer free updates to the users. RealHomes is priced at $59.
Houzez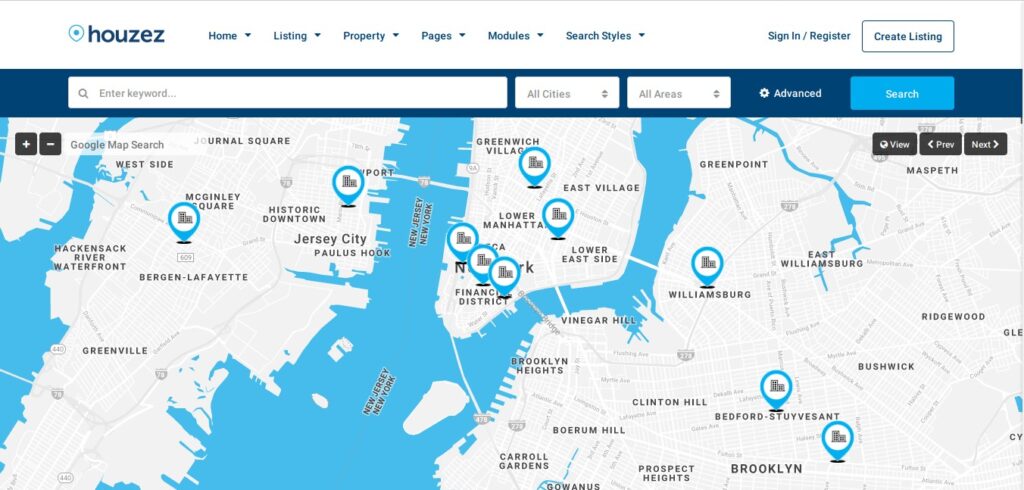 The users of the Houzez theme enjoy free lifetime updates. They can also translate the template to up to 20 languages. The template supports integration with the following plugins and third-party services:
Mailchimp, Elementor, WPML.
OpenStreetMaps, Loco.
Contact Form 7, Revolution Slider.
Gravity Forms, 2checkout, PayPal, Stripe, etc.
Houzez gives you access to 20 pre-designed demos and an option to import them. It supports 8 property layouts. The theme has a live chat system built-in. Its settings interface is divided into the following sections:
Information, map, property setting, property gallery.
Virtual tour, Private note, attachment, layout.
Energy efficiency, multi-units, home plans.
Video, contact information, Slider.
Each interface/tab has a different option. Houzez template was published in 2016 and has a rating of 4.81/5. It costs 59 USD.
Residence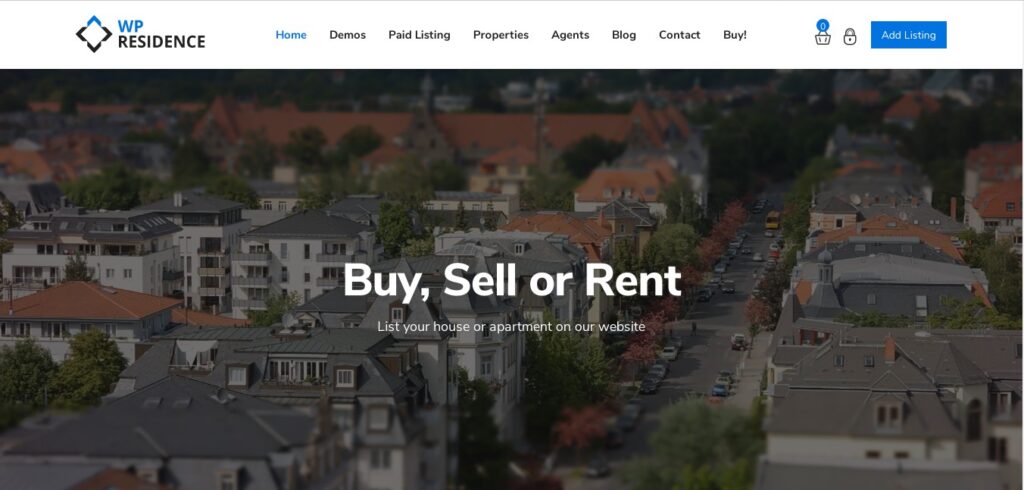 Priced at $59, Residence is yet another top-rated property listing WordPress theme. It lets users translate the template into 32 languages. The template is compatible with WooCommerce. It packs 12 different widgets and offers a feature-packed property page template. You can configure the Residence WP template to display property slider, image gallery, sub listings, GPDR compliant contact form, etc.
Residence lets its visitors upload PDFs. It also provides an option to print the real-estate details to a PDF file. The theme lets you configure virtual tours and supports video/image/slider/map headers. Like the above templates, it has a good rating of 4.81. The Residence WP template was introduced in 2014.
Download the Residence template
Real Estate 7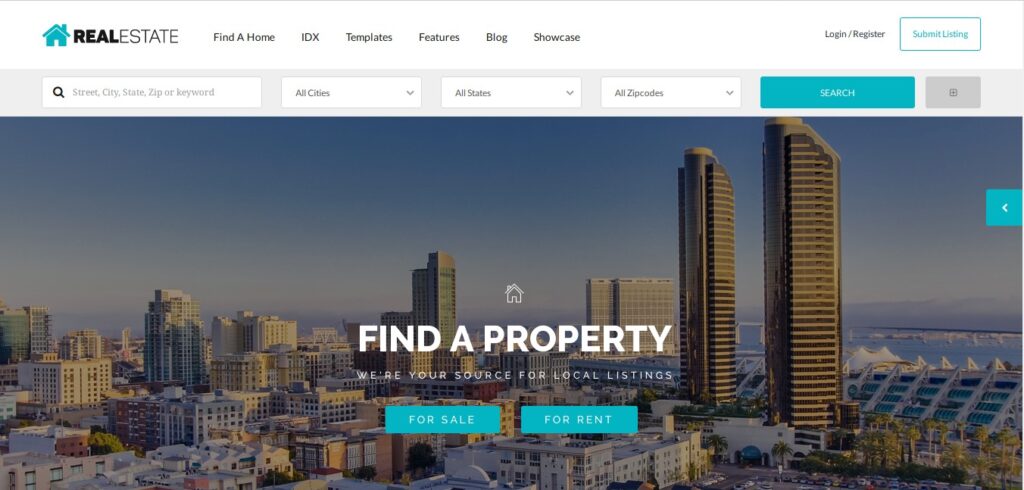 The RE7 theme offers 14 custom built widgets. It supports RTL, translation, breadcrumbs, and the following six-page templates:
Agents, contacts, full-width.
Sitemap, testimonials, left sidebar.
The Real Estate 7 theme enables you to import real-estate listings. It supports Walkscore, sub-listing, and has the option to mark a listing as favorite. It ships with 2 premium plugins – Visual Composer and Slider revolution. RE7 has a brokerage and invoicing system built-in. You can configure it to support free and paid listings at the same time. RE7 supports 5 header layouts. It has a rating of 4.76 and was published in 2015.
WP Rentals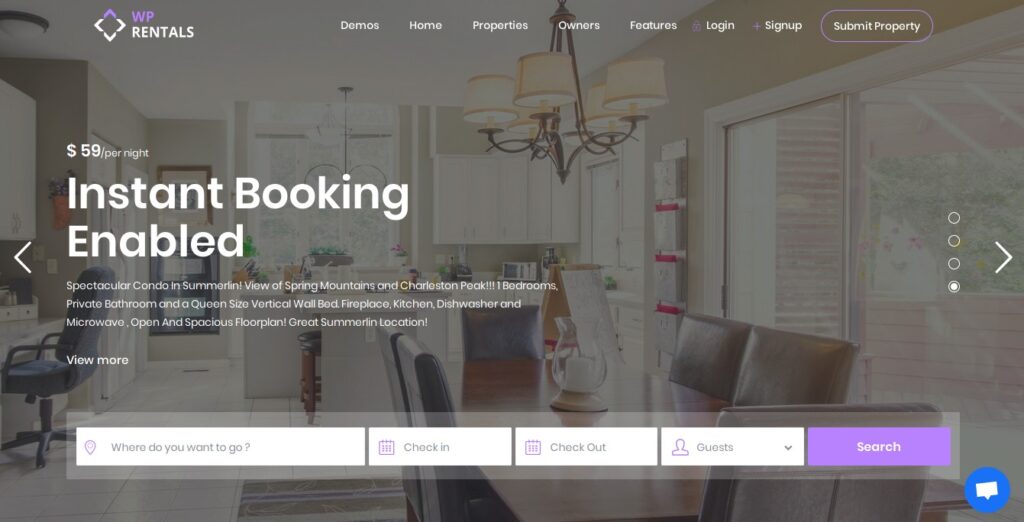 If you want to create a WordPress based website like Airbnb, you can use the WP Rentals template. WPR supports the features that you'll find in the above templates but its layout is a bit different. Also, the template ships with a powerful room booking system. WPR lets you rent rooms or apartments on an hourly basis. It supports synchronization with HomeAway, AirBNB, etc, and has over 130 theme options.
WPR lets users bookmark/favorite listings. It supports maps and payments with various popular payment services. WP Rentals supports Visual Composer, Elementor, Google Maps, OpenStreetMaps, Algolia API, etc. It supports translation and has a caching system built-in. WPR offers a multi-currency widget and supports 5 header styles.
Features of the above templates
Responsive design: The above WordPress real estate themes are mobile-friendly. No matter what smartphone or tablet you use to browse a site powered by the above mentioned themes, the layout/design of the templates will be perfect.
SEO friendly: The themes are fast and support various popular search engine optimization plugins.
Error-free: The above templates have been updated several times. They are free of errors and have the HTML5/CSS3 markup.
Final thoughts: The property listing themes we've shared above are built by expert developers and are designed by professional designers. They provide a settings panel that has options to make the theme look as per your requirements.
The themes are designed to make the task of finding offices and apartments easy for users. They can be used by anyone who wants to launch a real-estate site.