Before we dig into the world of e-commerce tools, I would like to say a few things about e-commerce itself and answer some of the most interesting questions surrounding this fascinating topic nowadays. How it works, what is the use of e-commerce, and how big of a role in the world economy does it play? And by the end of the article, I hope we manage to reach the answer to the main question here "Which e-commerce tools are most efficient to work with?".
E-commerce is a way to buy or sell goods or similar things over the Internet, and it allows you to transfer money and data to complete the sale. Many know it by its more popular name, "online shopping".
The first known e-commerce took place on August 11, 1994, when a man sold his friend a CD of the group "Sting" through his website "NetMarket". It was the first example of a man buying a product from a company online, taking a first step in creating a whole new era for the trading economy as we know it today.
Since then, e-commerce has embarked on its further expansion, from which many companies and markets have benefited with mutual satisfaction.
Today, one of the most popular eCommerce platforms is WooCommerce. If you plan on using it for your online store, we would like to recommend WooCommerce Table Rate Shipping a very powerful plugin that can help you set up advanced shipping rules based on cart contents, weight, visitors logged-in status, and more.
In the following lines, I will name and describe the three best e-commerce tools widely known and used but only scratching the surface of their features and abilities, which surpass the scope of the things that I can explain in a few sentences.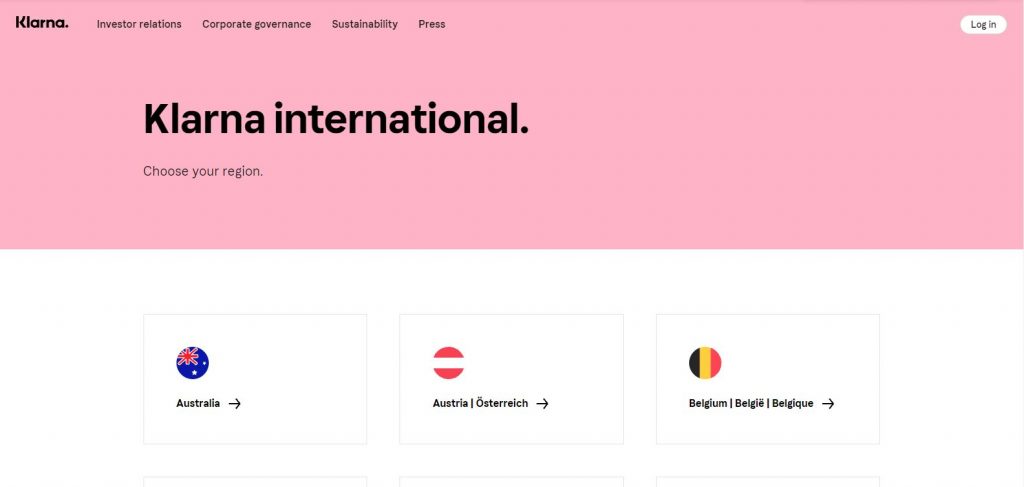 Klarna was founded in 2005 in Stockholm-Sweden, as a group project of Students of Economy, which is a fascinating fact. Their business model was pretty straightforward. Klarna makes it easier for people to shop online today, offering payment solutions for the e-commerce industry. Klarna made the experience of online shopping feel more safe and simple for the customers. The key feature and element they base their business on are "pay later shopping" plans. It is about providing different payment options for the customer and giving them the flexibility to do the transactions when and how they prefer. Those payment options are:
Pay now: One payment made immediately
Pay later: One payment, made in 30 days
Cut it into 4: these are four installments, completed in 6 weeks
Slice It: 3 or more installments, completed in 3 or 6 months
Nowadays, as Covid-19 set out to tear down institutions around the world, Klarna has managed to record a large number of sales and a shift in which consumers buy items. Cost and availability vary from country to country because not every country has the same conditions. The Klarna has a total number of consumers, about 90 million, and the total number of traders is 250,000. The number of transactions per day exceeds the number of 2 million. The CEO of Klrana is Sebastian Siemiatkowski, who says the future of retail lies in flexibility and digital innovation.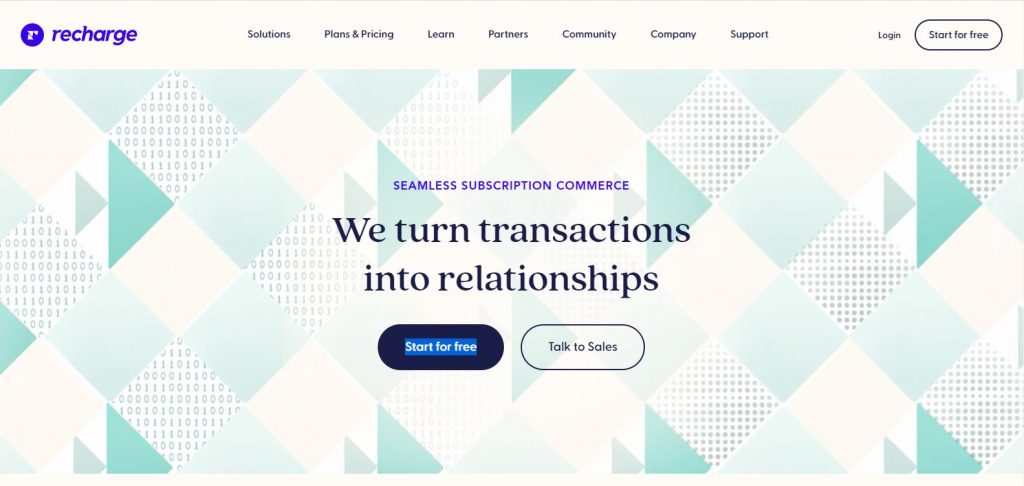 Now you have the opportunity to make the most of your life into a so-called subscription life with the help of recharge payments that offers exciting opportunities in building a large community of customers who value your values.
If you provide products that customers need to reorder regularly, subscriptions are a way to go for you. It has the same effect if you offer services instead of products. Selling in this shape and form gets the many new possibilities open for the merchants. ReCharge Payments is the leading subscription platform for online shopping.
Recharge payments believe that subscriptions are a powerful way for consumers to communicate with brands. In their own words, "It helps build ongoing relationships between customers and their subscribers.".
Recharge payments serve over 35 million subscribers in more than 180 countries worldwide today, and it helps many retailers around the world to start a subscription business. It dates way back to 2014, and its headquarters are in Santa Monica, California. Their concept allows users to convert one-time products into subscription options. It gives business managers tools, such as delivery and interruption dates.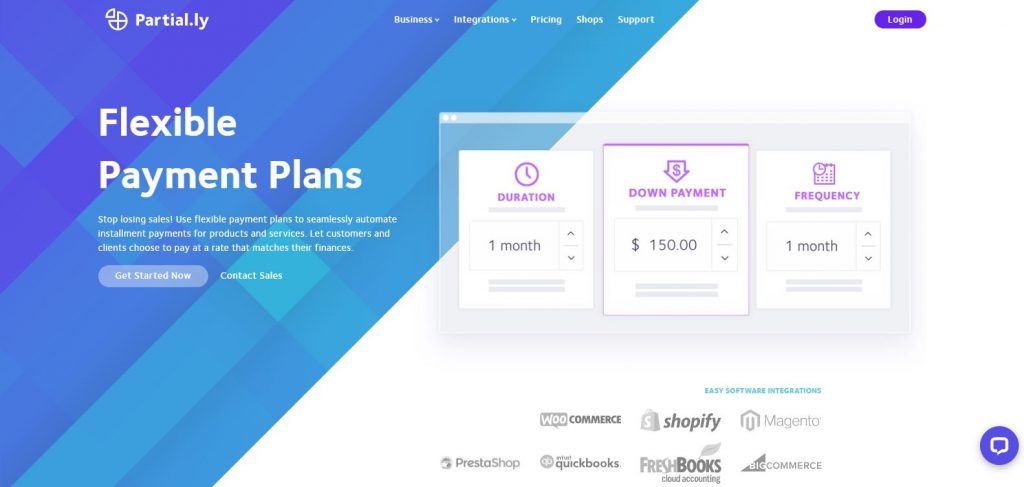 If you want to offer your customers a tool that will enable them automated payment plans, then you are at the right place. The Partial.ly app is created with features and options to help you grow sales and make payments more convenient. With Partial.ly, you can simplify your invoicing and improve your cash flow and take control to make invoicing and billing easy.
The thing app users seem to love the most about it is that it integrates a flexible payment plan offer directly into your checkout process. It benefits both the way seller and the consumer providing the ability for the customers to customize the payment plans within the limits that the sellers set. With just a few clicks, it also gives you the ability to use Partial.ly alone or together, with available integrations such as Freshbooks, Quickbooks, or Harvest, and your existing accounts are already in Partial.ly.
Partial.ly does not offer the possibility of a free trial period for testing. It does allow a flexible payment plan that will start payment immediately.
Clients have the option to pay at a rate appropriate to their financial capabilities. You can also have a flexible manual payment to manually make scheduled payments earlier or process a customized payment in any amount. The remaining payment schedule adjusts automatically to your requirements.
Partial.ly is expanding more and more every day and is available for companies in 25 countries from Australia to the USA.
A noteworthy thing worth mentioning is that this company does not store data from customers. The user data stays protected and unharmed. They have a strict policy on user privacy rights, which puts them higher on the best e-commerce tools list and probably user choices for online shopping tools.
One of the very good, perhaps even the best features in Partial.ly is "Cash in the bank," where you can track your payment performance on the Parial.ly page. Then you can have your payments automatically deposited into your bank account.
Conclusion
Klarna, Recharge payments, and Partial.ly are leading world-famous tools that offer millions of different features and possibilities. Each of them provides a different and unique experience for online shoppers that can help to increase your e-commerce conversion. On the other hand, if you want to start an online selling business, these three tools could be the right choice. They will provide you with the market of millions of customers and give your brand the platform to grow on.
The online shopping and selling experience could be more fun, exciting, and beneficial with the knowledge of these tools. I hope this brought you to an answer from the begging of the article and made you want to dig deeper into the world of e-commerce. As Cushla Sherlock said: "The e-commerce industry is a force that no investor can afford to ignore."