VoIP is a Voice over internet protocol, and it uses an internet connection for phone calls. It is flexible and supports calls over desk phones and by desktop and mobile apps. VoIP will route phone calls, and those qualities will match the quality of your internet connection. Many VoIP systems are now cloud-hosted, so they are easier to use from multiple locations by cloud-based apps on devices used in this service.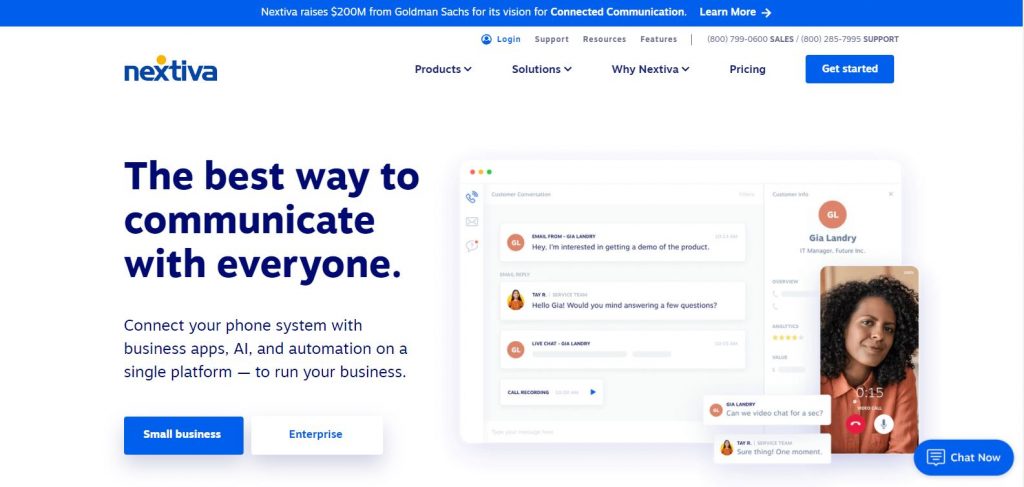 Nextiva is a VoIP software recommended for medium-sized businesses operating on a budget since it provides a reasonable price compared to offered prices. It has a mobile and desktop app, and its online and mobile platform is excellent for managing multiple lines and employees working from different locations (even working from home). This provider's apps allow you to use your business tel number and carry out calls from your desktop or mobile.
Cospace (Nextiva team collaboration tool) enables video chat for your team, which is a video conference solution. These are some of Nextiva features that all of its VoIP Plans have: free local number, free toll-free number, desktop, and mobile apps, HD video calling (max four members), team Presence, MS Outlook, Lotus Notes, and Google Contacts integrations; Cloud PBX, Call controls (transfer, hold, mute, etc.), voicemail to email, virtual faxing and much more.
It offers four plans: Essential, Professional, Enterprise and Ultimate. The best solution for details about features offered in each payment plan is to directly check it on their site to see and calculate the price based on your business needs.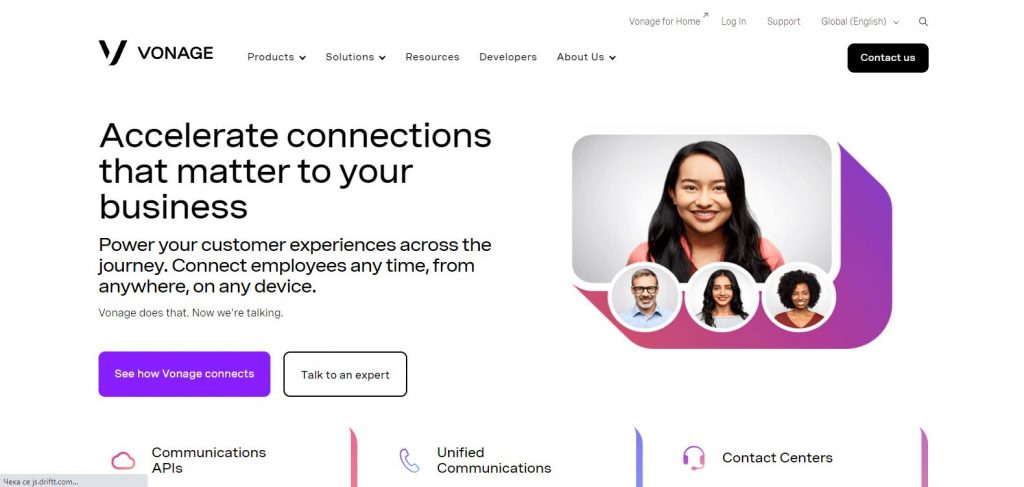 Vonage is one of the first VoIP providers and is popular since you can grow its service to match the growth of your business. It is easy to set up its service, and transition, when you expand, is not needed. Vonage features included in every plan are Unlimited calls and messages, Team messaging, and Customer service Support.
Three offered plans are Mobile (offers basic VoIP features); Premium: it is a good plan if you have international offices and use desktop, mobile and IP phones; Advanced: this plan is probably the best one offered and for little price difference you will get call group, visual voicemail, on-demand call recording, and you will get a plan for email, live chat, and phone support.
Every described plan can be made to measure your business size, number of employees, and added hardware. Vonage offers also features for webinars, guides, infographics, and user case studies.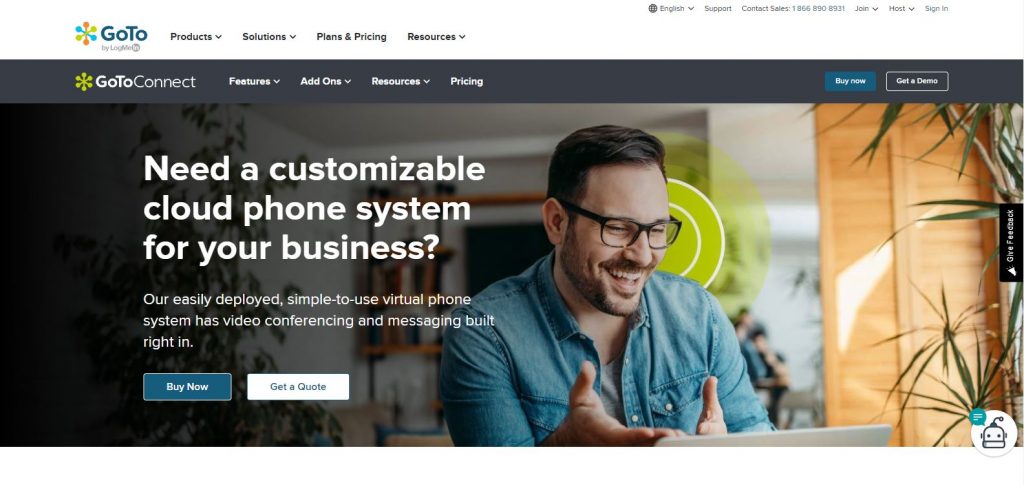 This provider is one with the best amount of offered features. GoToConnect has a simple interface and is telephone features-rich for all pricing plans (Tiers). The Tiers range from 1 to 5; Tire1 one to four users, up to Tire5 50+ users. Features delivered are: call routing, call ID, International calling, Do Not Disturb and Custom hold music, unlimited call queues.
It offers unlimited video conferencing for up to 250 attendants, so company meetings can be held no matter where employees are, on-premises, or working from home. It also offers virtual international numbers (for an additional monthly price). It is easy to set up these phone systems, and you will have 24/7 US-based customer support (phone, live chat, and email).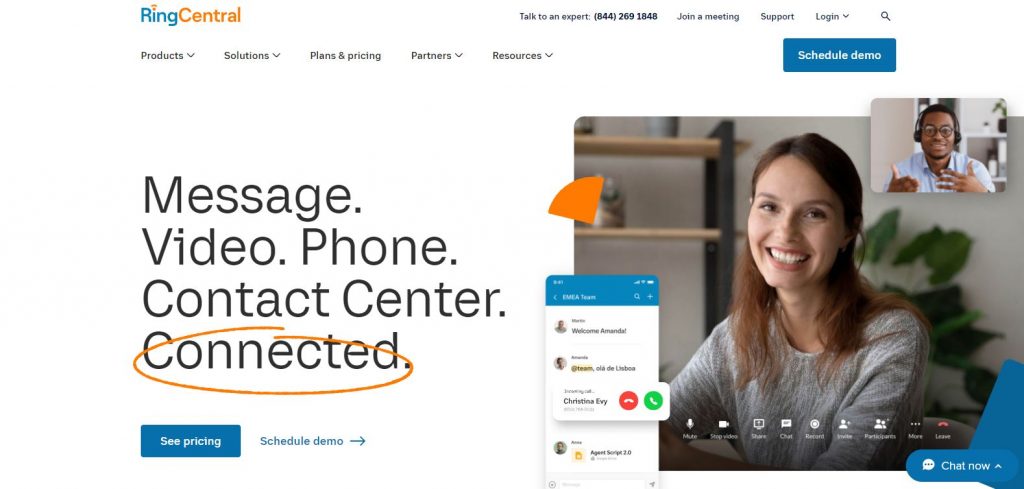 RingCentral is one of the most reliable among providers. This provider offers a wide range of solutions and features. Some of the features are integrated messaging, cloud-hosted VoIP, and unlimited video conferencing. All plans include unlimited phone conferencing, internet faxing, and video conferencing (up to 100 users and conferences can last 24 hours if needed). Other vital features are Automatic call recording, Inbound caller ID, 2.500 toll-free monthly minutes, worldwide service in 100+ countries, voice menus in 10 languages.
It has an Easy setup, Global infrastructure and will match your needs for business growth. All its MVP plans can integrate with Microsoft Outlook, Google Drive, and Premium or Unlimited.
MVP plans can be integrated with Salesforce, Zendesk, and Desk.com for synchronizing business phone books, addresses books, etc. Also, one notable feature is that with the Standard MVP plan, you will be able to use the app development platform, and you can create your integrations and have fully customized output to match your business. For this feature, you will need to have an app developer.
Conclusion
Since VoIP services rely on the internet interface, it is essential to look into safety and to have security software installed on your devices. Overall this is an excellent service, and all presented providers are the best. And with the right choice, your business VoIP is all set.