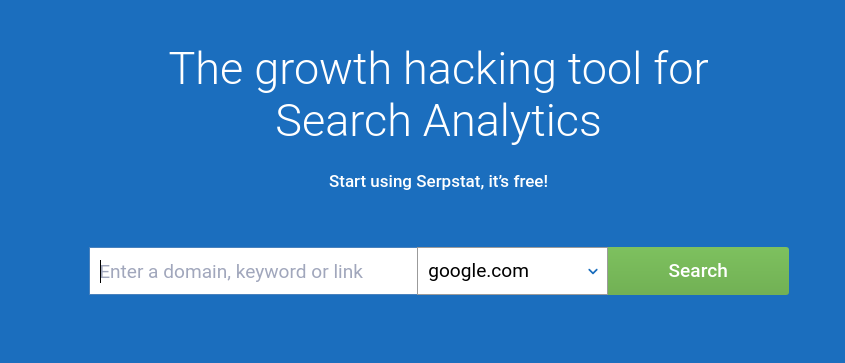 Serpstat is a feature-rich SEO tool that can be used by SEO professionals/agencies, content writers, online companies, and businesses that own a website. It is one of the best SEO tools right now.
Serpstat has a database of 2+ billion keywords. It is the highest-rated SEO tool on PoductHunt and the best selling search engine optimization tool on App Sumo. Serpstat has a beautiful interface. It displays the description/usage of the tool when you're using it. Here's the list of features/tools Serpstat provides to the users:
Projects
Serpstat lets users create, group and manage projects. The tool allows you to give other users access to the reports with the help of an invitation link.
Keyword analysis
Serpstat enables you to see the keyword's CPC, SEO ranking difficulty, and search volume/popularity in a country-specific search engine. It displays the list of websites that are ranking on the 1st page of Google, their TrustRank, Page Rank, and the number of backlinks/referring domains. The tool also displays the Google search trends for the keyword you've entered and the ads that various companies have created for the PPC programs such as AdWords. Serpstat lets you export the data to a CSV file so that you can work on your project in offline mode.
In addition to the keyword analyzer, Serpstat offers the following two tools for keyword research/optimization:
Keyword Quality control: Although Serpstat has a database of 2+ billion keywords, it may not have a brand name you're planning to create. Quality Control feature is a useful tool for brand creation and tracking.
Using the Keyword Quality Control feature
If you want to create a unique brand, enter the brand name in the Keyword Quality Control interface. When you do so, Serpstat will add the keyword to its database and will track its usage.
Keyword Clustering: This is the latest feature of Serpstat. Once you create a cluster, Serpstat will find the LSI keywords related to the ones you've added to the cluster. The Text Analytics tool of this tool analyzes the pages of your site and recommends these keywords.
Create your free Serpstat account
PPC
As I have mentioned earlier, Serpstat displays the exact CPC of a particular keyword. It also allows you to see the keywords your competitors are ranking for. The PPC report displays a list of keywords your website competitors are using to get leads/clicks or drive traffic to their site during a paid marketing campaign on Google.
Backlinks Analysis
Serpstat has one of the best backlink analyzer tools. It not only displays the backlinks pointing to your site but also calculates the site's Trust Rank and Page Rank. Serpstat gives you access to the following 5 backlink reports –
Overview: This interface displays the number of nofollow/follow, .edu/.gov backlinks, number of indexed backlink pages, a count of referring domains/IP addresses/Subnets, etc. This section also displays the following three graphs:
Backlink history.
Referring domains.
New/Lost domains.
Referring domains: Here, you'll find the list of domains that have linked to your site, their Trust/Page rank, and filters to shortlist them. This report is important as you can quickly find out the toxic sites (domains with poor Trust rank).
Referring pages: With this interface, you can find out toxic backlinks (links that may be harmful to your site). Users can filter the Referring Pages data by date.
Top Pages: This interface is similar to the topped linked pages of other SEO tools.
Competitors: This section flaunts a list of your website's competitors and their metrics.
External Links: This interface displays a list of pages on your website that has the most number of external links. You can use it to find pages that are passing the most link juice (if the links are dofollow).
Get your free Serpstat account
See if your site has suffered from a Google Algorithm update penalty
Serpstat has a special metric called Site Visibility that gets updated every day. It saves this metric for each website and creates a historical graph, which according to the company displays the visibility of a site in SERPs every day. If a major or a minor Google Algorithm has rolled out or if your site's Google Analytics account is showing drastic fall/increase in the visitors/pageviews, you can use Serpstat's visibility trend tool to learn whether your site has been hit negatively or positively by an algorithm penalty.
Algorithm update trackers such as Mozcast, Algoroo, Rank ranger display only a graph of SERP activity. Serpsat displays visibility trends and the pages that may have gained or lost rankings.
Website Auditing
With Serpstat, you can audit the pages of your website to find out SEO issues. Speed of a website plays an important role these days. Serpstat has a dedicated page speed report where it not only displays the issues but also suggests tips that will help you in getting rid of the error. The Serpstat crawler will crawl your website's pages and it will group them in various categories. The category indicated by the red color contains the links/page URLs that should be optimized by the user at the highest priority.
Learn more about Serpstat's website auditing tool
Rank Tracker
If your site is ranking for keywords that are very important for your site or are helping you in making money from your website, you can keep an eye on your site's best-performing keywords with the Serpstat Rank Tracker tool. Once you add a keyword to Serpstat, the app will track its ranking every day. The tool will use this data to generate a graph so that you can quickly understand how the keyword is performing in search results.
Serpstat enables you to group and filter keywords. It provides a keyword importer tool which you can use to add the keywords you've saved in a text or CSV file to your project.
Learn more about Serpstat's rank tracker
Competitor Analysis
Serpstat displays your site's competitors dominance in SERPs on a graph. The domains displayed on a graph are clickable. To see your competitor's visibility and analyze their backlinks, keywords, etc, all you have to do is click the domain name displayed on the graph.
Learn more about Serpstat's competitor analysis tool
Data Accuracy
I tracked the rankings of a few keywords with Serpstat. It also compared the backlink data with that of other similar tools. I found the data accurate.
Pricing and discount
Serpstat offers 5 plans – Free, Lite, Standard, Advanced, Enterprise. The paid plans are priced within 69 to 499 USD. The company provides a cool 20% discount to the customers who sign up for the yearly plan.
Here's the comparison table that explains the differences between the various Serpstat plans.
Pros
Great interface.
Several features
Cons
Final thoughts: Serpstat is one of the best SEO/keyword research, PPC/Competitor analysis tools. It is affordable and has intuitive interface.